Baby born on original date for 2020 London Marathon to join father as he completes 26.2 mile distance
London Marathon participant Jimmy Dale is to push his baby daughter in a pram as he takes part in the virtual race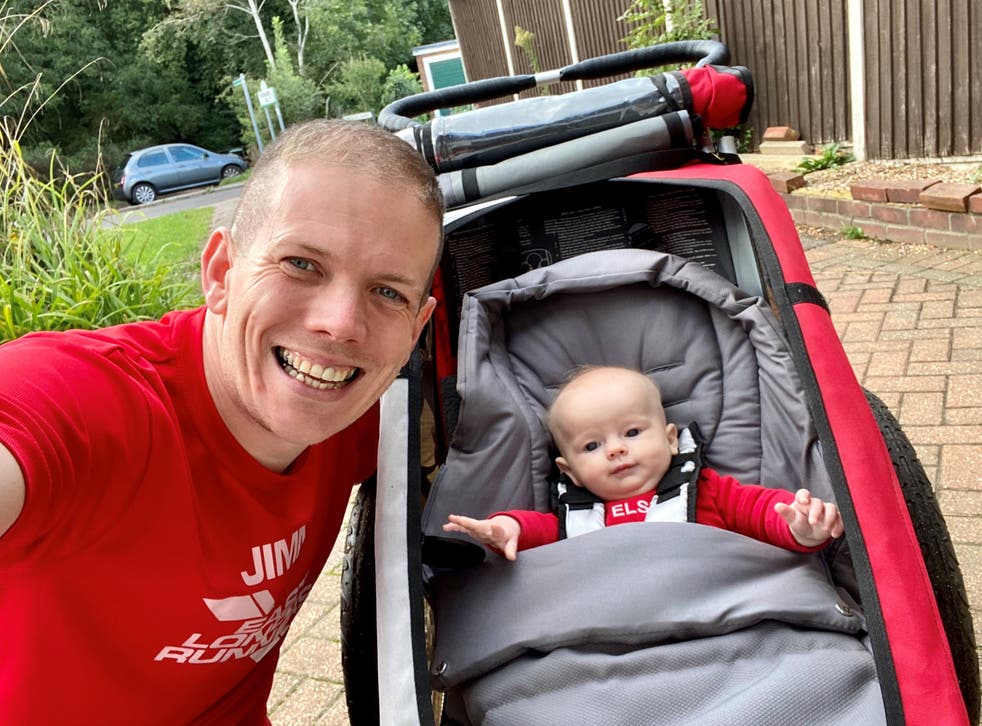 A baby born on the original date for this year's London Marathon is to join her father as he completes the 26.2-mile distance during a virtual race, where participants map out their own marathon-length route to run alone.
On 26 April 2020, the 40th London Marathon was due to take place along the streets of the English capital, starting in Blackheath and famously ending on The Mall opposite Buckingham Palace.
As with numerous sporting events, the marathon had to be postponed due to the coronavirus pandemic, with a new date set for 4 October 2020.
However, this summer the London Marathon organisers were forced to cancel the mass race yet again (a small number of elite runners are still taking part), replacing it with a virtual marathon this Sunday, which more than 45,000 people have signed up to.
Jimmy Dale, 34, was originally supposed to take part in the London Marathon in April, but deferred his place when he found out that his wife, Sarah, was due to give birth on 25 April, on the eve of the event.
Their daughter, Elsie, was born at 5.45am on 26 April, the day the marathon should have taken place.
Friends of Mr Dale's joked at the time that had the race still gone ahead, he would have had just enough time to make it to the start line following his daughter's birth.
Just over five months later, the baby is to join her father as he completes the 26.2-mile distance, Mr Dale pushing his daughter in a buggy "so the marathon she would have shared her birthday with she will get to participate in".
Having mapped out his own route, Mr Dale will start on Sunday from his home in Woodford, east London, making his way to Victoria Park.
Mr Dale, an adviser for the Church of England, said he believes that his daughter will be the youngest person ever to complete a London Marathon if she joins him for the full 26.2 miles.
Social worker Mrs Dale, 30, will be on hand at Victoria Park to help feed Elsie and change her nappies.
Mr Dale expressed his hope that his daughter will join him for the entire race.
"Part of the reason that it's so special is that she will have done the marathon as well as me," he told PA news agency.
"If she has only done 24 miles it wouldn't have the same significance."
Sunday's marathon will mark the second Mr Dale has ever participated in in London and his 22nd overall.
He says that he is not worried about how long the run will take him, having completed his first marathon in London in 2009 in five hours and 11 minutes and achieved a personal best of three hours and 23 minutes in Paris in 2019.
The runner commented on the fact that 45,000 people are due to take part in Sunday's virtual marathon, stating: "The idea of going out to run 26 miles on your own is quite bleak.
"The take-up was enormous, that's so telling about how much people want to do the London Marathon."
In addition to taking part in the virtual London Marathon, runners who had a place for the 2020 race had the option to defer their places to 2021, 2022 or 2023.
Mr Dale, who is a member of East London Runners, has deferred his place until April 2022, at which point he hopes the event will be able to return to the English capital with its thousands of competitors and spectators.
The runner is raising money for youth work charity Newham YFC by running the virtual London Marathon. To support him and his daughter Elsie, click here.   
Register for free to continue reading
Registration is a free and easy way to support our truly independent journalism
By registering, you will also enjoy limited access to Premium articles, exclusive newsletters, commenting, and virtual events with our leading journalists
Already have an account? sign in
Register for free to continue reading
Registration is a free and easy way to support our truly independent journalism
By registering, you will also enjoy limited access to Premium articles, exclusive newsletters, commenting, and virtual events with our leading journalists
Already have an account? sign in
Join our new commenting forum
Join thought-provoking conversations, follow other Independent readers and see their replies