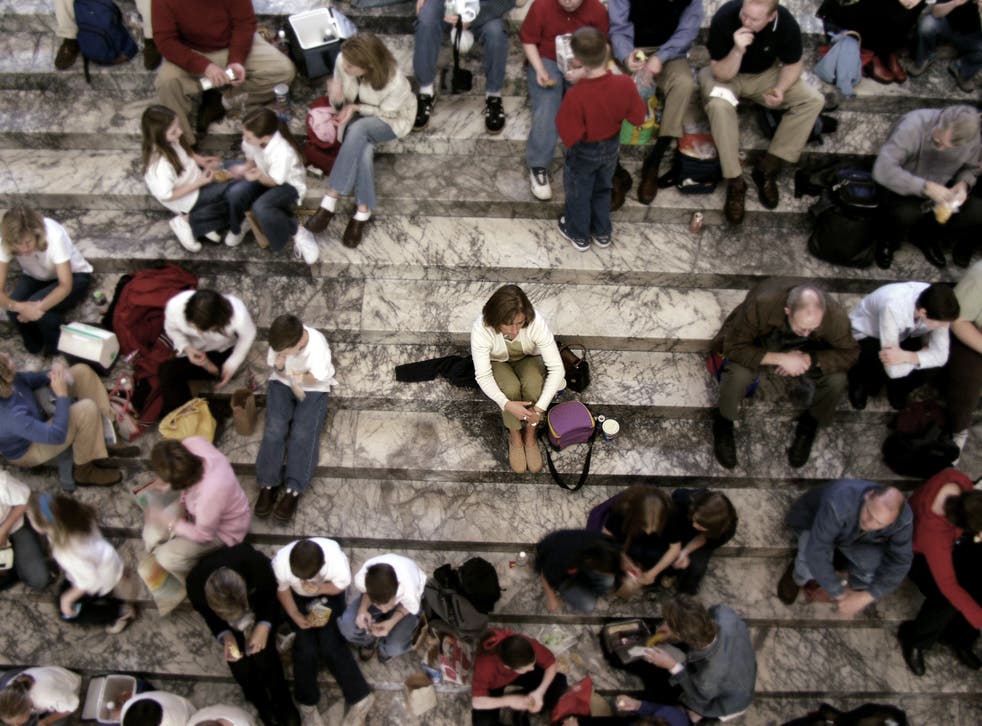 Government launches cross-party campaign to tackle stigma of loneliness
Poll finds those aged between 18-24 most likely to identify as lonely 
Harriet Hall
,
Katie O'Malley
Monday 17 June 2019 07:14 Comments
The government has announced the launch of a campaign to tackle the stigma of feeling alone.
The initiative, led by Minister for Loneliness Mims Davies, is called Let's Talk Loneliness and has been launched in response to Britain's epidemic of loneliness.
The campaign hopes to create a culture in which people feel comfortable to talk about feeling alone, and in which recognising feelings of loneliness in ourselves and others becomes second nature.
It will bring together charities, organisations and businesses including The Marmalade Trust, Co-Op Foundation, British Red Cross, Campaign to End Loneliness, Mind, Public Health England and the Jo Cox Foundation.
It launches as a new YouGov poll shows that not wanting to burden others is the main reason people avoid reaching out to seek help when feeling isolated, with 75 per cent of people saying they didn't tell anyone despite having someone they could count on.
Sow Ay illustrations on mental health

Show all 18
The survey of 2,114 adults showed that, contrary to stereotypes around older people feeling lonely, young people between the ages of 18 and 24 were the age group most likely to identify as such, with 75 per cent of them reporting feeling alone. Comparatively, 63 per cent of people aged 55 and over said they never feel lonely.
Additionally, city dwellers had the highest incidence of reporting loneliness (56 per cent).
Speaking to The Independent, Davis describes the campaign as a "cross-party, cross-community" endeavour, explaining that loneliness "can strike at any point, at any age, at any time and its impact is in line with smoking or obesity."
"Life can throw a lot of things at you," she says, "and it's important to recognise that you can feel isolated because you don't have the tools that you think you need to face those challenges in life."
The Loneliness Minister also addressed the role tech plays in the conversation, saying that "meaningful engagements" are vital in order to connect. "We're all busy and used to finding time for people when it comes to texting, messaging, and sending pictures but we don't always phone them, or have a natter face-to-face like we used to.
"We need to make sure we're seeing the people behind the posts and that we're staying connected with our grandparents, our colleagues, our parents and not just dropping a text".
The campaign marks the start of Loneliness Awareness Week, and will place focus on the positive power of social media to drive change and combat loneliness. The Government will be investing £1m in a "Tech to Connect Challenge Prize" which aims to find tech solutions to the problem of social isolation and award funding to charities and social enterprises that apply.
The campaign is launching with animated short, Less of a Lonely Place, voiced by young people from across the UK discussing their personal experiences of loneliness.
Advertisements about the initiative and the importance of recognising loneliness as a normal emotion will also appear on 20 screens in cities across the UK this week.
"We can only begin to help one another if we feel able to understand, recognise and talk about it", says Davies.
The government has also announced it will invest £800,000 in a new initiative that supports activity in community spaces to promote social connections. The scheme will be match-funded by the Co-Op Foundation, which supports projects that make a difference to local communities near to the brand's supermarket branches.
Support free-thinking journalism and attend Independent events
The loneliness campaign comes days after the BBC launched an initiative to spark conversations between public transport commuters.
Last Friday, a number of public transport companies rolled out ways to encourage a more open and connected public space, including West Coast Virgin Trains which designated all coach C's as "chat carriages" for the day.
Register for free to continue reading
Registration is a free and easy way to support our truly independent journalism
By registering, you will also enjoy limited access to Premium articles, exclusive newsletters, commenting, and virtual events with our leading journalists
Already have an account? sign in
Join our new commenting forum
Join thought-provoking conversations, follow other Independent readers and see their replies