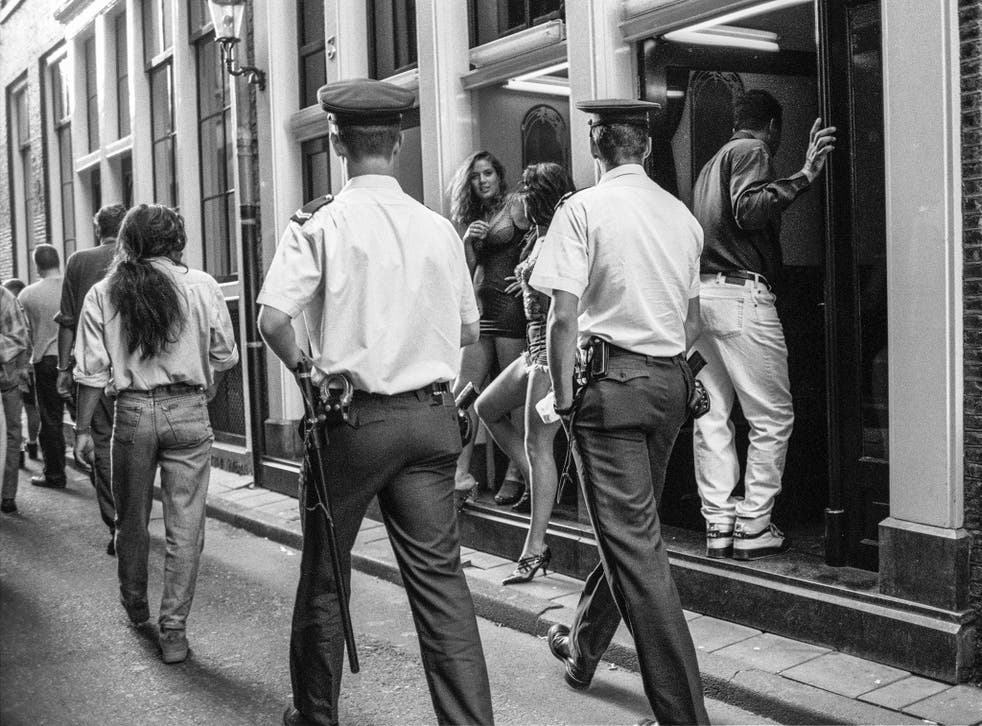 Before gentrification and Airbnb: Looking back at Amsterdam's red light district in the '90s
Dutch photographer Huub Prickaerts documented the underbelly of Amsterdam between 1993 to 1996
Kashmira Gander
Monday 02 January 2017 10:52 Comments
Amsterdam is as synonymous with tulips and cycling as it is smoking weed and sex workers advertising their services under glowing red lights.
The Dutch government, perhaps not enthralled by its capital's image, has set about "tidying up" Amsterdam since 2007 by swapping brothels for luxury boutiques. And so, like many other capital attempting to juggle regeneration and gentrification, the character of Amsterdam is changing. Each year, some 14 million people visit the Netherlands with 5.3 million of those heading to Amsterdam. That figure has climbed from 3.4 million in 2000.
It is this shift that prompted Amsterdam resident, carpenter and photographer Huub Prickaerts to publish his raw snapshots of the De Wallen area of the red light district between 1993 and 1996.
Prickaerts moved to the capital in the early 1990s after a client agreed to let him stay in his attic in exchange for keeping an eye on his restaurant.
A look back at Amsterdam's '90s red light district - In pictures

Show all 5
"It turned out that I was living on top of a social earthquake," Prickaerts tells The Independent.
To blend in among criminals, addicts, sex workers and the odd tourist, Prickaerts says he mastered the art of making himself invisible.
Desperate to document the lives unfolding around him, Prickaerts secretly snapped his monochrome images for a camera at his hip. The result are a series of candid images that capture every daily life of the city's underbelly.
"The pictures show the human condition. Everyone feels at home. Even me," he says.
Prostitution is legal in Holland, enabling workers to access medical care and pay taxes. Sex workers, the majority of whom are women, have been allowed to advertise their services in shop windows since 2000.
Decades after the images were shot, they now act as a time-capsule for a district that has transformed.
"Since the photos were taken, some 22 years ago, the whole district changed," says the photographer. As the city council attempts to redraw Amsterdam's image, the number of sex workers plying their trade has dropped.
"A continuously increasing number of tourists clutter De Wallen. Even window sexworkers protest. Tourists are often rude to the women," he argues.
"With the help of Airbnb and comparable organisations, Amsterdam gets more and more fake-inhabitants," he adds.
Recently, Airbnb agreed to limit the number of nights a year that a host can rent properties in Amsterdam and London amid fears that the service pushes out local tenants in favour of tourists. The changes will be rolled out in January 2017.
How that move will affect the city remains to be seen. For now, Prickaerts hope viewers of his images will gain the sensation of visiting a lost neighbourhood, unnoticed.
De Wallen: Fotos by Huub Prickaerts 1993-1996 is out now.
Register for free to continue reading
Registration is a free and easy way to support our truly independent journalism
By registering, you will also enjoy limited access to Premium articles, exclusive newsletters, commenting, and virtual events with our leading journalists
Already have an account? sign in
Join our new commenting forum
Join thought-provoking conversations, follow other Independent readers and see their replies