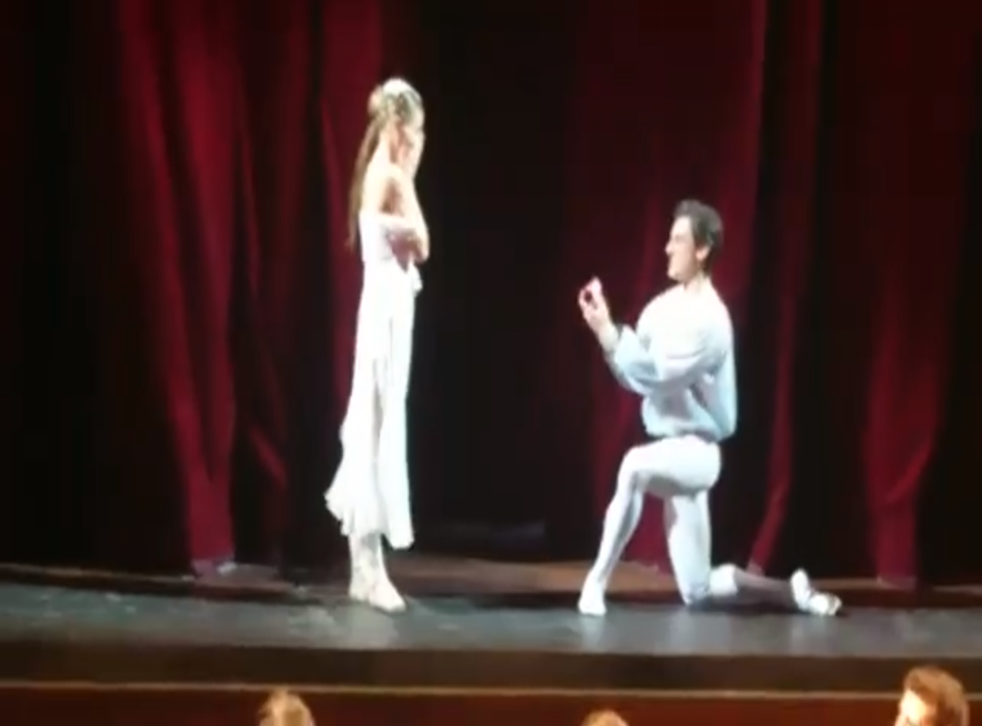 Ballet dancers become engaged after performing Romeo and Juliet
Shakespeare's great tragedy had a happy ending after all
A pair of ballet dancers delighted their audience when they became engaged after a production of Romeo and Juliet.
Last Saturday, Nikolay Maltsev and Ksenia Zakharova were performing as the titular characters of Shakespeare's tragic love story at the Novosibirsk State Academic Opera and Ballet Theatre in Russia.
While taking their curtain call at the end of the performance, Zakharova, who was making her debut as Juliet, wasn't expecting the surprise that Maltsev had in store for her.
As the couple gracefully accepted the applause, Maltsev, who joined the company in 2014, stealthily snuck behind the stage curtain for a moment to retrieve an engagement ring.
While Zakharova was taking her individual bow, Maltsev went down on one knee behind her, much to the audience's excitement.
When Zakharova turned around and spotted Maltsev, she couldn't believe her eyes.
After taking a few moments to gather her emotions, she happily accepted his proposal while the audience cheered in response.
The loved-up couple continued their bows and curtseys, albeit with slightly less composure than before.
Finally, Maltsev presented his new fiancée with a bouquet of red roses before they left the stage hand-in-hand.
The theatre shared a video of the romantic proposal on social media, with many people commenting on how special a moment it was.
One person commented: "It was very unexpected, beautiful and touching! Nikolay is a real romantic!"
Another person wrote: "How cool… As in a fairy tale…"
Maltsev and Zakharova are due to perform together again this month, with the two starring the theatre's production of The Nutcracker as The Nutcracker/Prince and Masha respectively.
Join our new commenting forum
Join thought-provoking conversations, follow other Independent readers and see their replies