The Independent's journalism is supported by our readers. When you purchase through links on our site, we may earn commission.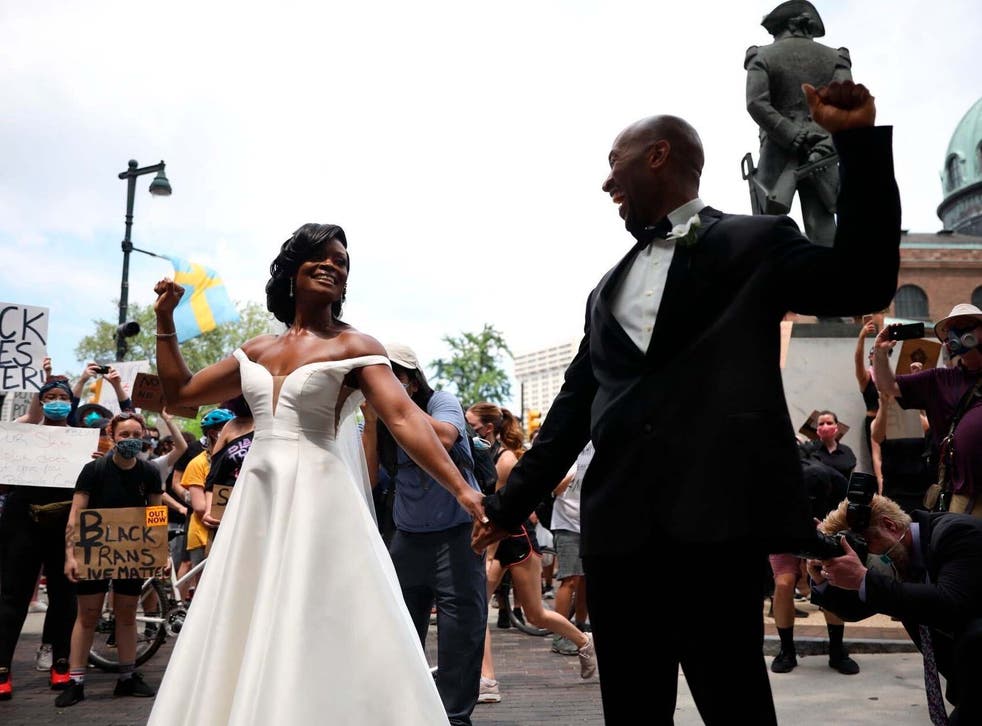 Newlywed couple join Black Lives Matter protest in Philadelphia immediately after wedding
Dr. Kerry-Anne and Michael Gordon shared a kiss in the middle of the street during protest
A heartwarming video of a couple in Philadelphia attending a Black Lives Matter protest immediately after getting married has gone viral.
Dr. Kerry-Anne and Michael Gordon tied the knot at the Logan hotel and were greeted with rapturous applause from protesters as they walked out into the street in their wedding garb.
The couple is then seen sharing a kiss in the middle of the crowd as people around them cheer and hold up placards reading: "Black Lives Matter".
According to the Philadelphia Inquirer, the newlyweds proceeded to join the march from the Philadelphia Museum of Art to City Hall.
"It ended up being a very powerful moment," Kerry-Anne told ABC News.
"Not only are we feeling the movement of the people... but I'm meeting my husband, on our wedding day, as a strong Black man and a good representative of who we are as people, what our men are like, what our culture is like."
Kerry-Anne added that it was a "very empowering moment".
Michael added: "We all see this injustice. We all want to see this needle shift away from the status quo and ... that made this day more memorable in ways."
He went on to explain that the protest was entirely peaceful.
"Everyone was so nice," he said. "That in itself showed what the movement can be and for us to be a part of that, it's a positive thing."
Register for free to continue reading
Registration is a free and easy way to support our truly independent journalism
By registering, you will also enjoy limited access to Premium articles, exclusive newsletters, commenting, and virtual events with our leading journalists
Already have an account? sign in
Register for free to continue reading
Registration is a free and easy way to support our truly independent journalism
By registering, you will also enjoy limited access to Premium articles, exclusive newsletters, commenting, and virtual events with our leading journalists
Already have an account? sign in
Join our new commenting forum
Join thought-provoking conversations, follow other Independent readers and see their replies