LIFESTYLE FEATURES
20 years of Bridget Jones: Why does she still shape the way we view single women?
As we mark the 20th anniversary of the iconic Richard Curtis adaptation of Helen Fielding's bestselling book, Olivia Petter examines the film's portrayal of what it means to be a single woman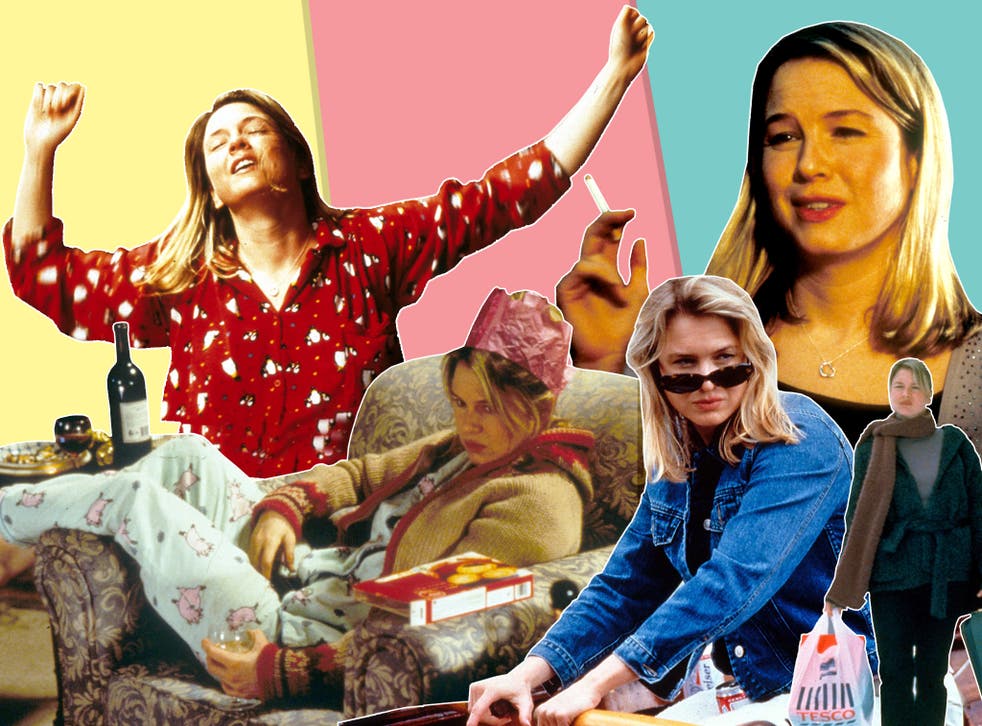 Leer en Español
Think of the stereotypical single woman, and no doubt Bridget Jones springs to mind. Perhaps you remember her in matching flannel pyjamas, lip-syncing to Jamie O'Neal's "All By Myself" next to an empty bottle of wine and a plate of cigarette butts. Or maybe you recall her wincing in embarrassment as Daniel Cleaver discovers her "absolutely enormous" knickers.
Helen Fielding's bestselling book, Bridget Jones's Diary, might have been published a quarter of a century ago in 1996 – followed by Richard Curtis's film adaptation five years later – but much of what it said about how society views single women, intentionally and otherwise, still resonates with women today: a 2020 poll rated Bridget Jones the most inspiring on-screen heroine of all time.
Although Jones remains beloved, she is hardly a representation of the times. And while the film does its best to poke fun at the stereotypes of singledom, it also endorses many of them. From the outset, it seems like the movie is setting out to satirise the cliched view of single women as sad and lonely – remember Bridget, home alone, watching Fatal Attraction? Or Bridget hyper-sexualised (think Playboy bunny outfit or "is skirt off sick?") in a somewhat pathetic attempt to snag a man?
But Bridget is constantly surveying herself, counting her calories and noting down her weight. She puts pressure on herself to exercise more, drink less and change parts of who she is in her pursuit of romantic love. "This presents singlehood as a problem that needs to be fixed," says Ea Høg Utoft, gender equality researcher at The Danish Centre for Studies in Research and Research Policy. What's more, it implies that if Bridget doesn't succeed and secure a partner (spoiler alert: she does) she will only have herself to blame.
This point is exaggerated too by the fact that, similar to Sex and the City's Carrie Bradshaw, Bridget's single status seems synonymous with excessive drinking and smoking. It's as if being single is a health hazard, notes Dr Anthea Taylor, author and senior lecturer in the Department of Gender and Cultural Studies, at the University of Sydney. "When the film came out in 2001, Bridget was reduced to a caricature in the press, with stills often used in articles lamenting the increasing number of single women alongside moral panic stories about declining fertility and even the destruction of family life," she adds. 
Bridget is a cautionary tale, as if her singleness rendered her a social failure. At the beginning of the film, Bridget's mother glibly tells her she's never going to get a boyfriend if she looks like she's "wandered out of Auschwitz", making it clear that this is the only acceptable end goal for her daughter. Then, there's the scene where Bridget goes to a dinner party attended only by married couples, and one odiously smug attendee calls her "old girl" and says she "really ought to hurry up and get sprogged up" because time is running out. He even says the words "tick tock".
Of course, in the end, Bridget doesn't "fail" because she winds up with Mr Darcy, something feminist critics have argued undermines the entire premise of a strong female role model given that her single identity is only ever seen as a kind of purgatory: a space in which Bridget is stuck, burning through one pack of Marlboro Lights at a time, until she finds a partner. In this sense, the film presents singleness as a state of waiting. This is a trend observed in the academic paper, "Singlehood, Waiting, and the Sociology of Time" by Kinneret Lahad, who writes: "The single woman is constantly being asked whether she is 'still single' or being bid to get married next or soon." The implication being that there is a time limit.
There are moments when the film bites back against this, though. Bridget tells her dinner party companions that one in four marriages end in divorce, for example, and her friendships are presented as her core family dynamic, as if she doesn't need to conform to societal expectations. But it is still romantic love that is valued above all else. "She never truly contemplates singleness as a permanent way of being in the world, unlike many women today," adds Dr Taylor.
So why do we still love Bridget when she represents so many outdated tropes for the modern woman? While it would be easy to look back on the values that Bridget Jones's Diary perpetuates for women and call them archaic, many of them persist today. "The idea that a woman might actively choose a life of prolonged singleness is still largely not represented," notes Dr Taylor. "It is still seen as somewhat of a 'pit stop' on the way to the happy ever after of marriage and children." In this sense, Bridget's relevance could simply be that she is grappling with issues that single women are still facing today.
The film successfully taps into a deep-rooted social trend known as amatonormativity, coined by philosophy professor Elizabeth Brake. "It describes the widespread assumption that everyone is better off in an exclusive, romantic, long-term coupled relationship, and that everyone is seeking such a relationship," she writes on her website. "Romantic relationships are persistently privileged over all other forms of intimacy," says Dr Taylor. 
There are basic economic and sociological explanations for this. Take the numerous laws and policies that favour couples over single people, which can make life far more expensive for those without a romantic partner. According to one analysis by the Good Housekeeping Institute, being single can set you back at least £2,000 a year due to higher costs on everything from holidays to insurance. 
Another American analysis found that, over a lifetime, unmarried women can pay as much as $1m (£726,325) more than their married counterparts on healthcare, taxes, and more. These are just some of the reasons that led psychologist Bella DePaulo to coin the term "singlism" to describe the myriad ways in which single women are disadvantaged in society. And while singlism isn't explicitly examined in Bridget Jones's Diary, the threat of it arguably permeates the entire plot.
Our female heroes in 2021 are no longer quite like Bridget: one thing that exists now that did not in 2001 is the single positivity movement, for example. Often attached to celebrities who champion female empowerment like Lizzo (in her 2017 hit "Truth Hurts", she sings that she "ain't worried 'bout a ring on my finger") and Emma Watson, who famously described herself as "self-partnered" in 2019, the movement illustrates a growing number of people who are rejecting romantic norms and redefining singleness so that it is not so much a state of wanting but one of contentment. There are also an increasing number of books exploring the topic, including Catherine Gray's The Unexpected Joy of Being Single, in which the author explains how she took a year off dating in the pursuit of single satisfaction.
Despite all this, Bridget Jones clearly still taps into something deep within many women today, even if it's just an innate fear of winding up alone on Christmas Eve, watching It's a Wonderful Life and drunkenly throwing mince pies at the TV. But surely it's time for a new inspirational single woman to grace our screens, one who can become just as iconic as Bridget. 
While there are an increasing number of films and TV shows celebrating single women – see the film How to be Single and programmes like Broad City – it remains somewhat rare to see a female lead whose ultimate goal is not romantic love. "Wouldn't it be wonderful if singleness for women was so deeply normalised in popular culture that the single woman in real life becomes unremarkable?" says Dr Taylor. "That would be a real turning point. But we're certainly not there yet."
Register for free to continue reading
Registration is a free and easy way to support our truly independent journalism
By registering, you will also enjoy limited access to Premium articles, exclusive newsletters, commenting, and virtual events with our leading journalists
Already have an account? sign in
Register for free to continue reading
Registration is a free and easy way to support our truly independent journalism
By registering, you will also enjoy limited access to Premium articles, exclusive newsletters, commenting, and virtual events with our leading journalists
Already have an account? sign in
Join our new commenting forum
Join thought-provoking conversations, follow other Independent readers and see their replies