Couple get engaged under a rare comet that is visible once every 6,800 years
At its closest point, Neowise was within 64.3 million miles of Earth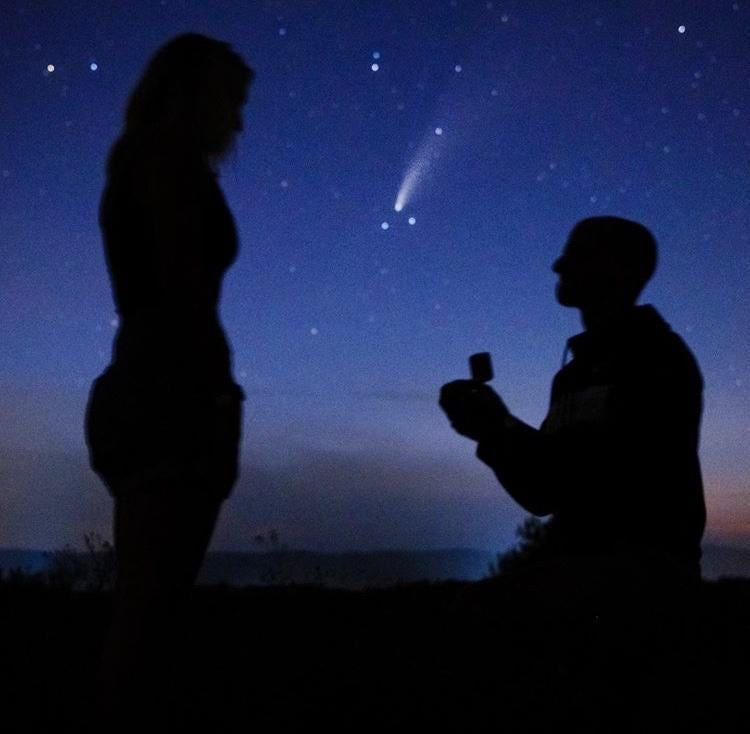 A couple in the USA got engaged under a comet that is only visible in the northern hemisphere every 6,800 years.
John Nicotera, 33, had originally planned to propose to his girlfriend Erica Pendrak, 26, at Crater Lake in Oregon, but due to the coronavirus pandemic had to cancel the travel plans.
Instead Nicotera, who has been planning to propose since Christmas 2019, decided to take advantage of the celestial rarity on their doorstep.
Nicotera, who met his girlfriend after they spoke on Instagram, knew that Comet Neowise would be visible between 15 and 23 July, so had to act quickly.
Fortunately for the couple, their friend, photographer Tim Leach, had been taking pictures of the comet so knew the exact conditions required for the perfect engagement shot.
Nicotera and Pendrak met up with Leach at Old Forge campsite in upstate New York on 18 July - Pendrak none the wiser to the plan.
After sunset, Nicotera got down on one knee: "I just remember the amount of happiness I had going through me," he told Insider. "All the nerves were gone at that point. I was just like' I'm massively in love with this girl, I'm going to do it'".
Despite the difficult conditions (and the comet hurtling through the atmosphere), Leach managed to capture the moment on camera.
"He froze the greatest moment of my life so far," said Nicotera.
The couple, who have not yet picked a wedding date, then shared the image on social media where it was seen by astronaut Garrett Reisman.
He told the couple: "Well done! Congratulations."
The night of 22 July marked comet Neowise's perigee point, or closest distance to Earth, before it begins its journey back out towards the furthest reaches of the solar system.
At its closest point, Neowise was within 64.3 million miles of Earth, according to Nasa's orbit calculator.
Join our commenting forum
Join thought-provoking conversations, follow other Independent readers and see their replies