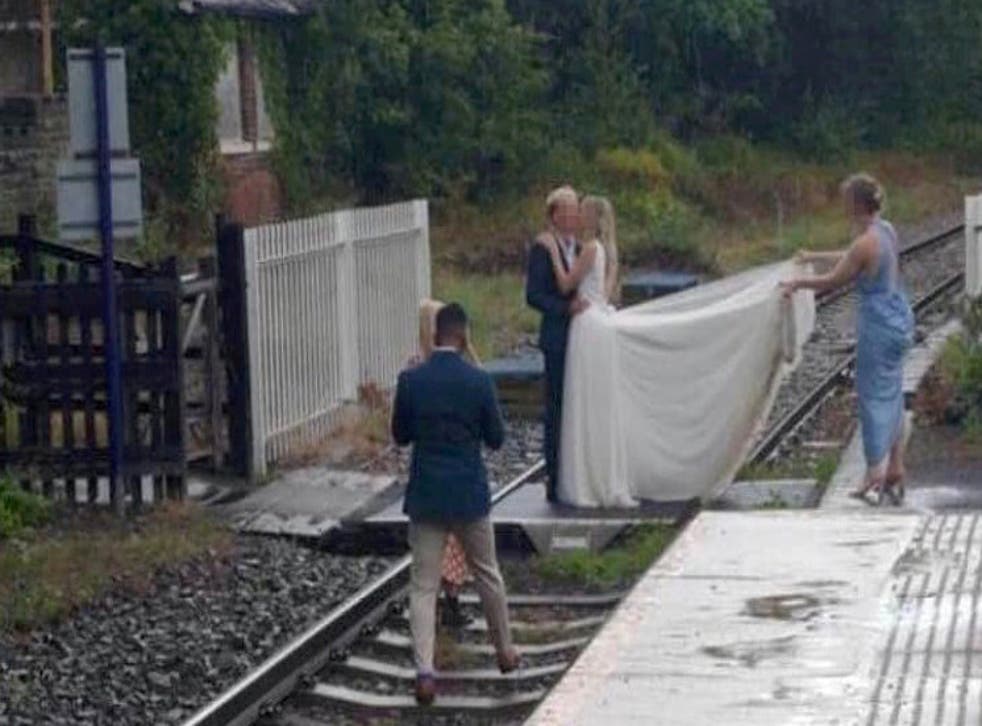 Couple criticised for trespassing on railway line to take wedding pictures
Young couple were caught on CCTV
A bride and groom have been criticised after posing for wedding photographs on a live railway track.
The photographs, taken in July near Whitby in North Yorkshire, were captured on CCTV and show a young woman in a white bridal gown kissing her new husband while a bridesmaid in a turquoise wedding gown holds the train of the bride's gown behind her.
The identities of the couple in the photo are not yet known.
The photo was released by Network Rail to raise awareness of this dangerous trend.
Figures show that there were 5,100 trespass incidents on Network Rail between June and September, with 1,239 alone last month.
Allan Spence, of Network Rail, said: "These numbers show just how much work still needs to be done to educate people about rail safety."
Network Rail has launched a new campaign to raise awareness for the spike in trespass incidents.
"Our You vs Train campaign has been really successful getting the message to young people but adults still arent taking heed.
"Wedding photos or selfies on the track are just plain stupidity.
"We often warn families at this time of year as kids enjoy school half term holidays. But this time we are appealing to adults in particular.
"Please, make sure you know the rail safety basics and pass that knowledge onto your loved ones. Lead by example and stay off the tracks. No ifs, no buts - no tears."
On the You vs Train website, it states that the power running through overhead railway lines is 100 times stronger than your supply at home.
"Electricity is easily the most dangerous factor in stepping on the track – it's always switched on and nine out of ten people die when they're struck by it." it adds.
"Others are left with life-changing injuries, including burns and amputations; and that's not to mention the emotional scars that will be left behind.
"Electricity is easily underestimated. People don't realise it can jump – so you don't even need to touch a cable to be seriously injured."
You can find out more about the campaign here.
Register for free to continue reading
Registration is a free and easy way to support our truly independent journalism
By registering, you will also enjoy limited access to Premium articles, exclusive newsletters, commenting, and virtual events with our leading journalists
Already have an account? sign in
Register for free to continue reading
Registration is a free and easy way to support our truly independent journalism
By registering, you will also enjoy limited access to Premium articles, exclusive newsletters, commenting, and virtual events with our leading journalists
Already have an account? sign in
Join our new commenting forum
Join thought-provoking conversations, follow other Independent readers and see their replies