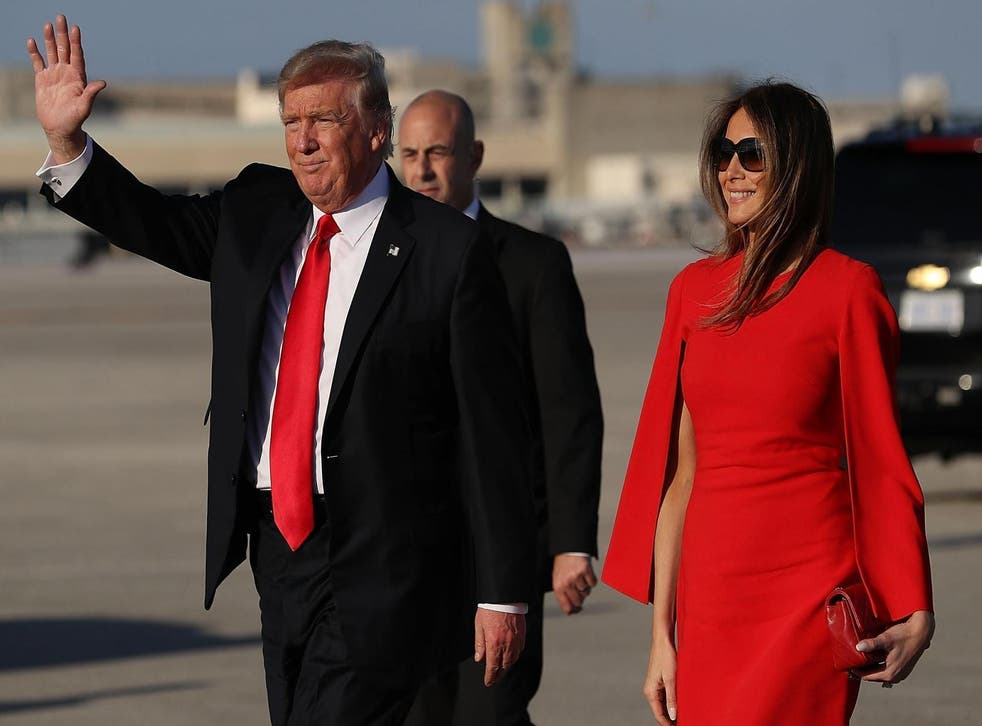 Donald Trump avoids holding Melania's hand because he wants an alpha male image, says body language expert
The President repeatedly dropped his wife's hand when she attempted to take his
When it comes to public displays of affection, everyone's different - whilst some couples happily make out when surrounded by lots of people, others feeling uncomfortable simply holding hands with their significant other.
Recent developments show that the new President of the US may be in the latter camp, but according to a body language expert, this could suggest more than just an uneasiness with public intimacy.
Body language expert Patti Wood believes Trump's reluctance to hold his wife's hand could be because he wants to be seen as a "presidential alpha."
After arriving at Palm Beach International Airport in Florida on Friday, Donald and Melania Trump had a brief and awkward-looking hand-hold before he quickly let go of her hand to clap along with the supporters who'd turned out to greet the couple.
Even more awkwardly, when Melania took her husband's hand again, POTUS then gave it a quick couple of pats before letting go again.
"Typically a hand-hold shows a couple as a unit," body language expert Patti Wood told the Mail Online.
"But to me, I think he's been saying, 'I want to be seen as the president on my own', which is very much alpha. 'I want to be just the powerful me.' And it's clear that that's his choice."
The outing was Melania's first public appearance since the new President's inauguration two weeks ago.
Michelle Obama over the years

Show all 12
It's a stark contrast from the public appearance of former President Barack Obama and his wife Michelle's relationship - we frequently saw the couple hugging, putting their arms around one another and kissing.
And there's a lot that can be inferred from how a presidential couple acts in public.
"Holding hands can communicate so much about an individual and a couple, depending on the position of the hands, who reaches in first, who breaks it first," explains Wood, who's fascinated that the Trumps are holding hands at all.
"They hold hands in private, so we know that there's a coupleness that we weren't seeing in public or at the inauguration," she added.
Wood believes the way Donald patted Melania's hand - using his flat palm with his fingers separated - was not an affectionate gesture.
"It could have been affection if he'd cupped his hand, if he'd done it with sweetness, or if he had kissed her and done it," she said, but Wood believes the gesture reveals the power Donald has over Melania.
"He pulls it up towards him, it has some admonishing to it, some power, and then he has that flat hand to say, 'No no.' He's smiling as he does it. He's not mad. He's fully in control of what's happening," she explained.
Wood points out that before becoming president, Trump showed more affection to Melania in public - now, however, she believes he doesn't want to be seen as a unit, all to seem more "alpha".
Who knows how far he'll go to reinforce that image.
Join our new commenting forum
Join thought-provoking conversations, follow other Independent readers and see their replies