Trump's walking distance from Melania is 'a sign of disrespect', say etiquette experts
"It could also be a sign of self-absorption," they say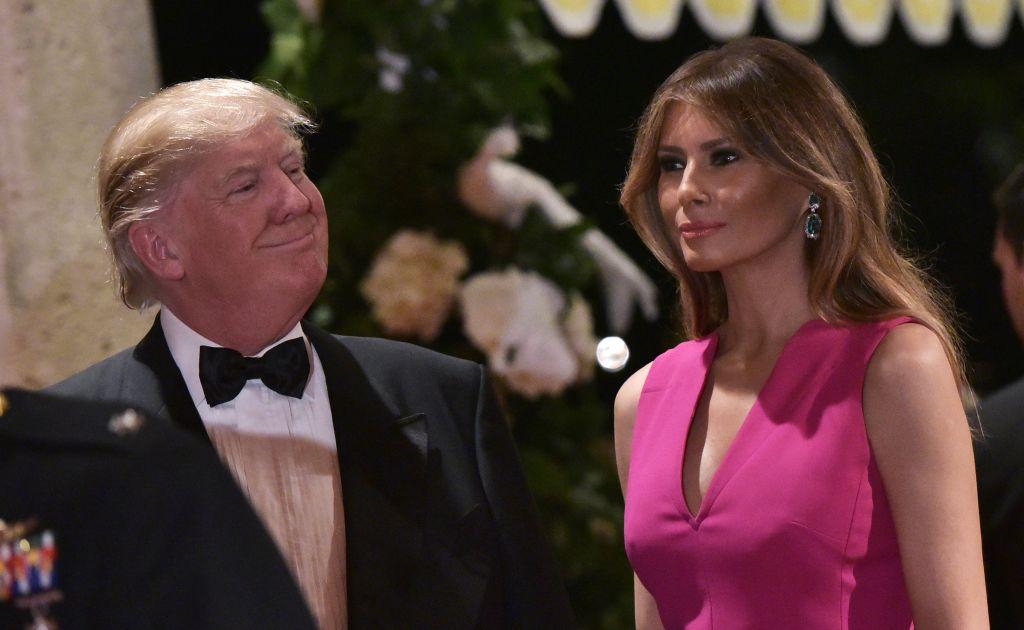 Much has been made of the relationship between President Donald Trump and his wife Melania.
And the most recent display of their coupledom that has got people talking is the way the President and First Lady descended the stairs of a plane.
Eagle-eyed Twitter users pointed out that when leaving Air Force One over the weekend, Donald walked down far in front of his wife, leaving her behind.
The President is shown saluting on the ground whilst Melania is still making her way down the steps.
And many comparisons have been drawn with previous presidents, such as Barack Obama and Ronald Reagan, who were frequently shown walking down from planes with their wives.
It's important to point out, however, that the Trumps have previously been seen descending together, and former presidents have similarly done so without their wives, but experts believe this is another sign about the nature of Melania and Donald's relationship.
According to etiquette expert Jacqueline Whitmore, the president's distance "could be perceived as a sign of disrespect," despite the fact that a man should traditionally walk down just in front of a woman so that he could catch her if she fell.
"In the photographs, what we're clearly seeing is that Donald Trump is walking not just one stair ahead, not two stairs ahead, but a few feet ahead. She's not being accompanied by him," Whitmore explained to The Huffington Post.
"If you look at some of the old photos of Ronald and Nancy Reagan or the Obamas, they are very close together. In other words, they're a unit, they're a couple, they're engaging in this activity together.
"Whereas in this particular photo, she is clearly standing all by herself. Now it could also be a sign of self-absorption or he's in a hurry. He's a role model for the country, having said that - he should be modeling, I believe, a different kind of behaviour."
And Whitmore is not the only expert expressing concern - lifestyle and etiquette expert Elaine Swann agrees:
"The husband at the bottom of the stairs, saluting and greeting the people there, and the wife is still at the top of the stairs – this is incorrect," she said.
"The proper thing for him to do is to wait for his spouse at the bottom of the stairs and then take her hand and assist her down the last few steps as she comes down. This was not done.
"He still is a husband first before a president. Because he's in the presence of a woman, and this woman is his spouse, he still has to make sure that he's nurturing his relationship. And part of nurturing your relationship is the small gestures and niceties that are necessary in terms of chivalry."
This isn't the first time time the Trumps have been criticised for the apparent lack of warmth in their relationship - the President has been accused of avoiding holding his wife's hand and leaving Melania behind when exiting their car to greet the Obamas at his inauguration.
Comparing Donald Trump and Barack Obama's inaugurations
No one can know what the relationship is really like, but many people would agree with what body language and communication expert Susan Constantine said in an interview with Mic: "If you didn't know that they were married, you wouldn't know that they are married."
Join our commenting forum
Join thought-provoking conversations, follow other Independent readers and see their replies