Unleashed: The secret world of Britain's dominatrixes

Show all 8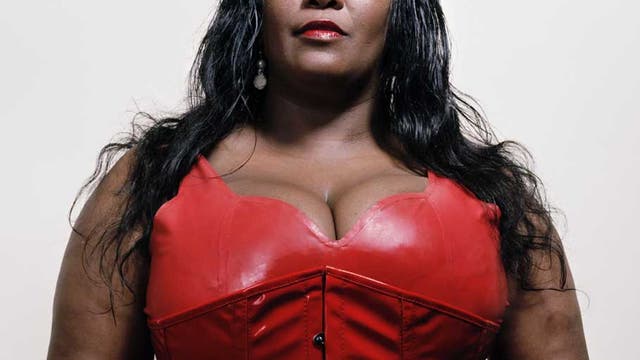 Unleashed: The secret world of Britain's dominatrixes
Britain's dominatrix business is booming, with S&M chic back in fashion and 'bondage pop' riding high in the charts. But what is life really like for the professionals – and their £200-an-hour slaves? The award-winning photographer Kate Peters reveals all
Holly Williams
Sunday 20 November 2011 01:00 Comments
It's been described as England's dirty secret, and was once the gleeful preserve of the most outré outings by tabloid newspapers: the visiting of a dominatrix. But the desire to be whipped into submission has arguably moved from seedy to high street, with an Ann Summers on every corner, "dominatrix chic" fashion editorials and pop hits such as Rihanna's "S&M" offering a bubblegum take on bondage.
Kate Peters spent a couple of years photographing real dominatrixes, during which she began to realise how very common it is: "I would end up going a mile down the street, to a house with a converted dungeon in it." While not tempted herself, Peters has a broadly positive view on the BDSM (bondage, discipline, submission and masochism) scene. "At one event, I put a drink down on a table and then realised it was a cage with a man inside. But the people all seemed comfortable – so it's like, 'Why not?' I actually thought it was nicer than going to a normal nightclub."
So what exactly is a dominatrix? The women in Peters' portraits are professionals: they dominate a client, usually a man, both physically and psychologically, for a fee (around £200 an hour). The domination will usually take place in a dungeon, a specially kitted-out venue, and the women will wear leather or latex fetish outfits with seriously spiky heels. But a dominatrix does not have sex with clients – they are not prostitutes. Often, however, the dominatrix came to the job through a personal enjoyment of taking control in the bedroom. So it is unsurprising that many have romantic, sexual relationships with men who enjoy being submissive: so much so they become their slaves.
Madame C explains: "Clients come with a list – I'm a platform for their desires and fantasies, and they pay for it." But she is also a "lifestyle" dominatrix, and has three slaves who she is "sexually and emotionally connected to". Their job, she explains, is to "release her from the k mundane", be that through leaning over the ironing board or bending over for a good spanking.
Miss Scarlet Letter also has her "boy" – real name Rob Martin – who keeps house while she goes to what she calls her "vanilla" job. BDSM is entirely personal for them; neither earns money from it. They are in a monogamous relationship and at some point will have "a collaring", a marriage-like ceremony of commitment.
"Obviously, I did think about the safety factor in giving complete control of my body to someone else, but honestly the amount of joy it's given me..." offers Martin. "It may not be everyone's cup of tea, but it's how I am."
With slaves, submission is total. Another, referring to himself as "dog", declined to talk to us because "as a dog it is not permitted to hold opinions or make decisions without the express approval of its bountiful owner".
Some people get off on both domination and submission – known in the scene as a "switch". Lewis North loves being told what to do (he used to clean his dominatrix's club dressed in a tabard and panties) but also, at times, likes to take control. "I can be having dinner with my girlfriend, and be a bit sub or dom, and that determines how the evening goes. It depends whether you fancy tying someone up or being tied up, like whether you fancy the chicken or the fish." North has parted ways with his dominatrix: "I had a sexual relationship with my partner, and professional relationship with the mistress. My girlfriend was jealous and I'm keen for that not come up again." Understandably, many people only attempt romantic relationships with fellow BDSM fans, who understand their kinks.
It's not just women who like to crack the whip; Master Cosmic is a dominant male. He has polyamorous relationships with women, but enjoys "play" in a wider sense: "I'm straight – but for me not all aspects of fetish are sexual. kI'd have no problems tying up a bloke, even flogging him. But will you find him in my bed in the morning? No."
Master Cosmic is pictured here in a wolf mask, which is both costume and identity protection. "What could be more edgy and frightening than a snarling wolf head in human size? There is a feeling of empowerment," he explains. But he also has to hide so there's no risk of being recognised. Master Cosmic offers the most vehement howl against the ongoing prejudice towards alternative sexuality in the UK: "There is still a lot of stigma attached. A lot of people can't say what they're doing in case they lose their jobs – journalists, doctors, teachers, social workers cannot be open about this side of their lives."
Perhaps we're not so comfortable with people's private sexual predilections after all. Several people I speak to are either fearful of losing their job, or acknowledge there are fields they could never work in now; others have had difficult experiences telling friends and family.
Yet they also suggest this isn't just some risqué lifestyle choice – it springs from an innate, natural need. Mistress Jezebel tells me that she couldn't be with "someone who isn't interested [in BDSM] because it is part of me". And everyone remembers being aware of their tendencies at a young age – Madame C was "always a bit of a bully"; Mistress Jezebel was always "pretty bossy"; Lewis dabbled in transvestism as "a wee boy". Master Cosmic can pinpoint the exact moment: "I was sitting on the climbing frame with a bag of sweets, going, 'Beg for them...'"
The other thing they have in common? BDSM makes them happy. They find fulfilment in it, beyond just dirty sexy thrills. And as far as they're concerned, there's no harm in that. So it's tempting to conclude, "Well, as long as they're not hurting anyone..." But then, in this context, that might be tantamount to professional insult.
Register for free to continue reading
Registration is a free and easy way to support our truly independent journalism
By registering, you will also enjoy limited access to Premium articles, exclusive newsletters, commenting, and virtual events with our leading journalists
Already have an account? sign in
Join our new commenting forum
Join thought-provoking conversations, follow other Independent readers and see their replies