The Independent's journalism is supported by our readers. When you purchase through links on our site, we may earn commission.
Mentioning food on your dating profile gets more matches, finds study
Everyone loves guacamole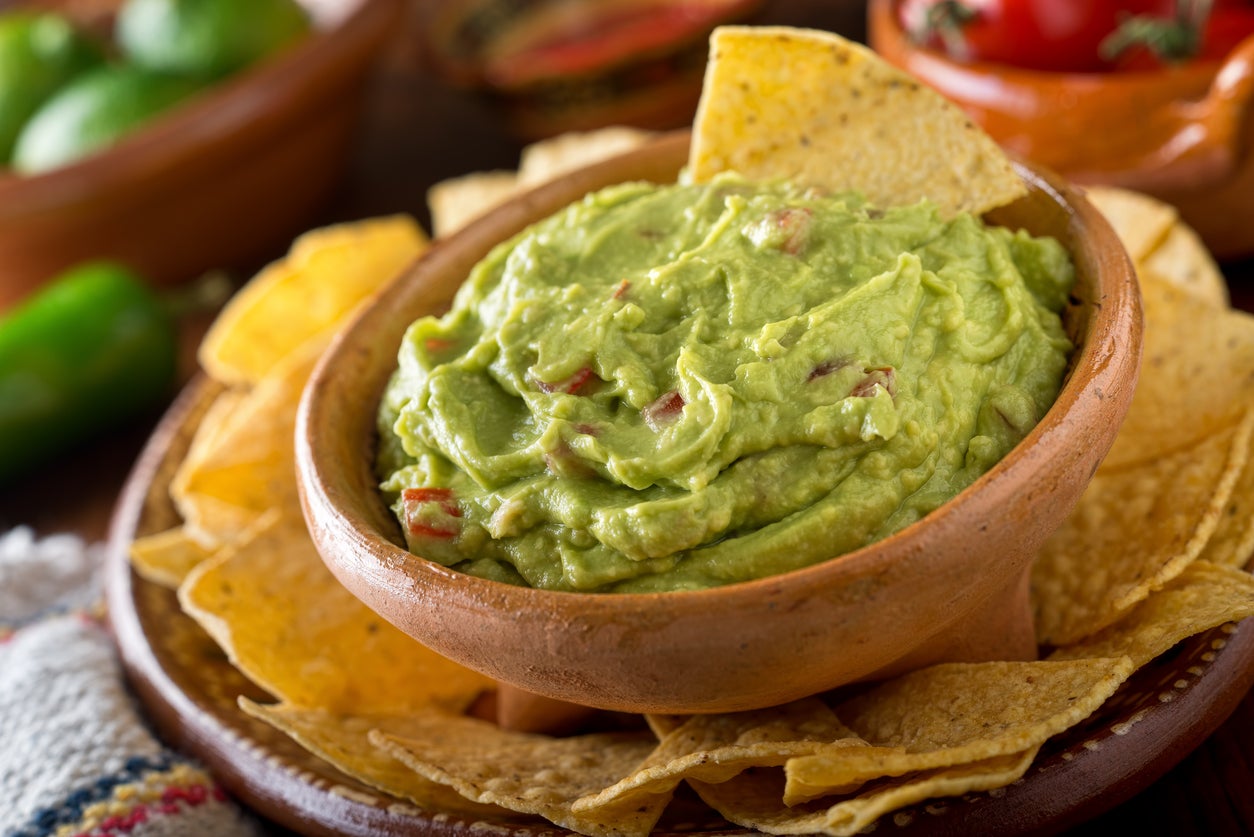 Crafting a strong online dating profile is undeniably an art.
We know not to have too many group photos, lists of demands or - God forbid - bathroom selfies.
But what should we actually be talking about in our bios to make sure those sweet, sweet right-swipes keep rolling in?
Apparently the answer is: food.
Yes, according to a new study, food really is the way to a person's heart.
Researchers at Zoosk analysed 3,733,185 dating profiles and 364,609,566 first messages to find out how mentioning different foods and food-related phrases affects online daters' romantic interactions.
They also surveyed over 7,000 singletons to get some insight into how food and dating intersect.
Interestingly, Zoosk found that not only mentioning food but also the specific ones you express a love of can have a big impact on your dating success.
The best food to mention? Guacamole. The avo-based dip could score you a 144 per cent increase in messages.
Guac scores a long way higher than the second most attractive food too, which is potatoes on 101 per cent, followed by chocolate on 100 per cent.
Here are the top foods to mention in your profile and the increase in inbound messages they receive:
Guacamole    144%
Potatoes    101%
Chocolate    100%
Salad    97%
Sushi    93%
Avocado    91%
Pasta    75%
Cheese    75%
Cake    72%
Burger    68%
Banana    66%
Biscuit    64%
Ice cream    62%
Fries    61%
Seafood    61%
Sandwich    55%
Steak    51%
Junk food    50%
Pizza    48%
Hot dog    41%
Sausage    30%
Eggplant    25%
Taco    24%
Ribs    20%
Bbq    17%
Burrito    17%
Pho    6%
Noodles    3%
And it's bad news for those of us who are partial to a slow release carb, with yams (AKA sweet potatoes) giving singletons a decrease of 70 per cent in inbound messages.
Also best to steer clear of fried chicken, which could result in 15 per cent fewer matches.
It's clear, however, that we all love food. Merely mentioning you're a foodie or a keen cook could get you more right swipes - profiles that contain the word 'foodie' receive 82 per cent more incoming messages, while those who mention the word 'cook' receive 26 per cent more incoming messages.
But before you start crafting your best cheese puns for your opening line, it's worth noting that starting a conversation on the subject of food may not help your chances of finding true love.
"For the most part, mentioning food in an initial message doesn't result in many more replies," the Zoosk researchers said.
"But there are some exceptions, the most surprising of which is eggplant [aubergine], which gets 10 per cent more responses than the average." Make of that what you will.
And in good news for vegetarians, while there was once a stigma attached to non-meat-eaters that could make them less attractive, this is no longer the case.
In 2015, messages that mentioned being a veggie received 100 per cent fewer replies than average. Now however, they receive three per cent more than average.
Must be all the aubergines.
Join our commenting forum
Join thought-provoking conversations, follow other Independent readers and see their replies