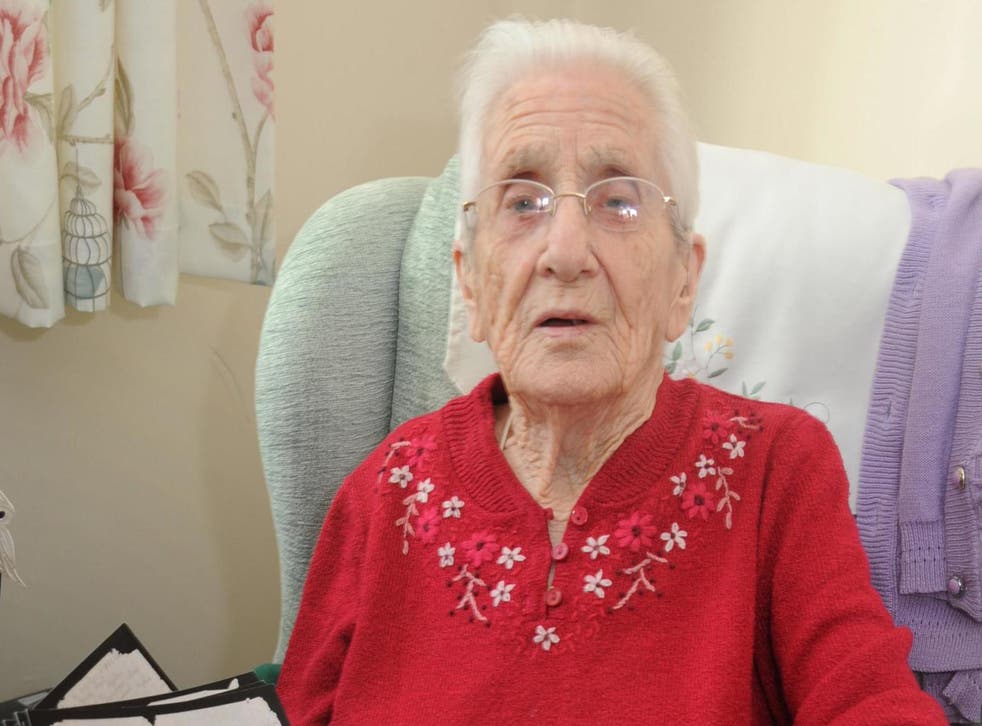 Grandmother aged 99 receives hand-written love letter from missing fiancé 77 years after he wrote it
The letter was found at the bottom of the Atlantic Ocean
A 99-year-old grandmother has received a love letter from her former fiancé 77 years after he went missing in the Second World War.
Phyllis Ponting was given the hand-written note after it was salvaged from the bottom of the Atlantic Ocean, where the cargo ship transporting it is presumed to have sunk in 1941.
The last message Ponting had sent to her fiancé, Bill Walker, who was serving with the Wiltshire Regiment in India, was one in which she accepted his marriage proposal – she thought his lack of response meant he had changed his mind, until now.
In the letter, Walker recalls how he "wept with joy" upon receiving her acceptance.
"I wish you could have been there when I opened it," he wrote.
"If you could only know how happy it made me, darling."
To this day, Ponting doesn't know if Walker survived the War. She went on to marry another man named Jim Holloway, with whom she had four children, who gave the couple a further four grandchildren and seven great grandchildren. Holloway passed away several years later and she is now married to Reginald Ponting.
"I don't think Bill can have survived the war, otherwise he would have been straight round to my address in Roseland Avenue," she said, explaining how different her life would've been had she received the letter at the time and reunited with Walker.
"We would have been married. He loved me a lot."
Walker's letter was salvaged by marine archaeologists who were looking for silver, but uncovered hundreds of personal letters instead, which are now being showcased as part of a new exhibition called Voices from the Deep that is taking place at the Postal Museum in London.
Museum curator Shaun Kingsley said: "It's the largest collection of letters since people started to write to survive any shipwreck, anywhere in the world.
"It shouldn't have been preserved, but because there was no light, there was no oxygen, it was darkness, it was like putting a collection of organics in a tin can, sealing it up and putting it in a fridge freezer.
"And in the conservation lab, slowly and suddenly words started to appear. Some 700 letters written from British India in 1940."
Ponting was tracked down as the "Phyll" mentioned in Walker's letter by BBC's The One Show. She has been given a copy of his letter to keep for herself.
Register for free to continue reading
Registration is a free and easy way to support our truly independent journalism
By registering, you will also enjoy limited access to Premium articles, exclusive newsletters, commenting, and virtual events with our leading journalists
Already have an account? sign in
Register for free to continue reading
Registration is a free and easy way to support our truly independent journalism
By registering, you will also enjoy limited access to Premium articles, exclusive newsletters, commenting, and virtual events with our leading journalists
Already have an account? sign in
Join our new commenting forum
Join thought-provoking conversations, follow other Independent readers and see their replies