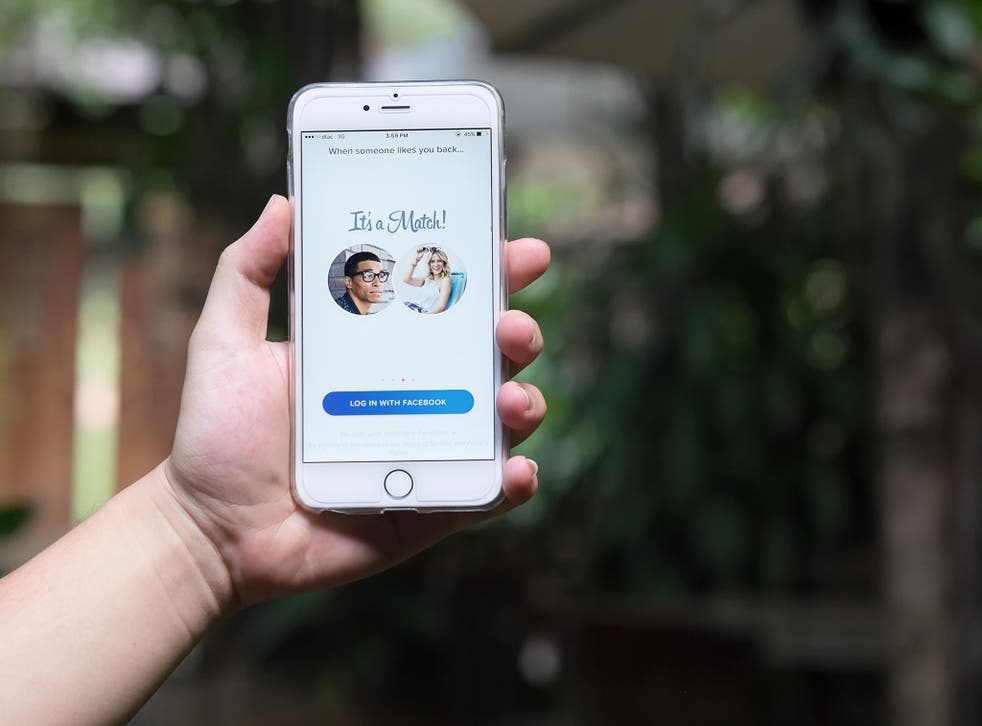 I met my fiancé on Tinder – yes, Tinder
It's been years since Tinder first emerged on the dating scene – which might be why it's become increasingly common to meet married couples who met on the app. Russell Daniels says he's proud to soon be joining their ranks
"Really?! No ... wow. Hey, it's 2017!"
Nine times out of 10 that is the response I get when I tell people I met my future wife on Tinder. People's reactions usually convey a mixture of shock, enthusiasm and judgment. It's a little like: "Good for you. But there's no way I would ever do that!"
And that's fine. I don't need anyone else to "approve" of how I met my fiancee, Nicole. We're embracing our origin story. Nothing about our relationship feels any less real than what others have, so why lie about how we first connected? I've never thought to myself: "Man, I really love Nicole. But I would love her so much more if we had met on the subway or at a dive bar in the East Village!"
When I joined Tinder, I had lived in New York for 3-and-a-half years. I finally felt secure professionally. But I didn't have a real community in the city. I hadn't found a group of people that made me feel at home. And I had been single so long that I figured a long-term relationship or marriage probably wasn't going to happen, either.
Nicole was only my second Tinder date. I would talk to people often on the app, but rarely did a conversation lead to a date. It seemed like the same basic conversation over and over again. Looking back, I don't think I was doing much to really engage with people. I was so excited about my date with Nicole because the week leading up to it, the banter-by-text was so great. It was a real Tom Hanks-Meg Ryan situation.
On our first date, we laughed the whole night. She was honest, funny and beautiful – and I was never afraid to be as direct with her as she was with the world. She told me she was not hungry because she had free lunch at her office that day and she had two of them. She told me that my arm hair looked beautiful in the candlelight. At one point, she went to use the restroom, and she said: "I know I don't really know you, but I'm going leave my purse here, but please don't steal my identity or my money." She made a joke about our goodnight kiss that was simultaneously funny but also reassured me that there would be one. She just owned her entire being. She was not apologetic, and she did not have any guard up.
UK news in pictures

Show all 50
This allowed me to be completely at home. She was so forward and open that it felt natural for me to do that, too. I was never worried that she didn't want the full Russell. I texted my friend Jackie while on the date and said "I'm going to marry this woman."
That great dynamic that Nicole and I had right from the start was not because of Tinder. It would have been possible no matter how we had met. But because she was so open, it allowed me to be less guarded as well.
We also met at a time when I was allowing myself to be vulnerable. I was making a conscious effort to focus on aspects of my life that I had been ignoring or was afraid to think about. I started writing. I started questioning more. I found friends. I joined a sketch comedy group and gained a whole community that is now integral in my life. And I found a true partnership in Nicole.
It was scary to admit that I was lonely – and that I wanted friends and a companion. But why? Why do we view loneliness as pathetic? As humans, we are all going to feel lonely. Maybe if we felt comfortable admitting loneliness, there wouldn't be so much shame and judgment around it. Maybe it wouldn't feel so crippling.
Showing vulnerability is not a cool thing for people to do. Both men and women are discouraged from it. As men, it's ingrained in us that sharing too much is feminine. (If that's the case, we could all use a little more femininity.) And women are often mocked for being too sensitive or "emotional," when many times they're just sharing an honest opinion of how something made them feel. In both cases, we may try to live up to gendered roles or expectations without thinking about how we actually feel.
People think vulnerability is weak. Being vulnerable is also scary, because it puts you in a terrain that can be uncomfortable or uncertain. But such risks can lead you to unexpected places. It was empowering to be around someone like Nicole, someone who took risks and found positivity because of them.
There's not a whole lot in a person's Tinder profile. It's a few pictures, maybe a two-sentence blurb. Daters can feel a huge amount of pressure to completely encapsulate themselves while coming across as charming, funny and interesting. With this setup, I could feel the pressure to present the protected, false and wildly perfect version of myself. But from my first texts with Nicole, I felt safe enough to let go of a lot of that. When I typed "poiiiifect" (instead of "perfect") and she responded well, I knew that was a good sign.
I don't know what would've happened if Nicole had presented a different, guards-up version of herself. I suppose I would have mirrored that back at her, and things would have been much different. We would have played those games that many couples put themselves through.
I was never interested in that scenario, though.
© Washington Post
Register for free to continue reading
Registration is a free and easy way to support our truly independent journalism
By registering, you will also enjoy limited access to Premium articles, exclusive newsletters, commenting, and virtual events with our leading journalists
Already have an account? sign in
Register for free to continue reading
Registration is a free and easy way to support our truly independent journalism
By registering, you will also enjoy limited access to Premium articles, exclusive newsletters, commenting, and virtual events with our leading journalists
Already have an account? sign in
Join our new commenting forum
Join thought-provoking conversations, follow other Independent readers and see their replies