The Independent's journalism is supported by our readers. When you purchase through links on our site, we may earn commission.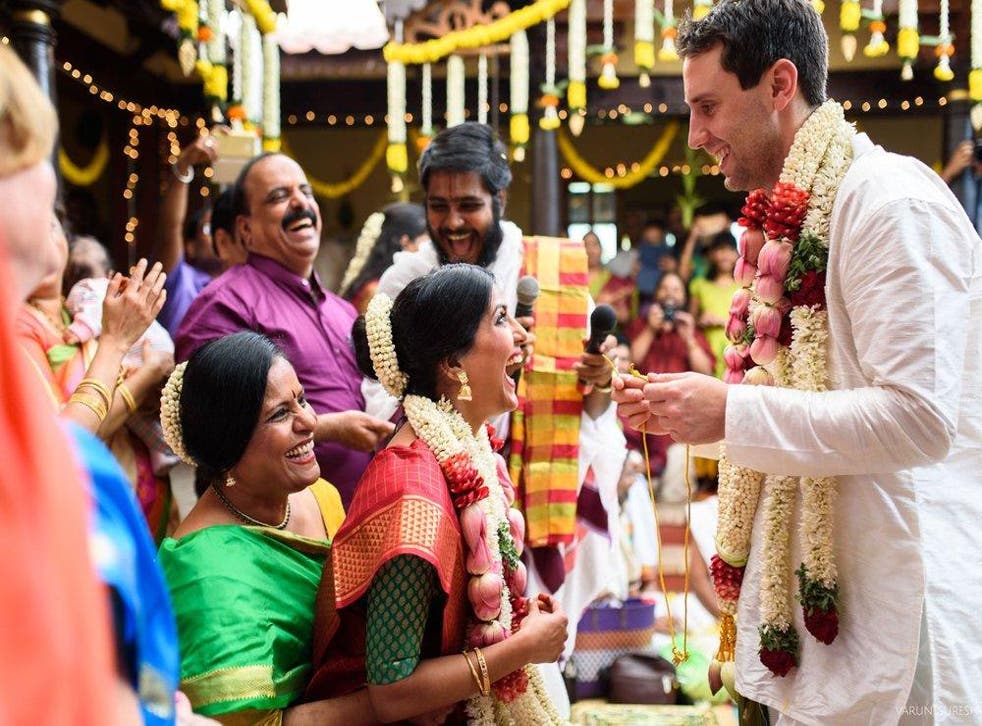 Single mother in India breaks tradition to give daughter away at wedding
'The wedding was an explosion of happiness'
Sabrina Barr
Thursday 01 February 2018 17:36 Comments
A wedding is a very special day; a union of hearts, a celebration of love and a generally feel-good occasion all round.
So, when single mother Rajeshwari Sharma found out that her daughter, Sandhya, was engaged, she decided to eschew usual Hindu wedding norms to take part in the special day.
Rajeshwari and her husband divorced after 17 years of marriage, having wed aged 21 and 33 respectively.
Hindu weddings usually dictate that the father of the bride gives his daughter away to her groom.
However, when Sandhya and her Australian beau Sam married in Chennai last year, that wasn't to be.
Sandhya and Sam were very excited for their wedding to follow certain Hindu rituals, such as having the groom wear a traditional veshti and having him tie the thaali around his bride's neck.
Nonetheless, they were more than happy to smash convention by having Rajeshwari play an essential role on the day.
"I very much wanted to be a part of my daughter's wedding and so I decided to be the one who had to give her away in marriage," she told The News Minute.
The wedding itself was an incredibly jubilant affair, as can be seen from the photos taken by wedding photographer Varun Suresh.
"The wedding was an explosion of happiness which is not the case in most south Indian weddings as people are largely preoccupied with the ritualistic aspects of it more than the celebratory," Suresh told The Independent.
"Srinivas (my co-photographer) and I quickly realised we were amidst something truly special.
"It was an absolute delight to shoot this wedding, we would have gladly shot the wedding without taking breaks even if it had extended by a few more days."
Rajeshwari came from a very conservative Tamil Brahmin family and moved to Australia with her husband when they were married.
She pursued a career in IT, managing to achieve an impressive job working for IBM.
Sandhya believes her mother's experience of living in the land down under allowed her to develop a more open-minded attitude.
"Having spent most of her time in Australia has given my mother a different perspective to challenge the traditional society and its norms back home in India," she said.
"We took the best out of its rich culture without being bound by customs that are discriminatory."
The Independent's Millennial Love group is the best place to discuss to the highs and lows of modern dating and relationships. Join the conversation here.
Register for free to continue reading
Registration is a free and easy way to support our truly independent journalism
By registering, you will also enjoy limited access to Premium articles, exclusive newsletters, commenting, and virtual events with our leading journalists
Already have an account? sign in
Join our new commenting forum
Join thought-provoking conversations, follow other Independent readers and see their replies