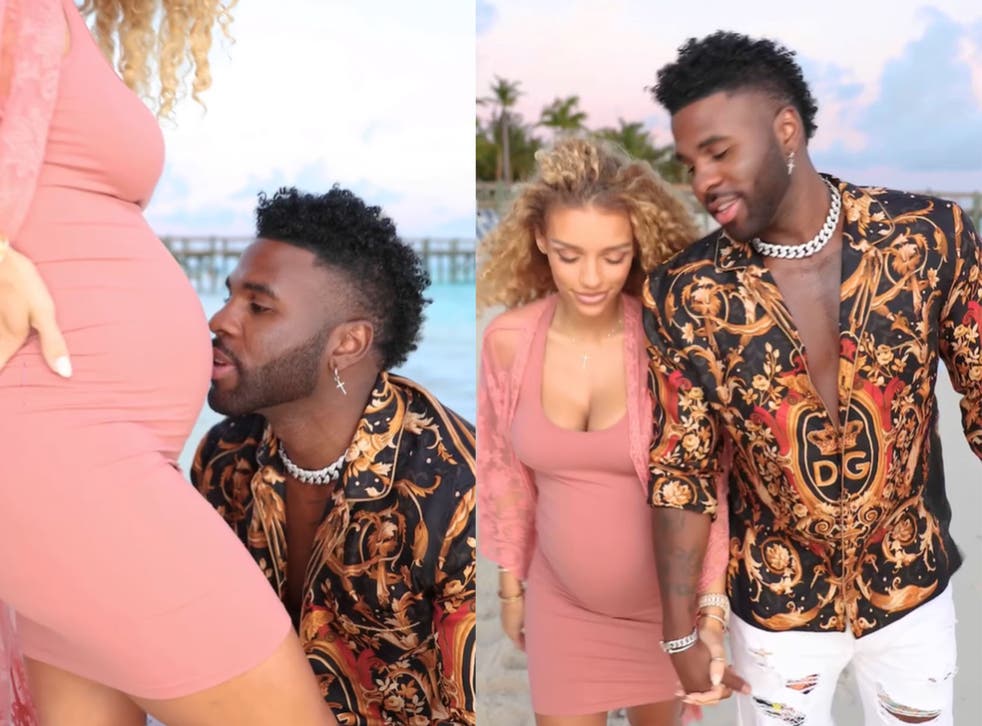 Jason Derulo expecting first child with girlfriend Jena Frumes
'Couldn't be more excited for this new chapter in our life,' says singer
Jason Derulo and his girlfriend Jena Frumes are expecting their first child together, the couple announced on social media.
On Sunday, Derulo shared a video on his Instagram page featuring himself and Frumes walking along the beach in the Bahamas, with Frumes' baby bump visible.
In the clip, which looks as if it has been shot professionally, the couple are seen holding hands and embracing at sunset while Robin Thicke's "Lost Without U" plays in the background.
One shot features Derulo kissing Frumes' baby bump while another shows the words "coming soon" written in the sand.
In the caption below, Derulo wrote: "Couldn't be more excited for this new chapter in our life."
Read more:
The video has had more than 71,000 likes and garnered thousands of comments.
Fellow musician ne-yo commented: "Congrats broski!"
Frumes, 26, shared a still from the video on her own Instagram page alongside the caption "Mom & Dad".
Derulo, 31, has previously spoken about his desire to have children.
"You know, I think I'm getting to that age, you know what I'm saying?," he said when being asked if he had "Baby fever" in an interview with Page Six last year.
The couple met just before the pandemic began last year.
Reflecting on how covronavirus had changed his mindset, Derulo told People: "These last few months have changed the way that I think about my career.
"I don't think I can be away from home that long anymore. It will change a lot of people, right?"
Join our new commenting forum
Join thought-provoking conversations, follow other Independent readers and see their replies