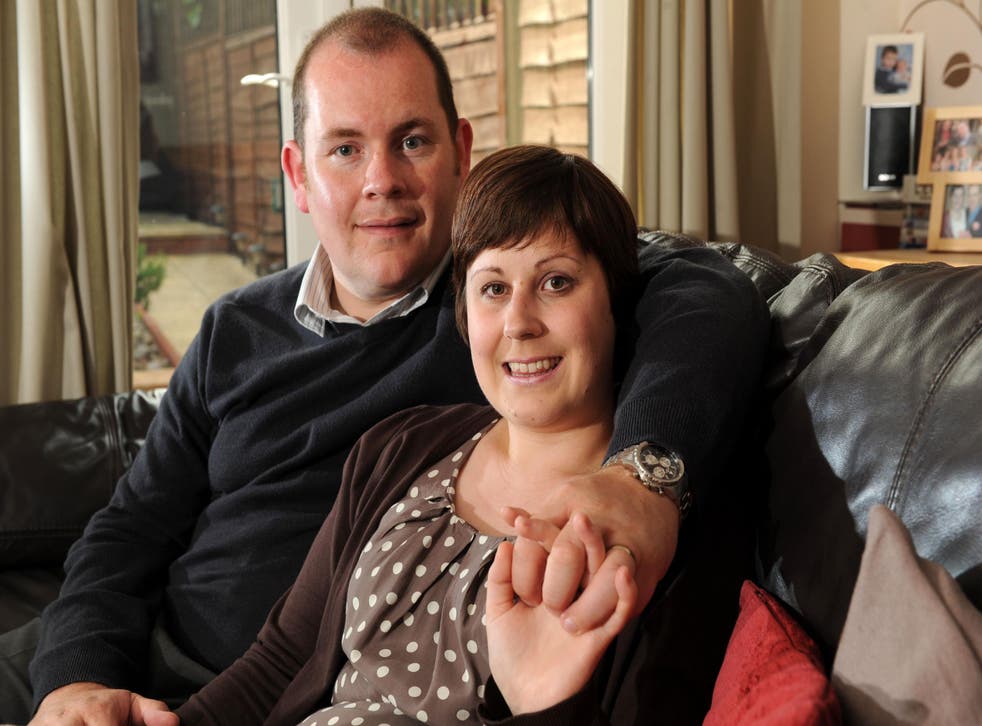 Man receives birthday cards every year from wife who tragically died of cancer
'It's a way of keeping the memories alive'
Sabrina Barr
Friday 13 April 2018 10:04 Comments
A woman who sadly died of cancer at the age of 34 arranged for her husband to receive years of handwritten birthday cards following her death.
Dr Kate Granger, from East Ardsley near Wakefield, West Yorkshire, was a doctor who was awarded an MBE for her services to the NHS and improving care in 2015.
In August 2011 Dr Granger was diagnosed with desmoplastic small-round-cell tumour, which is a rare and aggressive form of cancer that tends to occur in the abdomen.
Although Dr Granger initially received chemotherapy, she decided to stop treatment in 2012 so that she could carry on her important work in healthcare.
On July 23 2016, Dr Granger tragically passed away following her battle with cancer.
She wrote a series of touching handwritten birthday cards for her husband before she died, each annotated with the date on which it should be opened.
When Dr Granger's husband Chris Pointon turned 41 on April 11, he shared his latest card from his loving wife on Twitter.
"To my dearest humpty dumpty," the card read.
"Into your 40s now gorgeous. Has all the hair gone now?! I love you and always will so much. K."
Mr Pointon expressed how heartening it felt to receive the card almost two years since his wife had passed.
"Such an emotional birthday card to open from my beautiful and inspiring wife," he wrote.
"She is always with me and wrote cards for me well into the future. Miss her so much. I hope I'm doing you proud, my beautiful angel in heaven."
Mr Pointon's aim in sharing the card on social media was to inspire others who may be suffering from serious illnesses to think about what they could do to ease the pain of their loved ones should they pass away.
"I knew that I had the card because she had written them before she died," Mr Pointon said about his wife's beautiful gesture.
"It's obviously emotional but the reason I share it is because it gets people thinking.
"If they are going through something similar, it's giving them ideas too. It's a way of keeping the memories alive."
Prior to her death Dr Granger ran the #hellomynameis campaign, an initiative backed by politicians and celebrities that encouraged healthcare staff to introduce themselves to patients.
In 2014, NHS England launched the 'Kate Granger Awards for Compassionate Care' to acknowledge her amazing efforts.
A few days before she passed away, Dr Granger managed to raise more than £250,000 for Yorkshire Cancer Centre.
Mr Pointon has continued the work of the #hellomynameis campaign, with thousands of NHS staff members and healthcare workers coming together last year to observe the first anniversary of Dr Granger's death with an international #hellomynameis day.
Since Dr Granger's death in 2016, more than £110,000 has been raised for charities as a result of the #hellomynameis campaign.
Register for free to continue reading
Registration is a free and easy way to support our truly independent journalism
By registering, you will also enjoy limited access to Premium articles, exclusive newsletters, commenting, and virtual events with our leading journalists
Already have an account? sign in
Join our new commenting forum
Join thought-provoking conversations, follow other Independent readers and see their replies