'Mangagement rings': the rise of engagement rings for men
If you like it, would you put a mangagement ring on it?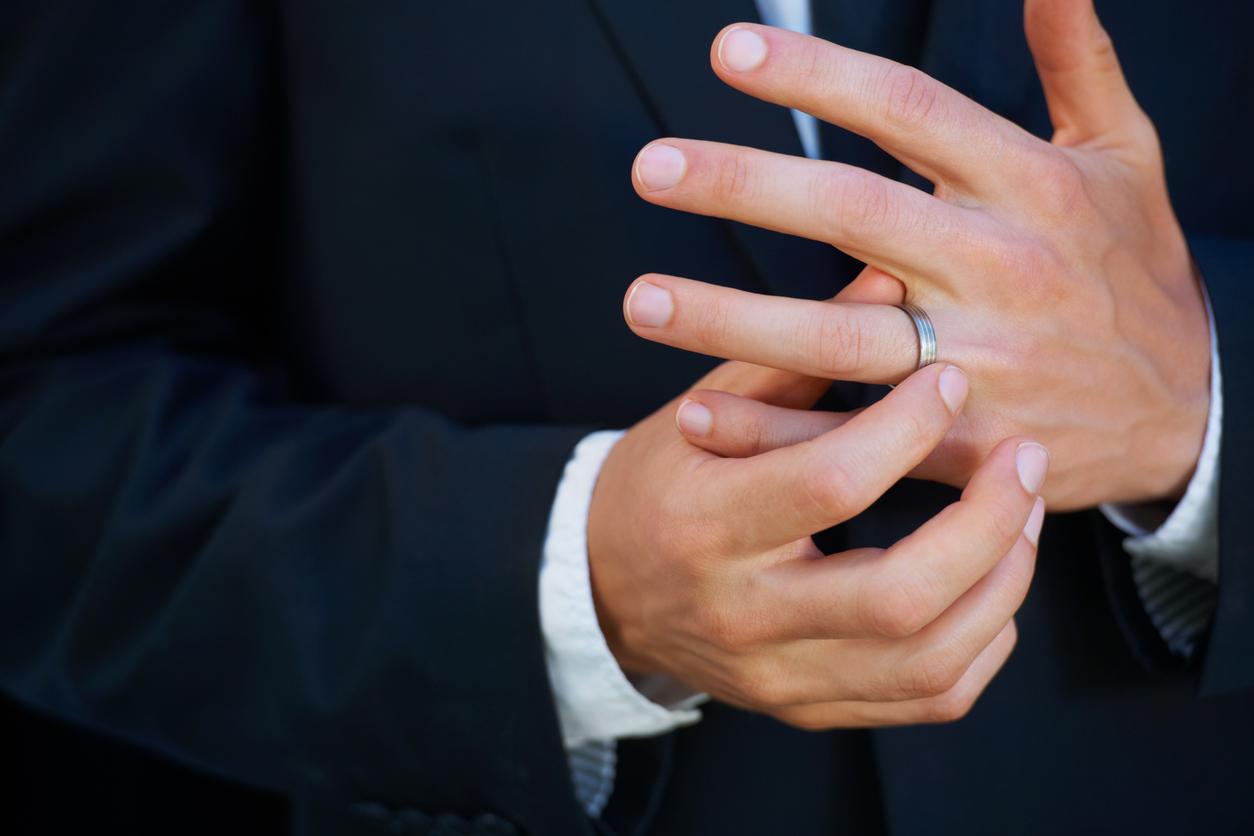 No, that's not a typo. Mangagement rings are a thing. And they're exactly what they sound like: engagement rings for men.
In the progressive times in which we live, the traditional idea of a woman wearing an engagement ring but a man not seems, to many, entirely backwards.
It almost seems like a woman is owned by her partner, like he's not "taken" yet.
"As a feminist I actually quite like the idea of mangagement rings, as otherwise it's like we are property of men with the ring 'branding' us, while they are free to skip around appearing unengaged," 30-year-old Helen explained to The Independent.
And many people - particularly millennials - think the whole concept of rings seems strange.
"I think the idea of a wedding ring for either partner is a bit weird to be honest," 22-year-old Ben says. "I don't really get the concept. But it seems strange for a woman to wear one and a man not to. If it's just the woman wearing one it does seem quite patriarchal."
Until the 1940s and 1950s, the idea of men wearing a wedding ring hadn't really been seen. And still today, many men don't wear one, although this is changing amongst millennials.
"I'd definitely want my husband to wear a wedding ring, how else are flirty women supposed to know that he's off the market?" says 23-year-old Scarlet. "It would feel like a lack of commitment otherwise, particularly as women wearing engagement and wedding rings is so ingrained within our culture - why should it be different for men?"
A few years ago, a study by XO Group Inc - the parent company of wedding site The Knot - found that five per cent of men wear engagement rings.
And more and more jewellers are designing rings specifically for men.
Eight years ago, jeweller H. Samuel launched the Tioro Ring - an engagement ring for men that was less expensive than a woman's but fancier than a man's wedding band. They now stock eight different mangagement rings, priced between £50 and £129.
Men's rings tend to be plain gold, silver or platinum bands, possibly with small diamonds too. After marrying, some move their engagement rings to their right hands instead of stacking both rings on the same finger, as women tend to do.
For a lot of couples, it's simply a way to be equal.
"We're all about equality," 27-year-old Josh Cooke, who wears engagement and wedding rings, tells The Independent.
He proposed to his girlfriend, but wanted to wear a ring too. "Well if my wife (fiancée at the time) got to wear one, why shouldn't I?! If I have to buy her a ring then she can buy me one!"
The cartoons that perfectly sum up relationships
Show all 10
24-year-old Emmie Harrison and her fiancé take a similar approach: "We're a very equal couple (planning on double-barrelled surnames) and he's a proud feminist."
When they were discussing getting engaged, she suggested he wear an engagement ring and he loved the idea - they talked about what colour, metal and stone he'd prefer, just as they did with her ring.
"Women have engagement bands to show that they're taken, in love and happy - and men sadly don't, which I feel they really miss out on," Emmie says. "Everyone asks me about my engagement and no one really asks him too much about it apart from saying 'well done, mate'.
"There are two of us in this relationship and we're exactly equal so I think it's cruel for him to miss out - plus he'll only be engaged once!
"But it's not about us being feminists, or me 'forcing' him to have one - I think it's just about him having a symbol of love and something to be proud of, and cherish forever."
The legalisation of same-sex marriage has also had an effect on the rise of mangagement rings - if two men or women get engaged, the traditional concept of a man proposing to a woman and her wearing an engagement ring goes out the window.
"My brother's gay and him and his fiancé both wear engagement rings," Ben explains.
And some jewellery designers now create rings specifically for same-sex couples, such as New York designer Rony Tennenbaum - many of the rings in his "Tie The Knot" collection look distinctly unisex.
There's also been a rise in mangagement rings in popular culture - Michael Bublé set tongues wagging in 2010 when he showed off an engagement ring. Bublé is married to Argentine actress Luisana Loreley Lopilato de la Torre, and in Argentine culture it's normal for a man to wear an engagement ring.
And although professional wrestler David Otunga proposed to singer Jennifer Hudson with a diamond ring, she proposed back to him with a ring of his own seven months later.
Men are increasingly proud to be engaged and want to be on an equal footing with their partners, but many women haven't yet come round to the idea of buying them.
Despite her support of men wearing wedding rings, Scarlet is less on board with the idea of mangagement rings: "Until you've both said 'I do', the knot hasn't been tied. What's the point in buying more jewellery? Also, what men would want to wear more than one ring anyway!?"
Well actually, clearly a fair few.
Join our commenting forum
Join thought-provoking conversations, follow other Independent readers and see their replies