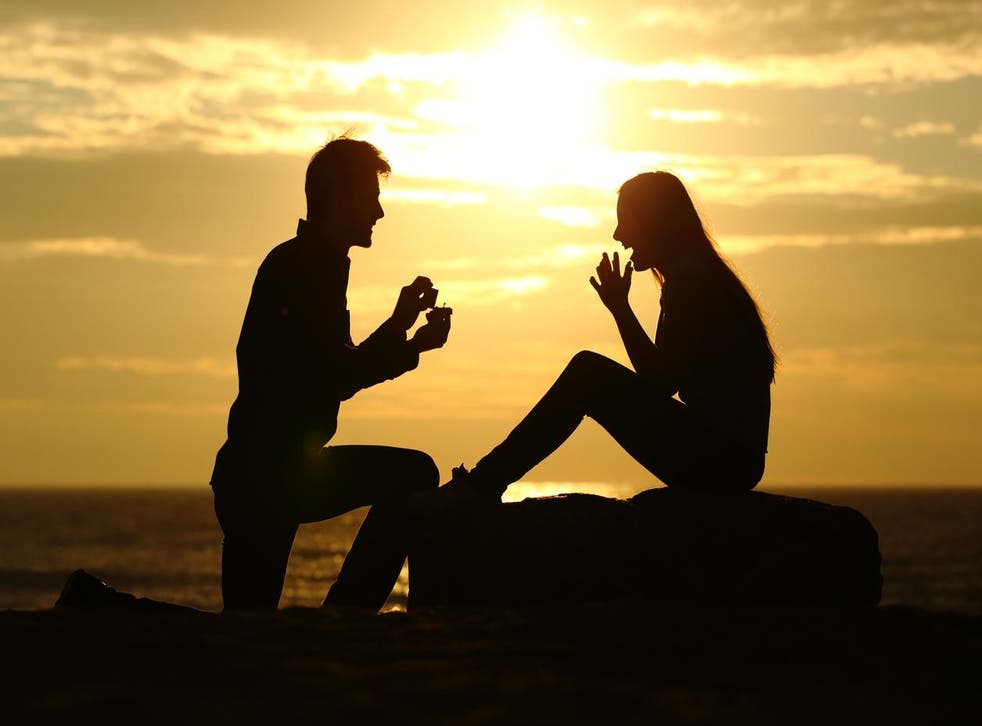 Will you be my wife? Meet the woman who planned a £220,000 marriage proposal
How much is wooing the love of your life worth to you?
If you're someone who wants to get married someday, the chances are you've thought about how you want to propose or be proposed to.
Ideally, it should only happen once, so of course, you want your proposal to be perfect - whatever perfect may mean for you.
But how far would you go - or how much would you spend - on proposing to the love of your life?
One property developer from Dubai pushed the boat out (literally) when he spent a whopping £220,000 on a proposal to his girlfriend.
According to marriage proposal planners The Proposers, the proposal cost £150,000 to plan and another £70,000 on top of that for a one-minute appearance of a celebrity in a video that was played during the proposal.
"I spent about £20,000 just on the flowers," The Proposers founder Daisy Amodio told The Independent. So where did the rest of the £150,000 go?
The couple started on a yacht in the Mediterranean before taking a helicopter to a luxury hotel in the cliffs above Monaco. They walked through an archway to find an oak tree dripping with fairylights, notes containing reasons why he loved her and hand-drawn illustrations of the pair.
They carried on to a terrace with a view over the Mediterranean, drinking love potion cocktails as they went and being serenaded by a live jazz band. As they got there, a 'marry me' sign appeared and the man popped the question. But the proposal wasn't over yet.
Magical wedding proposals created by The Proposers

Show all 8
The couple continued into a cave decorated with vintage cinema trinkets, they sat down in retro cinema seats and watched a video the groom had made - alongside their family and friends saying why they loved them, the celebrity appeared with a special message.
Next, doors to the cave opened up to a panoramic view, there was a band playing and the newly-engaged couple had a romantic dinner surrounded by flowers. There was also a wishing-well complete with custom-made coins to commemorate the proposal.
Finally, all their family and friends appeared to celebrate with the couple.
The man had come to Daisy saying he'd happily spend £100,000 to £200,000 - but not a million.
This is, of course, the extreme end of the scale, but more and more men (for 95% of the time it is heterosexual men, according to Daisy) are turning to professionals to help plan their proposals.
The average man will spend around £2,000, Daisy says: "Most people want singers, a sign and some romantic decor."
A few years ago, it was all about the flashmob, but the latest trend in the proposal world is balloon lettering.
Daisy, 35, wasn't always a proposal expert - five years ago she was working in advertising, but then her younger brother came to her asking for help proposing to his girlfriend.
She ended up planning a personalised treasure hunt round London and a sunset proposal overlooking the city, and from there a seed was planted in her mind.
After realising she'd spotted a gap in the market, Daisy decided to take the plunge: "I had a good job and everyone thought I was mad to give it up during a recession but I did because I really believed in the idea. I had that gut feeling."
And her leap of faith appears to have paid off as The Proposers have now planned nearly 1,000 proposals and had their own TV show.
Along with her three employees (and an intern), Daisy focuses on making each proposal personal, and the Proposers have worked all over the world, from Nigeria to Iceland.
Most memorably, there was the French chateau where the couple arrived in a horse and carriage, featuring fireworks, candles, a video, singers, dinner and lilypads.
Then there was the couple for whom Paddington Station had special meaning - they stepped off the train and into the concourse to find buskers singing their song. He went over to buy a CD which just so happened to have a picture of the couple on, and instead of a song-list were 10 reasons he loved her.
The singers turned around to reveal their T-shirts emblazoned with the words 'Marry me, Kerry-Anne.' "All of Paddington was clapping," Daisy fondly recalls.
Intriguingly, some men like to trick their girlfriends. One guy, for example, got his girlfriend to study for an interview for two weeks but it was completely fake. "The interviewer was an actor and it got weirder and weirder and weirder," Daisy explains.
He had a call from his director and excused himself, putting on the company video while he was away. Lo and behold, the 'company video' featured the groom-to-be who then burst through the door to propose.
"One man is planning a fake arrest in Barcelona this summer!" Daisy says. So if your boyfriend whisks you off to Spain in a few months' time and appears to get arrested, don't believe him.
Some of the proposals seem too wacky to be real, but Daisy says half the time the men come to her with ideas, and the other half "don't have a creative bone in their bodies," the Proposers have to eke details out of them by asking questions about the couple such as where they had their first date, how they met and what the woman's favourite colour is.
Quite often Daisy stalks the woman on social media to find out what she likes too.
Interestingly, men only tell their brides-to-be that they employed professional proposal planners half the time, but Daisy doesn't mind them taking the credit.
The average length of time to plan a proposal is one month, but Daisy recently had her work cut out when asked to help with an incredibly last-minute one:
"Recently a guy called me at 4pm and said he wanted a proposal at 7pm that day. We went to a hill overlooking London and I took all I could find in the office: some lanterns, candles, fairylights and a 'marry me' sign."
After setting up in just 15 minutes, Daisy hid, poised to take pictures. The couple arrived, she said yes and they both loved it. The groom's budget had been £500, which is the Proposers' minimum fee.
The company have never had anyone say no to one of their proposals, although there were two men who didn't end up asking the question - one chickened out and the other ended up having an argument with his girlfriend.
Occasionally, Daisy sees a couple that have only been together for a few weeks or months - she's only once refused a potential client though: "He was a 17-year-old guy who'd been with his girlfriend for three months. They were going to different universities and hadn't even met each other's parents but he wanted to propose. I said no."
When Daisy started the company, she'd been with her boyfriend for five years. "I really wanted to get engaged but he was just lazy," she explains. "I love proposals, I love everything about them, I was 28 and all my friends were getting engaged but he wouldn't propose."
How do you propose to a woman who plans proposals for a living though? A year and a half later, he finally plucked up the courage to pop the question.
"I didn't want a huge proposal as I know what we're like as a couple - I like to keep my private life private," Daisy says.
"He'd tricked me and said he was going to be at work but when I opened the door to our flat, it was all dark and there were petals and candles leading to the roof terrace door. On the door there was a massive sign which said 'Is this how you pictured your future?'."
She opened the door and he was standing there in a suit with hundreds of candles and lanterns and flowers - "He apologised for taking so long and proposed with the ring I wanted."
Daisy's now husband had booked her in for a manicure because he knew she'd want to show off the ring to her friends too.
"It was thoughtful but he was so nervous even though he knew I'd 100% say yes. He said he could see why people have planners as it's so stressful!"
Daisy believes social media is upping the pressure on proposals because the first thing people do after getting engaged is post a picture on Facebook: "There's competition with your friends and people want an Instagram-worthy picture."
Whenever they can, Daisy and her team like to watch the proposals because they want to witness the moment they've created. Sometimes they go out and congratulate the couple afterwards, and are often invited to the weddings too - one couple even flew them out to Dubai.
As Daisy points out, upon getting engaged, a couple "hasn't got married or had a baby so it's the biggest moment in their lives. Becoming part of that is really special - quite often I'm standing there watching and crying my eyes out."
Daisy's top tips for proposing:
1. Make it personalised – It's all about the detail. There's no point proposing at a football stadium if your partner hates football. It doesn't need to cost the earth but make sure you put a little effort into it. If she loves pink roses, then fill your home with them or even better, spell out 'Marry Me' in long-stemmed pink roses..
2. Choose the right location – Think of the location and weather beforehand. There may be an event happening or it may be raining on the day. Always have a back-up plan.
3. Capture it on film – In this day and age, everyone loves pictures. Make sure you capture this once-in-a-lifetime moment so you have it to share with your friends and family (even grand-kids) time and time again.
4. Friends and/or family – You might want everyone you know there to celebrate but make sure you A) know that the answer will be a yes, and B) practice what you want to say – just saying those four famous words is pressure enough without worrying about what the family think.
5. Private or public – If your partner is a shy, timid person then don't propose in a public place in front of a thousand people with a singing flashmob! Make sure it's private or in a place that's just about the two of you. Likewise if you want to declare your love from the rooftops then go for it, everyone loves to see a romantic proposal.
Join our new commenting forum
Join thought-provoking conversations, follow other Independent readers and see their replies