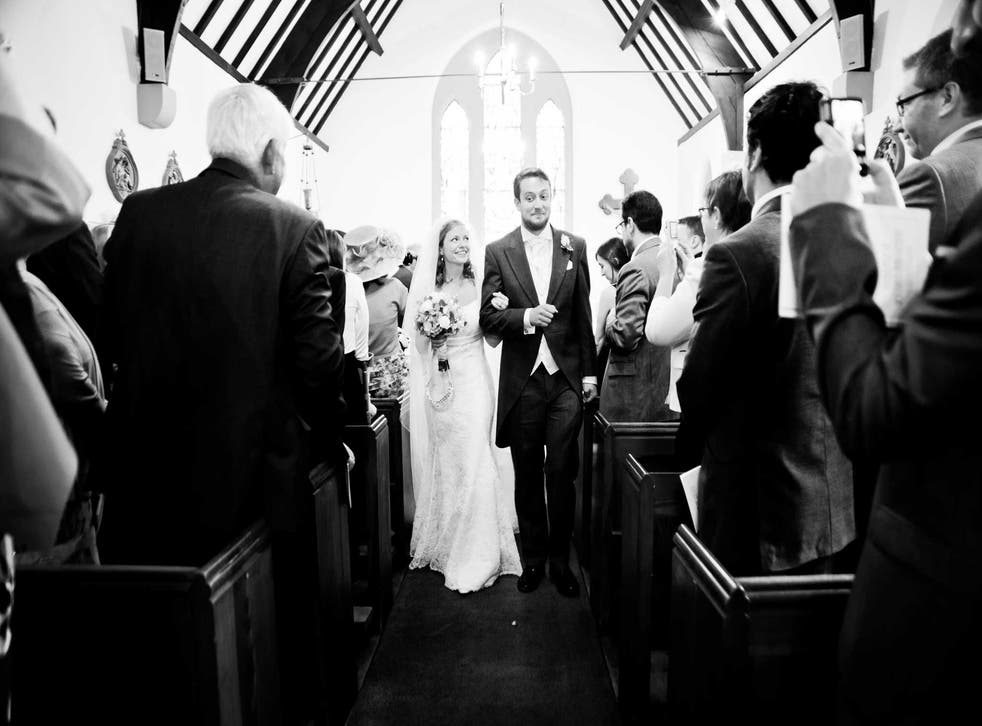 A young person's guide to 'I do': What's it like to get married in your mid-20s?
The average age for first-time marriers is 32 for men and 30 for women. Getting married in your twenties is for losers, right? Maybe. Will Dean & Charlotte Philby put the case for getting the whole thing out of the way early doors
Will...
My mother, as was about par for the course in 1975, got married at the age of 21. Then divorced at 32.
As such, I'd vowed as a young man that I would wait until I was at least 35 before deigning to stroll down the aisle with my beloved. Alas, there's that old John Lennon adage about life and other plans. I met my now-wife on the first day of university, we started dating a couple of months later, and by the time we were 25, we'd been going out for six years. For various reasons, it was decided that I might be wise to maybe, perhaps, possibly start considering the possibility of shopping for an engagement ring. And so it was. A bit of saving later, a proposal here or there, months of talking about flowers and first dances – we eventually alighted on "(Just Like) Starting Over" by your man above – and we were married, both aged 27.
All fine. We were both ready, happy and mad-keen for a lifetime's supply of John Lewis crockery and glassware (about half of which remains unsmashed). And we remain happily married.
But it still felt very young. Though maybe not. Although the average age at (first) marriage for men in England and Wales is just over 32, the most common age-group by frequency to get married is 25-29 for both men and women. We were only the second among our group of friends to get married, but perhaps that reflected the demographics of our group. We all met at university and the greater number of women in higher education is cited as one of the main reasons for the average marriage age getting increasingly older.
Interestingly, while combing through stats on the Office for National Statistics website, I discovered that in 2010, the last year figures are available, as well as 3,571 people in England and Wales who got married for the first time aged 16-19, there were 15 people who got married having previously been divorced. Which is some going, and certainly makes my navel-gazing about getting married too young seem rather misplaced.
We only got married young (or, 'young' I suppose) due to a number of favourable factors – not least the fact that we'd been a couple long enough to have had a few years living together to see if we drove each other mad. We do, but not quite enough.
It may be the fact that most people now co-habit before marriage which plays an important role in the increasing average age at marriage and – happily – a divorce rate which is now a fifth lower than it was in 2002. The number of marriages failing in their first 10 years is now as low as it's been since the mid-1980s.
This try-before-you-buy approach to matrimony looks like it's only going to increase. No doubt adults who graduate in the next few years, with five-times the debt we left university with, will see marriage as even less of a priority. But the wait makes for better marriages. As Terence Blacker wrote in this newspaper earlier this year, mine is – hopefully! – a generation that has learnt from the mistakes of its parents when it comes to prioritising marriage. In his words, "the less seriously marriage is taken as an institution, the more sincere it becomes".
As I looked at the age my parents married and wondered why on Earth anyone would marry so young, so it's likely that my own kids will wonder what on Earth I was playing at getting married at 27. For us, it was right. The best. For others, it wouldn't be. So my only advice is this: put sturdy wine glasses on your wedding list.
Charlotte...
I never dreamt of a white wedding, which is good because I was never going to get one. Not with my husband-to-be, who had to buy a suit especially for our wedding, biting a considerable chunk from our £2,000-for-absolutely-everything budget in the process.
I was 27 when he proposed, while simultaneously changing our daughter's nappy as I swept the floor in a rented apartment in Brooklyn on a trip to visit friends. It was marginally more romantic than it sounds, though it needn't have been. Our first child had just turned three months and, ever since my mum's friend who is a lawyer and more sensible than I am insisted it would make dealing with bureaucracy, should anything terrible happen to either of us, much easier if we'd sign a wedding certificate, I'd started dropping hints, namely telling my boyfriend repeatedly, "We need to get married".
By national standards, 27 is not particularly young to wed. By mine, it was. I'm from London and like most of my friends who grew up here, I felt life was much too interesting to give it all up and get hitched. At that point, marriage felt like a provincial concept, weighty and dull. In my early twenties, I saw at least the next decade as one filled with spontaneous travel, parties with amazing music and ridiculous conversation, rather than polite chit-chat about house prices and fertility. I wanted a career, and as far as I could tell – not least because in order to stay in London I would have to live with my mum until I was 46 – none of that was conducive to the concept of 'settling down'.
So when I found out I was pregnant at the age of 27, I had to re-think. It is incredible – and a testimony to the power of female hormones – how quickly I converted to the idea of starting a family, and the realisation that I did not have to give up all fun and personal ambition (though maybe some, temporarily) followed soon after.
My boyfriend and I had hastily moved into a place together while I was pregnant, so money was tight; nevertheless, we wanted our wedding to be fun.
In the end, we decided to spread our shoe-string budget across a registry office do for the family on the Friday, followed by a two-day party at an artist's commune and the surrounding countryside, which my husband had connections to. >
To the horror of some of our less open-minded relatives, this involved camping, home-brewed cider and a friend's band, in a place co-habited by various people including an 89-year-old nudist and morning-jog enthusiast. My brother-in-law did the cooking (fortunately he is a chef), and our friends came down the night before to spruce up the dilapidated barn for the big event.
To say the weekend went perfectly would be a lie. Selected highlights include our daughter having a fit in the middle of the speeches (which were mercifully short), my husband passing out in another room on our wedding night, and me accidentally sending half the guests to the wrong pub several miles away, on foot, with no map and no phone reception, for a hungover lunch the next day. But you could say it was perfectly ramshackled.
I'm also pretty sure it was not the happiest day of my life – other people's weddings are far more enjoyable – but I danced until my feet bled (and was summoned by my mother to go to bed in the same room as my then eight-month-old daughter), surrounded by most of my friends and family. And while I still feel like a bit of a phoney when referring to "my husband", I wouldn't change a moment of it.
Getting married turned out to be a really good excuse to have a good old knees-up with those people who mean the most to me and that has got to be worth at least as much as a piece of paper.
When we marry
17.6
The average marriage age for women in Niger. The youngest in the world
33.2
The average for women in Jamaica. The oldest
22.4
The average for men in Madagascar, the youngest
33.2
And the oldest men, also in Jamaica
21.3/24.2
Average UK ages for women/men in 1971
26.3/28.1
The same average by 2001
Research by Andrew Broome
Register for free to continue reading
Registration is a free and easy way to support our truly independent journalism
By registering, you will also enjoy limited access to Premium articles, exclusive newsletters, commenting, and virtual events with our leading journalists
Already have an account? sign in
Register for free to continue reading
Registration is a free and easy way to support our truly independent journalism
By registering, you will also enjoy limited access to Premium articles, exclusive newsletters, commenting, and virtual events with our leading journalists
Already have an account? sign in
Join our new commenting forum
Join thought-provoking conversations, follow other Independent readers and see their replies