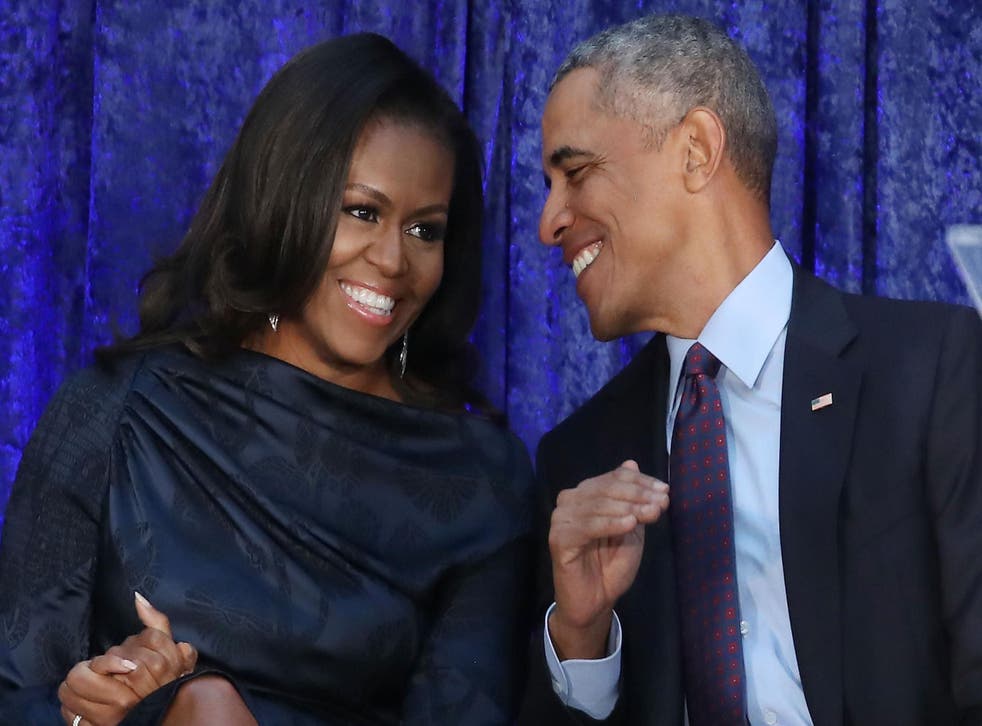 Michelle Obama shares her advice for a lasting marriage: 'You can't Tinder your way into a long-term relationship'
The first lady explained what has stopped her walking away from her marriage
Hayley Spencer
Monday 07 September 2020 11:17 Comments
As Michelle Obama approaches her 28th wedding anniversary she has shared the secrets to a long-lasting relationship.
The former first lady discussed love, dating and her marriage to Barack Obama with TV host Conan O'Brien on her podcast The Michelle Obama Podcast .
The pair spoke about the fact that they feel previous generations have not been as open in admitting the realities of how hard marriage can be.
"Young couples, they face these challenges and they're ready to give up because they think they're broken," she explained.
"And I just want to say, look, if that breaks a marriage, then Barack and I have been broken off and on, throughout our marriage, but we have a very strong marriage.
"If I had given up on it, if I had walked away from it, in those tough times, then I would've missed all the beauty that was there as well," the 56-year-old added".
Joking that "You can't Tinder your way into a long-term relationship", the attorney added that in order to make a relationship last you need to see all sides of your partner.
"There's no magic way to make that happen except getting the basics of finding somebody, being honest about wanting to be with them, to date them seriously, to plan on making a commitment, to date them, seeing where it goes, and then making it happen," she explained.
After airing the episode, Obama reflected further on the discussion with O'Brien in an Instagram post featuring a picture from her wedding day to former President Barack Obama from 1992.
"Last week on The #MichelleObamaPodcast, Conan and I reflected on our marriages. This relationship can be one of the most foundational pieces of our identities—bringing us so much joy, meaning, and support every single day", she wrote.
"But one thing is for sure: It also takes a lot of work; a lot of honesty with ourselves and our partners.
"That's one thing I've learned. I'd love to hear some of the things you've learned about marriage and about yourself", she added asking her followers to share their advice in the comments.
Obama has previously spoken openly about the ups and downs of her marriage. In 2018 she told People Magazine: "Because [Barack and I are] role models, it's important for us to be honest and say, if you're in a marriage and there are times you want to leave, that's normal — because I felt that way".
Register for free to continue reading
Registration is a free and easy way to support our truly independent journalism
By registering, you will also enjoy limited access to Premium articles, exclusive newsletters, commenting, and virtual events with our leading journalists
Already have an account? sign in
Join our new commenting forum
Join thought-provoking conversations, follow other Independent readers and see their replies