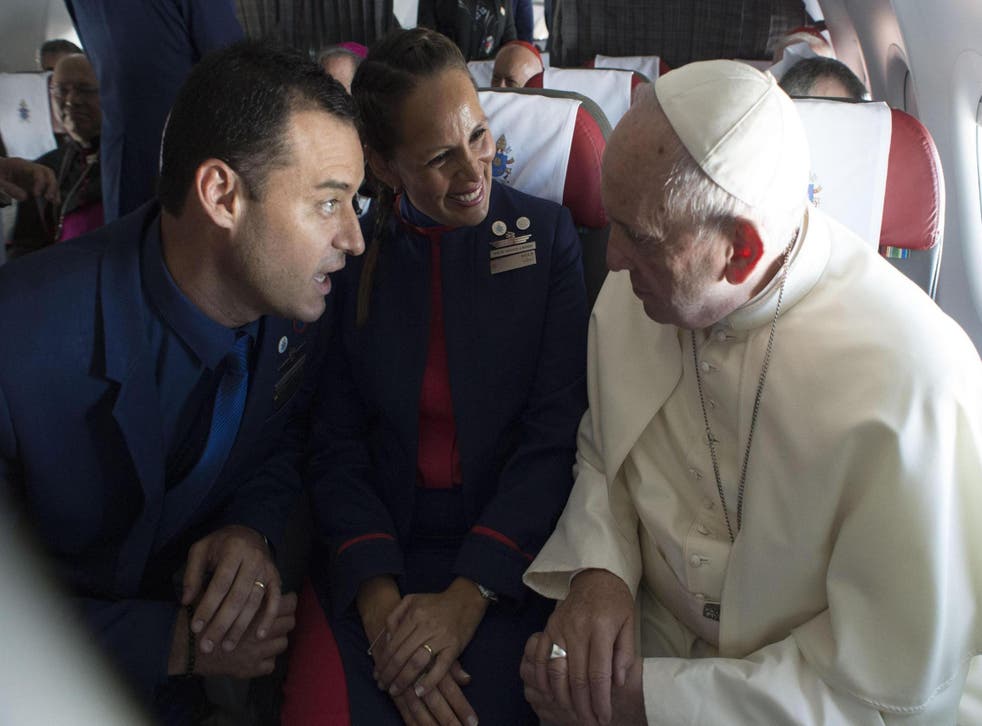 Pope Francis officiates the wedding of two flight attendants mid-air
The couple were in soaring spirits
Sabrina Barr
Thursday 18 January 2018 17:47 Comments
Pope Francis spread the love at 36,000 feet when he married a pair of flight attendants while mid-air.
The Pope was on his way to Iquique from Santiago during a three-day visit to Chile when divine duty called.
Paula Podest, 39, and Carlos Ciufardi, 41, have been a couple for over ten years and were both working as flight attendants on the Catholic leader's plane.
Podest and Ciufardi, who have two young children together, have been civilly married since 2010 and were due to marry religiously in a church.
However, when an earthquake damaged the church in which they were due to marry, they didn't go through with the ceremony.
During the flight, the couple asked the Pope if he would bless their relationship.
Pope Francis asked them if they were married, to which they explained their predicament.
He immediately asked them if they wanted him to officiate their wedding, there and then.
Without further ado, the Pope took the couple's love to new heights by marrying them in the sky.
The Vatican has released a photo of a handwritten document validating the marriage adorned with the Pope's signature.
This is the first time a pope has ever officiated a wedding while flying on a plane.
When the Pope told Podest and Ciufardi that he would marry them, they asked him if he was sure he was happy to perform the ceremony.
The Pope also allegedly gave the couple some words of wisdom to mark the special occasion.
"What he said to us is very important: 'This is the sacrament the world needs, the sacrament of marriage'," Ciufardi told journalists.
"Hopefully this will motivate couples around the world to get married."
Many people have expressed their admiration for Pope Francis for going above and beyond in his papal duties.
"How lucky and blessed are that couple?", one woman wrote on Twitter.
Another Twitter user commented: "That beats just about every wedding story."
Register for free to continue reading
Registration is a free and easy way to support our truly independent journalism
By registering, you will also enjoy limited access to Premium articles, exclusive newsletters, commenting, and virtual events with our leading journalists
Already have an account? sign in
Join our new commenting forum
Join thought-provoking conversations, follow other Independent readers and see their replies