The Independent's journalism is supported by our readers. When you purchase through links on our site, we may earn commission.
LIFESTYLE FEATURES
Make or break: Ensuring your relationships survive the new normal
Lockdown forced relationships to the extreme: keeping us away from some people and forcing us to be with others 24/7. Now it's lifting, Natasha Preskey asks how we navigate uncharted waters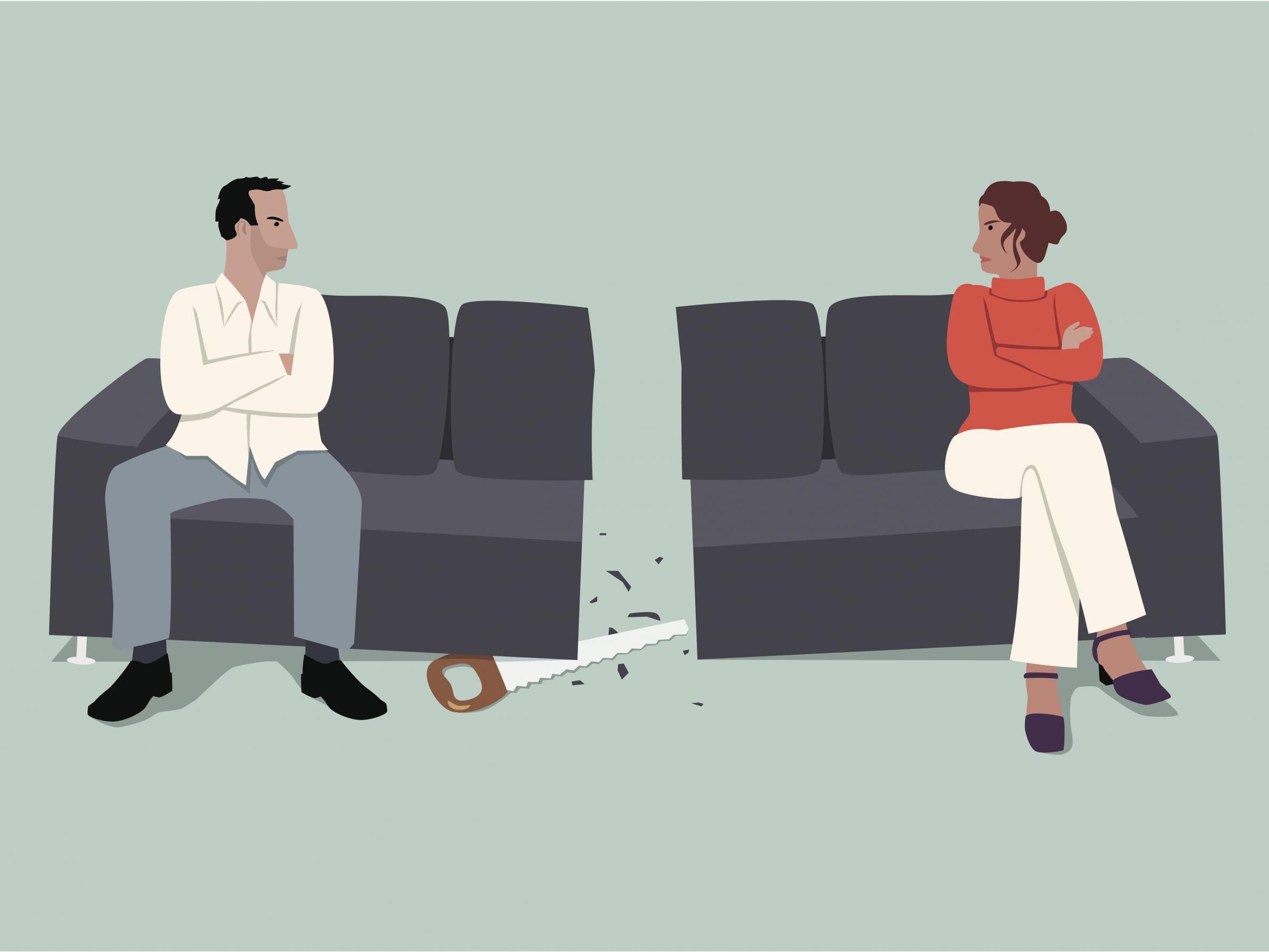 Leer en Español
The day the UK went into lockdown, Sarah Dixon, 50, waved goodbye to her daughter. Although the prime minister's broadcast was still hours away, social media had been full of speculation that the government was about to impose strict new rules to control the spread of coronavirus. The 18-year-old – Dixon's youngest child – was worried that she would be kept apart from her boyfriend if the rumours came true.
So Dixon, and her husband Stephen, who have four children, gave their blessing for her to go and live with her partner. "She cried because she didn't want to leave," Dixon tells The Independent. "But within the space of an hour, though, she'd packed up her car, driven off, and we didn't see her for three months."
The couple were left to see out lockdown alone – the first time in over 20 years they'd spent a week by themselves. "In the back of my mind I always thought 'Oh god, I wonder what it's going to be like when it's just him and me'," Dixon explains. But as the weeks drew on, they settled into a routine, enjoying daily sunset beach walks, and gardening.
Three months later, the easing of lockdown brought another drastic change. Their eldest son lost his job and he, his wife, and his younger brother, all came back to the family home. Sarah and Stephen went from living alone as a couple, to the house being the busiest it has been in five years.
Lockdown has changed the nature of many relationships; some it has taken away as we're stopped from seeing colleagues, friends and family (other than on Zoom); some couples have been forced to work and live with each other 24/7; other couples leapfrogged traditional milestones to move in together [on 24 March, Jenny Harries, chief medical officer, said couples should move in together to "test the strength" of their relationship], and some parents left with an empty nest. This 100-day period was seen by many as the ultimate relationship reckoning.
For a lot of people, however, the easing of lockdown has actually triggered more upheaval. Research from relationship counselling charity Relate, suggests that this time feels "make or break" for many couples. Of the 2,058 UK adults surveyed, 8 per cent in relationships said that they've decided they need to end it with their partner, 10 per cent said lockdown had made them realise they want to propose and 17 per cent (and 28 per cent among 16-34-year-olds) admitted to feeling anxious about how their relationship will change when lockdown ends.
For Clare and Jane Billings-Deed, lockdown meant no time together at all. They were locked down with their 17-year-old daughter, who was shielding, and they both continued to work full time. Clare's job working from home for a charity and Jane's work as a social worker – which sometimes required going to the office – meant emotionally-intense days but without the usual support from colleagues. "We were stuck in our environment with no way of getting that out," says Clare, who admits lockdown caused tensions, as there was no breathing room.
Now that lockdown is beginning to ease, Jane and Clare are craving time with friends but are finding government guidance confusing to navigate. "The inconsistency and uncertainty have been the biggest factor that's affected our relationship," says Clare, "It's been quite traumatic". Jane adds: "Because you don't feel safe." For many couples a difference of opinion over the rules, and how to follow them, can cause tension as we reintegrate with the world – especially if you have been spending 24/7 together and have relied on each other for support.
For Emma*, 55, who has a chronic illness, the new freedoms have increased her anxiety, while her husband, who is very sociable and plays gigs in pubs as part of his work, is eager to see friends again. "My anxiety goes up through the roof, and that will sometimes impact on him," she explains. "It is difficult, you argue, but I think one of the things that has helped is the fact that we've been together for so long."
Relate relationship counsellor Holly Roberts, tells The Independent that one partner being keener than the other for rules to be relaxed is a common disconnect for many couples, and advises talking openly about your worries and negotiating an approach that feels safe and comfortable for both of you. "Perhaps the more sociable partner might go to the pub once a week rather than every single day," she suggests. "It's trying to get a balance but not judging yourself or other people. Feel okay about the fact that 'I'm nervous about this'. Everybody is in a different place, accept that it's okay to not feel okay about this."
For other couples the problem is learning to get used to each other again. Until the government introduced "social bubbles" on June 13, Mike, 32, who lives in Beverly, east Yorkshire, was unable to see his partner, from York, at all. Increased demand meant Mike's job at a pizza delivery company was busier than ever and 60-70-hour weeks left him with limited opportunities to video chat his partner, who was furloughed from his job at a furniture store. Last month, the couple were finally able to meet in person after nearly three months apart.
Roberts says that for many couples this reunion isn't plain sailing. "For lots of couples that have been forced to spend time apart, perhaps that time and the distance has created doubt in their relationship," she explains. "They might be worrying that actually they felt okay about being apart from each other."
For others, reunions have inevitably struggled to live up to the pressure placed upon them. Emily Grand, 25, moved back to the Isle of Wight to live with her parents during lockdown while her boyfriend remained in Bristol. In mid-July, the couple finally met up for a day-trip to the New Forest. "I think we both were like, 'This will be a really good thing because we'll get to hang out and it'll make it easier for however long we've got to keep going until'," she recalls. "But I think both of us have felt, afterwards, it was just sad having to say goodbye again."
For couples who lived together during the lockdown, this period might be their first taste of separation after months spent together. And for those who had only been dating a short time, it may also be their first experience of seeing each other in the wider context of their normal life and all the friends, colleagues and responsibilities that come with that, Roberts says.
"We saw this not that long ago with some new couples – I think there was almost a realisation that perhaps they actually did have completely separate lives and didn't really know each other very well, despite having spent all that time together," she says.
To help maintain closeness amid increasing demands on each partner's time and attention as the world opens up again, Roberts advises scheduling in time together as you would with a friend. "Maybe it's that every Saturday morning you're going to have a lovely breakfast and coffee together and then see friends in the afternoon," she says. "It's really easy to get sucked into something else or distracted by other exciting opportunities out there now that lockdown is easing."
And for families finding themselves thrust into a new structure – living with relatives or in groups that you might not have chosen – Roberts advises boundary-setting (both emotional and physical) from the outset. "Is it okay to have friends around, with the idea of social distancing? Is that going to be an issue? [Who] is expected to contribute to the finances," she says.
With lockdown easing we were promised a return to "normal" but it increasingly seems that the world post-corona will be anything but. Trying to get there – on the same page as our friends, family and loved ones – might not be as easy as we'd always assumed.
Join our commenting forum
Join thought-provoking conversations, follow other Independent readers and see their replies