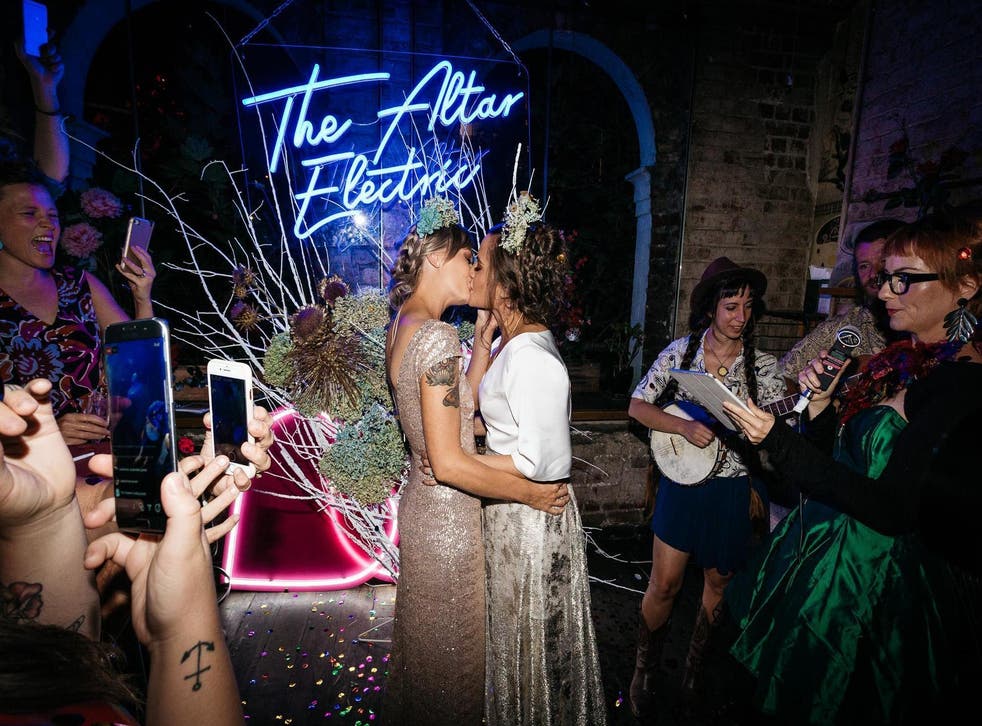 Same-sex brides officially marry at midnight in Australia
'It's a huge moment in history'
The Australian Marriage Act, which allows same-sex couples to legally marry, came into effect on January 9 - and one Melbourne couple were quick to take advantage of the new law.
Teegan Daly and Mahatia Minniecon held their wedding ceremony at midnight, making them one of the first couples to say "I do" under the new act.
The couple held an unofficial ceremony in 2016, before it had been announced that they could be legally married.
They began the festivities with a cocktail party at 9pm which took place at a bar called Ferdyduke.
Just 40 guests were invited, however, the duo also opened up the celebrations to the public via social media.
"This isn't just about us, it's about our whole community," Daly told the Australian Financial Review (AFR).
"It's a huge moment in history and it's awesome to have this opportunity to celebrate with people in the community," she said.
While Minniecon donned a traditional white gown for the ceremony, Daly defied convention by opting for a sparkling gold jumpsuit.
Heartwarming pictures from the occasion, taken by photographer Christian Marc, show the pair celebrating their nuptials and kissing for the first time as a legally married couple.
Same-sex marriage was legalised in Australia on December 7 after 61.6 per cent of people voted for the Australian Marriage Act in a postal survey.
At the time, Daly and Minniecon tried not to get their hopes up, revealing to AFR that they didn't want to have to come to terms with a disappointing result.
However, when it was announced that the law was passed, Daly confessed that they both burst into tears with happiness.
Register for free to continue reading
Registration is a free and easy way to support our truly independent journalism
By registering, you will also enjoy limited access to Premium articles, exclusive newsletters, commenting, and virtual events with our leading journalists
Already have an account? sign in
Register for free to continue reading
Registration is a free and easy way to support our truly independent journalism
By registering, you will also enjoy limited access to Premium articles, exclusive newsletters, commenting, and virtual events with our leading journalists
Already have an account? sign in
Join our new commenting forum
Join thought-provoking conversations, follow other Independent readers and see their replies