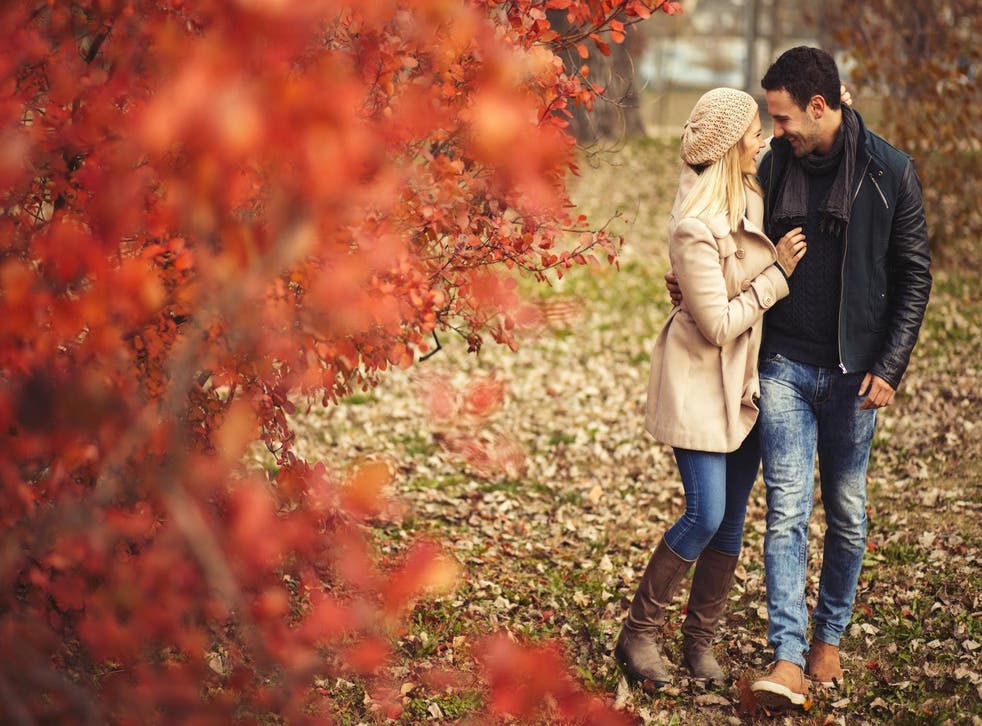 What is seasonal dating disorder?
Do you date according to the seasons?
Olivia Petter
Tuesday 07 November 2017 12:18 Comments
As winter descends and dark, frosty nights await, the hunt for a yuletide lover begins.
We are now knee-deep in "cuffing season," whereby single men and women search far and wide for a companion to keep them warm and sexually satiated during the chilly months.
However, come summer, said singletons are ready to abandon their adult sleepover buddy for a season of lust, not love.
This pattern is more than a simple by-product of fickle millennial dating culture, it's a common trend that's been labelled "Seasonal Dating Disorder" (SDD).
Just like "ghosting" involves no supernatural apparitions; SDD is not a medically-recognised disorder, however, it is no less socially prevalent.
It's particularly common in twenty-something daters, notes relationships psychologist Madeleine Mason.
"Singles who display this type of dating pattern are unable to commit," the PassionSmiths director said.
"They use summer fun and friends as an excuse for this pattern, but in reality it is because they are unable to form lasting romantic bonds.
"They may have the illusion they can settle down whenever they want to, but they can't and until they do decide they want a lasting relationship will they realise they are unable to; that's when I'll see them in my office," she told The Independent.
Lucinda Burton-Thompson, 25, is a self-confessed SDD sufferer.
"As the nights draw in and crunchy leaves litter the streets, for some reason I always end up wanting a boyfriend," she told The Independent.
"There's something about autumn and winter that makes me want someone with whom to snuggle on the sofa, go ice skating and hold hands on crisp walks.
"It's great having a boyfriend through the cold months, but by the time spring rolls round I'm nearly always fed up of them, so break things off.
"There's nothing better than being single in summer - long balmy evenings are perfect for casual fun and flings."
Burton isn't alone in her seasonal cravings.
Samantha Moore, a 24-year-old from Hertfordshire, has been a seasonal dater for almost a decade and confessed to being single for just one Christmas since the age of 16.
"Every autumn, I start looking for a new boyfriend. No one wants to be on their own during winter – it's depressing," she told The Sun.
By summer, she admits she's ready to be single again, blaming the hot weather and its synonymously fizzing social scene for her devil-may-care attitude.
25-year-old Sian Ryan from Northampton has a similar pattern, claiming that summer "wouldn't be the same" if she was single.
"Lads hold me back," she said.
However, some singletons will "cuff" in the hope of landing a more permanent partner.
Laura Ecclestone from Somerset admitted that she finally feels ready to settle down after lifetime of seasonal dating.
"As summer fades, I start thinking it would be nice to have a partner to stay in, order a takeaway and watch a film with. I've done this for years now," she said.
Confused as to whether you're an SDD sufferer, a "cuffer", a "drafter", or all of the above?
As outlined by Mason, here are four unofficial symptoms for this unofficial, but no less common, condition.
1. You can't bear the thought of being alone over Christmas/New Years and put all efforts in the autumn to find a partner.
2. By Valentine's Day (or anywhere from three months of dating) you start to feel bored or trapped within the relationship and start finding excuses to spend less time with your partner.
3. The idea of being single fills you with relief after some time and you break up or act in ways to make your partner break-up with you.
4. You have done this at least the past three years.
Now you know, go forth and find your cufflink.
Register for free to continue reading
Registration is a free and easy way to support our truly independent journalism
By registering, you will also enjoy limited access to Premium articles, exclusive newsletters, commenting, and virtual events with our leading journalists
Already have an account? sign in
Join our new commenting forum
Join thought-provoking conversations, follow other Independent readers and see their replies