Naked ambition: The truth about male strippers

Show all 7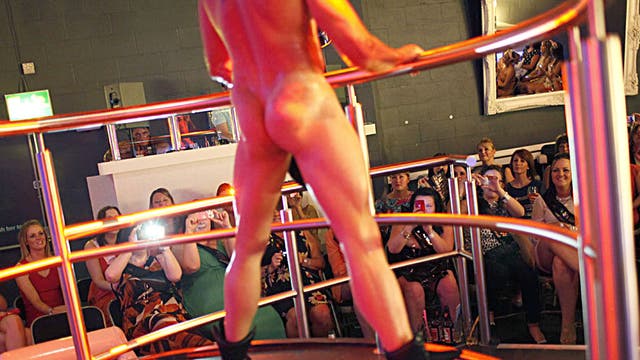 Naked ambition: The truth about male strippers
The world of male stripping isn't all adoration, sexual perks and easy money, as Francesca Steele finds out when she meets a few of the industry's titans.
When asked recently about the allure of being a male stripper, Channing Tatum, who plays one in the upcoming film Magic Mike, laughed and said, "Money, girls and a good time".
Why do men strip? Why the hell not? Not for them the ominous low-lit venues and sexual vulnerability of female stripping; when it comes to men taking their clothes off, they're the ones in charge.
Tatum himself actually used to be a stripper before he hit Hollywood, so he knows a thing or two about a world that, despite requiring its participants to shave their legs, oil their chests and quite literally expose themselves in the most nerve-wracking way possible, still seems to many of its new recruits like the best job in the world.
In Magic Mike, the boys leave the stage with wads of twenties stuffed between their thighs, and girls lining up to go home with them. Tatum, who co-wrote the script at the behest of director Steven Soderbergh, is quite categorical about its authenticity: while the story is fictional, he says, the world it depicts is definitely not.
In reality, at least on this side of the pond, there is not quite so much money as one might imagine; indeed, one stripper tells me that "the money is rubbish, unless you're in the US. They tip". Many of the more upmarket dancers, such as The Chippendales, are forbidden from taking tips, however. Most strippers earn anything from £80 to £250 a night, depending both on their experience and the show in question – more for big shows, less for private – but at just a few shows a week it's hardly megabucks.
But the girls and the good times part is definitely true. Bari Bacco, who set up The DreamBoys (the UK's answer to The Chippendales) 25 years ago and is currently launching a "supergroup" of "really talented dancers" called Dream Idols, has plenty of risqué tales.
"There was a time when we were in Germany on tour and got stuck in terrible traffic. Several of the guys started getting in cars with women. Suddenly, T-shirts were going up at the window and we could see these cars going up and down. They called it the car sex game."
On tour after shows, before the boys were packed on to buses back to their hotel, there would be what was referred to as "groupy and gropey time", where the boys would chat to the fans and sign autographs, often on their breasts.
"We did used to say to the guys, this is not an open door for you to go and screw as many girls as you can. You're here as entertainers. But of course we did have problems with the girls sometimes. I wasn't running around with a bunch of priests, after all. These are strippers – they're promoting sex."
There's certainly a healthy appetite for male nudity, as I discover one night at the Adonis Cabaret in London's Old Street, where the women, mostly hen groups, turn wild at the sight of gyrating muscles slick with baby oil, at policeman costumes, firemen costumes, even gorilla costumes. Chants of "get 'em off, get 'em off" echo around the room in frenzied tones. One woman even flashes her breasts. And they do get them off – every last thread.
These men are gods on stage. There are plenty of different styles, from the subtler titillation of the Dream Idols (Bacco dubs the g-string "the line between eroticism and obscenity") to the sillier "bananas and cream" performers and the more wholesome Butlers in the Buff, who serve champagne in bow ties and aprons to bashful hens. But there is one thing they all have in common: ego.
It's not necessarily about taking the girls to bed. For many, the end game is simply the adulation, not the after-party. As one tells me: "The chance to show off in front of hundreds of screaming women? What's not to like?"
The girls can definitely get rowdy, too. On one occasion, Bari says, audience hysteria grew to such a level that the men had to hide in the bathroom as women outside detailed the things they wanted to do to them, before they escaped out of the bathroom window to a getaway bus.
But do the boys ever feel exploited? "Definitely not," he insists. "Physically speaking, they're stronger than their audience, which creates a different power dynamic than with female strippers. These guys like showing off and frankly, I don't think they mind being objectified. That's precisely what they enjoy."
It's hard to imagine that male stripping, though seemingly far less demeaning than its female counterpart, doesn't involve some kind of Faustian pact. Surely anything that requires you to 'drop trou' for a living must have consequences. What, for example, do the boys do when their looks go?
In the film, Mike stockpiles $50 bills in the hope of one day owning a respectable furniture business. In real life, Tatum acknowledges that the "good times" are indeed short-lived. "You feel like a rock star... but you're nothing," he told Entertainment Weekly. Like male modelling, the stripping industry is packed with people trying to figure out what to do next.
Most try to get out of the game by their early thirties, many of them setting up strip clubs or entertainment businesses of their own. But it's hard to move on from a business where you're adored. "It's really sad," one man tells me, "I know guys who are still stripping in their fifties and they do look really old. The day someone tells me I look old is the day I hang up my g-string."
It is sad. But despite the undeniable talent of some performers, it's hard to shake the feeling that there's something just a little funny about male stripping, a juxtaposition of the erotic and absurd that's missing from places like Stringfellows – and perhaps the thing that makes it seem that little bit more acceptable, especially to the performers themselves.
It's a world where men are kings, sure. But they're kings in tiny little pants.
'Magic Mike' is released in the UK on 11 July
BENEDICT GARRETT, AKA 'JOHNNY ANGLAIS'
STRIPPER, PORN STAR AND FORMER TEACHER, 32
I'm in a strip show every Saturday night, then most Fridays I do stripagrams. I make about £300 a week. I've just changed my act actually, to tie in with the British Jubilee. I come out in a British gent costume and play the national anthem. I'm looking at issues of prudishness in Britain. Although I'm sure most of the girls are not reading in to it deeply at all!
I studied politics at university in London. People are often surprised because they don't expect me to be intelligent. I used to be a teacher, but some pupils found my online profile and started asking me if it was true I had done porn. Eventually all my classes were cancelled. I was actually already planning on leaving – I had decided in counselling that perhaps teaching wasn't for me after all, but the hardest thing for me was not being able to say goodbye to my students.
I was always a bit tall and lanky before – and I still feel like a lanky man, even though I know I'm not. I still don't see myself as a big, muscley guy. I'm perhaps too body-obsessed. I'm in the gym about four or five days a week.
Stripping can actually be more nerve-wracking than porn, because you're always going out in front of someone new, and there can be thousands of people there. A girl the other day was mean about my bum; but you have to be professional. I put myself out there knowing I'm being seen as an object. Plus, I always think if I can get over the nervousness of doing it, then I can achieve anything.
In the past I've done naked butlering, too, but I don't think that sort of thing leads to stripping, and stripping to porn. Obviously, all three take some body confidence, but I certainly don't think the three worlds are closely connected.
Not many strippers would define themselves as gay, although I suspect stripping provides an outlet for a kind of homoeroticism that straight men might enjoy, too – all those muscles and nudity. I've had some experiences with men. I'd never rule anything out.
LEE 'THE COACH' SAPPHIRE
SOLO PERFORMER, 38
I'm known as 'The Coach' because guys coming in to the industry come to me for advice. I'm probably the UK's most famous stripper, after appearing on numerous TV shows including The Only Way is Essex. Basically, I know everyone in the business.
I've been stripping since I was about 21, after I applied to the police force and it didn't work out. I went to a Butlins and saw a strip show. The girls went absolutely mental and I saw the power that these guys had and I knew that it was what I wanted.
I'm a natural performer. Being on stage, getting all that attention from girls and getting paid for it? I just said to my friend, "You know, I'm better than those guys up there, I want to get into this". If you can make money doing what you love then you should, shouldn't you? I gave up my office job almost instantly and joined a show.
Bizarrely, I met my now wife at that very same Butlins weekend that I decided to become a stripper, so she's been there since the beginning. She did used to get a bit jealous but she's used to it now. She knows I'd never cheat on her. Even though I strip because I enjoy the attention, it's not about the women for me. The only thing that really annoys her is how focused I am on my body. I work out at least two hours a day, five days a week and really watch what I eat.
I do worry about what my children will think of it all, though. I have three. Daddy's always just been a dancer to them before, but my eldest, she's 12, has figured it out now because I'm sometimes on TV. Plus, it's a bit difficult to hide what you do when g-strings are hanging on the washing line, you know? My girl, she loves her daddy, but I do worry about her being embarrassed about it at school and stuff. It's hard.
Years ago I'd be doing between three and eight shows a week – about five group ones and then a few solo ones, too. These days it's all much quieter. I'm sure eventually I'll stop. I've already moved more into the coaching and management side, so probably sometime soon I'll just do that.
PHIL JAMES*
MEDICAL STUDENT, LEEDS UNIVERSITY, 22
I've been working as a butler since August last year. I just needed a bit of money after I got back from a holiday where I spent more than I meant to. A friend told me about Butlers in the Buff. At first I thought it was a bit shocking – wearing just a bow tie and a little pinny to serve Champagne. But you can't see much, just my bum. Plus, I'm a rugby player – we sort of get naked all the time anyway. I just thought I might as well get paid for it.
It's great not working in a pub for five hours a night at just £7 an hour. I get £50 for two hours' work, travel paid for, and it fits around my course as well. I've done more than 20 events, although I still haven't paid off my debts. I've spent most of my income on going out!
Most of my jobs are hen parties. I make a few drinks and some conversation. And then at the end I tidy up, take out the bins. It's just a bit of fun.
You do hear of people trying to sleep with the girls at these things or vice versa, but I really see work as work. It's the same as if an attractive patient came in to see me. I would always separate work from that stuff.
I wouldn't tell girls I meet in bars that I do this. I just don't feel the need to show off. I was once offered another job where they wanted me to take my top off in a club but my ex-girlfriend didn't like it so I said no. A girl would come first if she didn't want me to do this.
At about half my jobs people tip – anything from £10 to £50. I was at one job where the mother gave me £20 and then the father gave me £30, not knowing his wife had already tipped me! It was their daughter's 18th birthday. I see it as totally different from stripping. I don't get completely naked for one thing. Plus, with stripping I don't think you really have a conversation with people, do you?
*Name has been changed
DANNY VALENTINO
FORMER 'DREAMBOY' AND MANAGER OF DV ENTERTAINMENTS, 25
I'm not going to lie; strippers do it for their egos, for the thrill of ripping their clothes off in front of hundreds of screaming women. To be honest, there are a lot of arrogant people in this business, as well as the nice ones.
Of course, strippers sleep with women at the shows. You know what us men are like. I'm in a relationship now and I'd never do anything like that any more, but in the past, well, nothing would have shocked me. Please don't think that I'm really arrogant, it's just, women used to approach me all the time. Did I ever get with the girls? Maybe hundreds... I'm not sure. I've been single for four years of my career. The men can be really upfront with the girls. They'll just say: "Shall we go and have sex?". It's really disrespectful actually.
Generally speaking, at the nightclubs, you're going to get your 18 to thirties, hen dos and so on. At the social clubs or private venues you tend to get older crowds, too. I've stripped for 70 year-olds. The second time I did a show, a really old lady tried to pull my pants right down! At the time it was pretty terrifying but now I could handle that sort of thing with my eyes closed.
There are lots of different levels of nudity. My agency only allows stripagrams – where you do a show at someone's house or a private venue – with g-strings left on. The bigger, better shows tend not to do full-frontal either.
When I was single, travel was a big part of what I do: I've worked in Germany, Tenerife, South Africa, Australia, the US... I really enjoyed it. But now I don't do any of that. I don't drink, either. I gave up three years ago, because I was just drinking way too much. Now I'm probably the most boring stripper in the world.
Age is really important in the stripping industry. Most guys do give up once they look old, although I do know some 40 to 50-year-old strippers. One of them's a granddad and he's still going. He's still a good stripper...
Some guys really lose it. There are drugs in the industry. One guy I know, he lost it all. He had a lovely wife, a great day job as well as his stripping, a lovely home, and he went down the cocaine route and lost it all. A lot of people just can't realise when enough is enough.
Join our new commenting forum
Join thought-provoking conversations, follow other Independent readers and see their replies