The porn industry has been pounded by the rise of internet tube sites - has it now gone limp?
As a legion of adult stars - and their fans - gather in a Las Vegas casino for the AVN Awards, the annual 'Oscars of porn', Tim Walker asks how much longer the industry can continue to flesh out an existence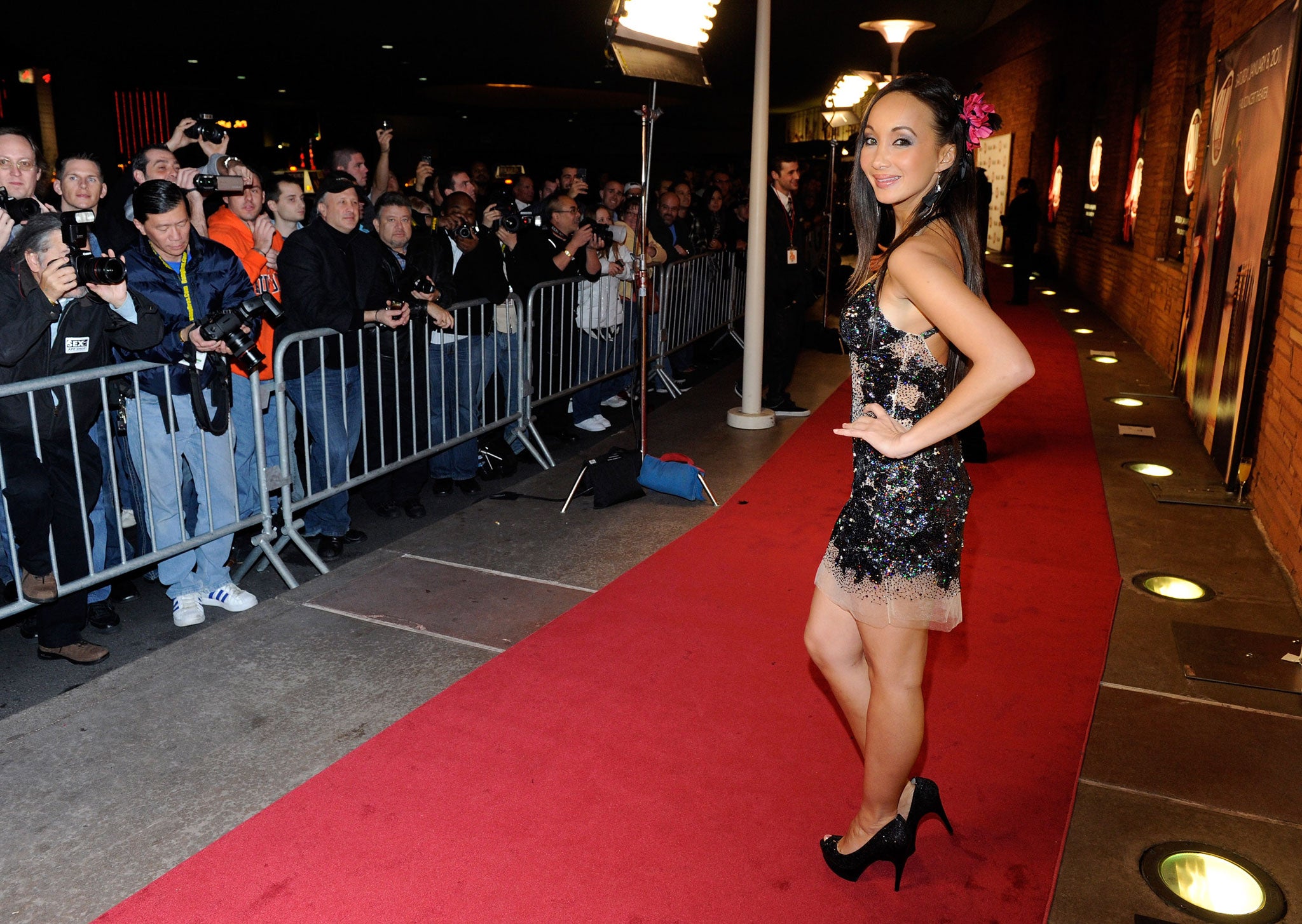 The red carpet that leads into the AVN Awards, commonly referred to as "The Oscars of Porn", is a narrow sliver of scuffed felt, snaking away from the theatre entrance across the floor of the Hard Rock Casino in Las Vegas. Among the craps tables and the blinking slot machines, the world's most successful adult entertainment professionals edge forward patiently in single-file.
Some wear gowns that wouldn't be out of place at the Met Gala, others' outfits are slitted, slotted or see-through in spots that, were a Hollywood actress to wear them to a premiere, would either launch her career or threaten to end it. Male civilians crowd the edges of the walkway, straining to capture selfies with the stars, who grin and mug with all the enthusiasm they can muster.
Fans are as intimate as urologists with their favourite adult performers, but, for most of the year, they're separated by the thousands of miles of fibre-optic cable between their laptops and the porn sets of the San Fernando Valley. Tonight, though, all that divides them is the velvet rope.
Held in Las Vegas each January, the AVNs (short for Adult Video News, the trade publication that organises them) are always compared to the Oscars, but the resemblance only goes so far. Yes, both ceremonies give out gongs for Best Cinematography, Best Make-Up and Best Screenplay. But there's no Academy Award for Best Double-Penetration Sex Scene, is there?
Pornhub safe-for-work ads
Show all 13
The awards show is the climax of the four-day annual AVN expo, the world's biggest adult entertainment trade fair; call it "The Comic-Con of Porn". Throughout the Hard Rock's convention halls, porn stars sit signing autographs and flogging merch, their bodies like bronzed balloon animals: cinched here, swollen there. Every day of the expo brings "fetish showcases" and burlesque acts; by night, AVN-affiliated parties unfold at nightclubs across Vegas.
It's a sales opportunity for sex products such as the "G-Spot Squirt Watch", or Teddy Love, a cuddly bear whose pink, protruding tongue doubles as a 10-speed clitoral stimulator. There are seminars for professionals, including "How to Develop an Effective Social Engagement Strategy". And there are expert Q&As for the public, like "How to Negotiate a Threesome", and "Everything You Wanted to Know About Vibrators But Were Afraid to Ask".
The punters aren't all the seedy, single, just-left-their-darkened-apartment-for-the-first-time-in-months types you might imagine. Some are women, others couples. Larry Parrett, 53, a private investigator from Phoenix, happened to be in Vegas for a gun show with his wife. They came to check out the expo because, he says, "It's a people-watching extravaganza. We don't know who any of the porn stars are. We just came to look at sex toys and tits'n'ass!"
In 1998, when the late David Foster Wallace wrote "Big Red Son", his scrupulously footnoted 12-page account of the AVN Awards for Premiere magazine, porn was doing bigger business than Hollywood. VHS remained a viable medium, albeit in its twilight years, and dial-up internet was a luxury. Adult entertainment was still something that you had to go out and buy.
Today, porn is in every home, every smartphone, ubiquitous and free. And yet, as an industry in the traditional sense, it has shrivelled beneath the chill wind of online piracy. In Wallace's day, the expo was at Caesars Palace, and he described an atmosphere aptly reminiscent of the Last Days of Rome. Now it's sequestered at the Hard Rock, more than a mile from the Strip.
"There were 16 porn producers at AVN when I first came here in 2002; this year there are four," says Dan O'Connell, the boss of Girlfriends Films, a leading lesbian-porn production house. "I've been to the automotive after-market show, and it's in a convention centre that must be 40 times the size of this place. How many people buy after-market wheels and tyres, compared to how many people like sex? There's a disparity there, and it's because this industry is vilified."
Girlfriends produces four feature-length movies per month. Each title contains four extended sex scenes and shifts several thousand DVDs in its first few weeks of release, but such prestige product is an endangered species. "We sell to a mature audience," says O'Connell, who is 63. "They don't want the pizza delivery guy to turn up, the housewife answering the door and all of a sudden they're 69-ing. They want to see a logical story, a seduction. But a lot of today's porn is geared to a younger mentality that just wants hard-pounding sex."
That younger demographic can have all the hard-pounding sex it wants for free, courtesy of so-called "tube sites" such as PornHub.com, aka "The YouTube of Porn". In 2014, users viewed just under 80 billion videos on PornHub, an almost 25 per cent increase on 2013. This year, for the first time, the site has a brand presence at the expo.
As I pass the company's booth one afternoon, an overweight visitor is down on all fours, being whipped live for broadcast on a 24-hour live web feed. PornHub thrives on such audience participation: its reps pass out flyers encouraging members of the public to become amateur models, offering a percentage of the ad revenue from any homemade sex clip uploaded to the site. "Be Your Own Boss," the flyer says: "Work From Home. Get Famous."
The crowds love PornHub, but many exhibitors are angry that one of the tube sites they blame for facilitating piracy (however inadvertently) is represented at the expo at all. "It legitimises PornHub, and it's a slap in the face to the porn studios," says Nate Glass, owner of Takedown Piracy, a firm that makes software to help producers find and remove pirated content from the web.
The emergence of the first tube sites in the late 2000s correlated with a sharp downturn for the adult entertainment business, Glass says. "Piracy is worse for porn than for the mainstream film or music industry, because we don't get any help from politicians, and there's a public perception that porn is less than those other things. People might feel guilty pirating Guardians of the Galaxy, but a lot of them will feel no sense of guilt about pirating porn."
Piracy isn't the only threat to the porn business. In November 2012, California passed an ordinance requiring condoms to be used in all penetrative sex scenes shot in LA County, which includes the Valley, the industry's traditional home. In the past, porn regulation has had a moral bent, but Measure B was presented as a public-health measure to prevent the spread of HIV.
Many within the industry, where regular STD testing for performers is already the norm, say that the law does more harm than good, most producers don't adhere to it, and police have better things to do than enforce it. All the same, several production companies have left the Valley to make condom-free porn in nearby Ventura County or Vegas, at unknown cost to the local economy.
While the web has played havoc with porn's business model, it has also helped to blur the lines between the adult entertainment industry and the mainstream. Mainstream stars appear in sex tapes; porn stars appear in mainstream movies. Nobody embodies that relationship more than 29-year-old James Deen, who in 2013 shot a porn film with reality TV personality Farrah Abraham, and a feature film, The Canyons, alongside actress Lindsay Lohan.
Boyishly good-looking but unassuming, seated at his expo booth in a grey jacket, jeans and trainers, Deen is perhaps the last person in Las Vegas I'd identify as a porn star, were he not surrounded by his branded merchandise: DVDs, T-shirts, anatomically correct James Deen dildos. While he loved working with director Paul Schrader and writer Bret Easton Ellis on The Canyons, Deen says he has no plans to pursue a Hollywood career.
"There's a lot of sleaze in the mainstream world," he explains. "Everyone in the adult film industry is super respectful, because they're always dealing with people's personal boundaries, and that translates from the sex into every other aspect of the process. But in Hollywood, there's all sorts of behind-closed-doors scumminess. Just look at what came out in the Sony leak!"
As porn budgets plummet, the key to longevity for performers like Deen is diversification. Blonde and booby with make-up like cake-icing, Tasha Reign fits the classic image of the porn star better than she fits into her tiny gold dress. She's also a director and producer, with her own line of butt-plugs and plans for further products, including moulded replicas of her most popular body parts. Born in Orange County in 1989, Reign grew up idolising Pamela Anderson. She graduated in women's studies from UCLA, where she spent weekends partying at the nearby Playboy Mansion.
As an entrepreneur, she is fiercely protective of her personal brand. "When I put a movie out through my own company, Reign Productions, it's usually something that I know will be a big draw, like 'my first anal' or 'my first double-penetration', so that I get to own those titles myself," she says. "I once shot a scene for another company and they put on the DVD cover that it was 'Tasha's first anal', and I was like: 'Wait, what? that's not true!'"
When the shortlists for the Oscars were announced, critics complained about the overwhelming whiteness of the nominees. Diversity isn't an issue at the AVNs, where the categories include Best Interracial Release, Best Ethnic Release and Best Transsexual Release. Japanese-born Kelly Shibari is nominated for BBW (Big Beautiful Woman) Performer of the Year.
Shibari was a production designer working in Hollywood in 2007 when the movie business was brought to a halt by a writers' strike. Some of her colleagues moonlighted on porn sets, and they told her she ought to try out as a performer. "My first reaction was, 'There's no fat girls in porn,'" she recalls, "But it turned out to be an emerging niche. I was 34, I didn't have any kids and I wasn't in a relationship. I thought I'd send my pictures in – and if they said yes, I'd just do it."
Plus-size porn has a long history, but until recently it was classified as a fetish genre. Shibari and others like her have helped to normalise big bodies in adult films, and she recently appeared in a bestselling practical guide to plus-size sex. "There used to be websites called things like 'Fuck My Flab', where it was less about having intercourse and more about a guy wedging his penis into a tummy roll," she says. "But now, the way plus-size is presented has changed."
Although formerly fringe genres such as BBW have moved to the middle of the road, the porn industry is also being forced to cast its net ever wider in search of new taboos to separate it from the sex that's on TV, in shows such as Game of Thrones. With Miley Cyrus making bondage-themed music videos, and the BDSM-based romance 50 Shades of Grey breaking records at the Valentine's Day box office, what can porn do to push the envelope further?
The answer: incest (or "fauxcest") porn, which supposedly spiked in popularity over the Thanksgiving and Christmas holidays. According to PornHub, "step-mom" was the fourth most searched term on the site in 2014, and "step-sister" climbed 53 places year-on-year, to 13th.
For PervOUT, a boutique porn firm based in Florida, catering to ever narrower market niches is the future of the porn business. The company turns a profit from fetishes such as superheroes, feet and, bizarrely, wedgies. "It doesn't have to be that wild," says porn star and PervOUT founder Lance Hart. "Say there's a well-known porn star who's known for butt stuff and we get her to sit on someone's face. Some people really want to see face-sitting. They search all the big sites, waiting to see her to sit on some guy's face, and it doesn't happen. Well, we give 'em what they want."
The web may have started the slow implosion of the traditional porn industry, but from the wreckage are emerging new methods of delivering titillation to consumers. Perhaps the quickest way for today's aspiring adult performers to turn a profit is via their web cam: as "cam girls", performing live solo shows online, communicating in real-time with their fans, and often masturbating or performing other sex acts on demand.
Last year's winner of the inaugural AVN award for Favourite Web Cam Girl was LittleRedBunny, a petite redhead with a French accent and frilly lingerie, whose web cam set – the spare bedroom of her New York apartment – resembles a vintage burlesque boudoir with a jazz age soundtrack. As many as 4,000 users are in her public chatroom at any one time, while men and women pay up to $6.99 per minute to spend hours with her in private one-to-one online sessions.
LittleRedBunny first set up her web cam five years ago after losing her job; now she's a cam girl seven days a week. With her background in ballet and yoga, she says, "I was always curious to use my body for teasing and dance." Her real name is Ophelia. Her family have no idea.
Although she is part of the adult industry – as evidenced by her popularity at the expo, and by her second AVN nomination – Ophelia doesn't want a traditional porn career. "I don't want to judge people who do porn, but I consider what I do different," she says. "I have values; my sexuality is something that happens between me and someone else in my bedroom. To me, it's sacred."
This year, for the first time in almost two decades, the AVN awards are being co-hosted by a male porn star: Tommy Pistol, a 38-year-old former sketch comedian who, by his own count, has shot almost 1,000 sex scenes since joining the industry in 2005. Last year he was named Best Actor for his performance in The Evil Head, a porn parody of The Evil Dead. "A lot of people talk about the heyday and how much money they used to make, but this is my heyday," Pistol says. "These awards are the biggest thing in my career. I'm on billboards! I feel very blessed."
Just like the Oscars, the AVNs open with a musical number, during which Pistol proves he's no Neil Patrick Harris in the song-and-dance department. Kudos, though, to whoever came up with a line that rhymes with, "I'm the go-to guy for first-time anal."
Further comparisons are futile: the winners' speeches are blessedly short, unlike their gushing Hollywood counterparts. Adriana Chechik, winner of Best Anal Sex Scene, simply thanks her co-star, Manuel, "for fucking me so good." Jayden James, who triumphs in the Best Boobs category, doesn't even show up. The prize for Male Performer of the Year is a TAG Heuer watch, still in its shopping bag. The winner, Mick Blue, thanks his wife, Anikka Albrite, in his speech.
Just as Albrite is accepting her own award – for Female Performer of the Year – I'm treated to another sight rarely seen at, say, the Governors Ball: a fight breaks out in the bar between two top porn actors. One of them is wearing a gold lamé jacket. The punches fly as security guards descend to peel the men apart. It's not immediately clear what caused the fracas, but one thing is for certain: the combatants are both big, swinging dicks.
Join our commenting forum
Join thought-provoking conversations, follow other Independent readers and see their replies