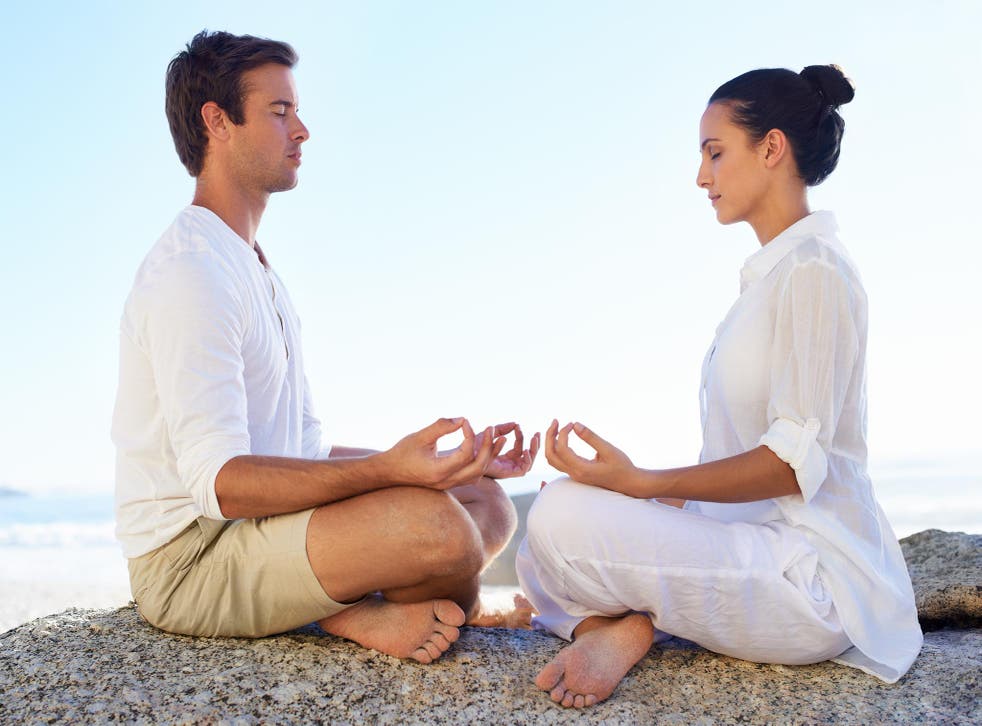 How your sex life can be improved with mindfulness
Being more present with each other can lead to better sex, therapists say
Olivia Blair
Monday 13 February 2017 12:24 Comments
People have turned to mindfulness to make them happier, less stressed and even more able to deal with their mental health conditions such as anxiety or depression - but could it improve your sex life too?
Being mindful essentially means being present and aware of both yourself and your surroundings. The brain is trained to deal with negative and anxious or depressive thoughts through breathing and meditation exercises all stemming in part from ancient Buddhist philosophy.
While therapists are increasingly using it as part of their individual counselling, sex and relationship therapists have also adopted the advice.
Love and sex news: in pictures

Show all 31
"In its broad terms, mindfulness means focusing on the present moment so with couples, because they are often so distracted, stressed and over-committed, it can lead to lots of couples' mind being elsewhere. A classic complaint is that a partner is distracted," Krystal Woodbridge, a psychosexual therapist and a trustee of the college of relationship and sexual therapists says. "Mindfulness can mean you are really present with your partner and actually experiencing them in the moment and really paying attention to them."
This in turn can then lead to better sex - because when partners really feel like they are being listened to, focused on and paid attention to is when better trust is going to be built so they are more likely to be intimate with someone.
"Really being in the moment, noticing their partners body language, facial expressions, tone of voice and what is actually being said is hard to do but it is being present," Woodbridge says. "… It builds rapport. It you don't have rapport, you don't have trust. If you don't have trust you are not going to be intimate with that person as you are not going to allow yourself tp be vulnerable with them."
When clients put mindfulness into practice with each other, even if it is a struggle because they are so used to being distracted, it often has a "massive impact on their relationship and sex lives", Woodbridge says.
Additionally, if someone is struggling with an issue in their sex life such as a performance issue like impotence or the inability to orgasm, mindfulness can also help in this aspect.
"In a sexual scenario what can happen is 'spectatoring', which is when a person is not paying attention to arousal or enjoyment and are instead observing and over-analysing themselves fearing the worst. If it is an erectile problem they will be hoping it does not fail or will feel anxious about whether their partner is enjoying it," Woodbridge explains. "Spectatoring is often quite self-fulfilling so the person might not be able to maintain their erection, will experience sexual pain or they will just feel completely unconfident so they get into a horrible cycle."
Sex therapists will therefore instruct the client to be mindful and to notice how they are feeling, even if that feeling is anxiety. Once they are aware they feel anxious or nervous they can focus on bringing the mind back to the physical feelings, such as arousal, and divert their focus to this instead.
"Mindfulness gets the person to notice when they are 'spectatoring', notice that they are distracted and not focusing on their arousal and physical sensations. It is hard in that moment as the person is anxious but if you don't the mind will wander and go elsewhere," Ms Woodbridge explains.
Ammanda Major, a trained sex therapist and head of service quality and clinical practice at Relate told The Independent they regularly introduce mindfulness to their sex therapy sessions for couples.
"We use mindfulness in sex therapy to help people experience more pleasure by being able to relax and stay focused and present in the moment. Mindfulness can also benefit our relationships as a whole by relieving stress, building intimacy and enhancing inner peace. This in turn allows us to have more positive interactions with our partners," she said.
She says couples can try mindfulness exercises at home, such as the following:
Individually:
"Set some time aside every day to focus on your breathing. It doesn't have to be long to begin with – maybe start with just five minutes a day and work your way up to 20.
A good way to start is on your own with no distractions. Close your eyes, relax and start to become aware of how you're breathing. Breathe in slowly through your nose and exhale through your mouth. Repeat this and gradually become aware of sensations in your body. Recognise and welcome them and then allow those thoughts to drift away to be replaced with other feelings as they arise. Notice what you're experiencing and feeling. The aim is to let go: rather than reject intrusive thoughts, just let them drift away."
With a partner:
"Once you've practised the breathing exercise a few times on your own, why not with your partner? Sit facing and look into each other's eyes. Breathe slowly in through your nose and exhale through your mouth as before but this time synchronise your breathing. Do this for several minutes – it may feel a little strange at first but stick with it and it can have powerful results, increasing feelings of relaxation and intimacy."
Register for free to continue reading
Registration is a free and easy way to support our truly independent journalism
By registering, you will also enjoy limited access to Premium articles, exclusive newsletters, commenting, and virtual events with our leading journalists
Already have an account? sign in
Register for free to continue reading
Registration is a free and easy way to support our truly independent journalism
By registering, you will also enjoy limited access to Premium articles, exclusive newsletters, commenting, and virtual events with our leading journalists
Already have an account? sign in
Join our new commenting forum
Join thought-provoking conversations, follow other Independent readers and see their replies