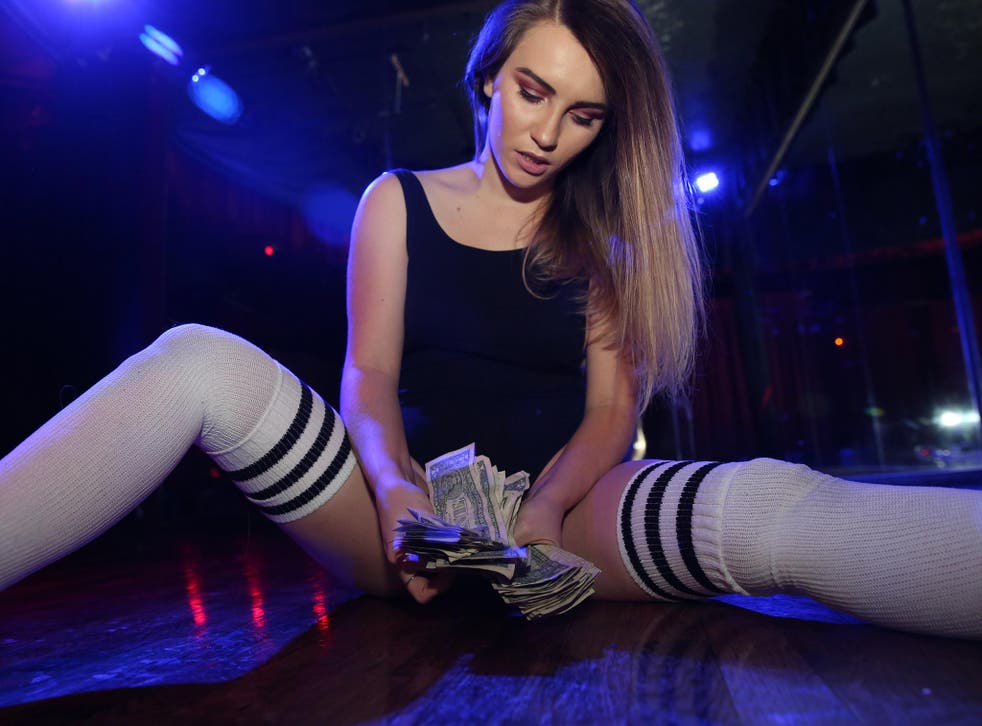 False nails and dollar bills: The woman photographing strippers how they want to be seen
'In the beginning  the girls were cautious, but they trust me. We trust each other. When you're in, you're in.'
"Strippers are like modern day fairies," says photographer Rachel Lena Esterline. "They dance into your life, make you feel really good, then take all of your money and float off."
Esterline, based in San Francisco, has been capturing women who work in strip clubs since March 2014. In those three years, she has photographed over 1,100 women at 12 different clubs. Her latest shoot was with dancer and comedian Chase Paradise.
"There was this one night I was walking down Broadway in San Francisco and a bunch of girls from various clubs were screaming my name. They all wanted me to shoot them that night. I don't know if it gets better than that. But, then again I'm constantly surprised every time I shoot. There's rarely a dull moment, to be honest," she recalls.
The photographer who documents strippers - In pictures

Show all 12
The project started off by accident. "A friend called me up and asked me if I wanted to shoot. I was curious so I went," Esterline recalls to The Independent. "Soon after I sort of just fell in love with the girls. Three years later they still keep me coming back for more."
During that time, Esterline has branched out from the underbelly of San Francisco to other spots in the US. While at in her home city of Portland, Oregon, she shot a clown stripper for feminist media group The Front.
"I want to capture their beauty," says Esterline. "I want the world to see them as I see them. They're my adult version of a Disney princess."
On the one hand, the honest shots show the women as beautiful, ethereal creatures, and other the other as totally unglamorous, counting money and dealing with work tedious admin just like anyone else.
Because of the stigma attached to erotic dancing, the women were reluctant to welcome Esterline at first.
"In the beginning the girls were cautious," she admits, adding: "but they trust me. We trust each other. When you're in, you're in."
During her three years dipping in and out of the clubs, Esterline says she has noticed that they are filled with a new wave of feminists - something that those who argue stripping objectifies women and dancers are victims might find hard to belive.
"They're proud, feminist sex workers and it's so fun working with them," she says.
"I want to lift the stigma around strippers and adult entertainers at large. I see empowered women and these images share and convey that dynamic exchange of power."
​"People tend to think there's an imbalance of power in favour of men," she says. "Think again. These women know exactly what they want, take it and can literally make anything happen. Strip clubs are where you pay to get played."
Register for free to continue reading
Registration is a free and easy way to support our truly independent journalism
By registering, you will also enjoy limited access to Premium articles, exclusive newsletters, commenting, and virtual events with our leading journalists
Already have an account? sign in
Register for free to continue reading
Registration is a free and easy way to support our truly independent journalism
By registering, you will also enjoy limited access to Premium articles, exclusive newsletters, commenting, and virtual events with our leading journalists
Already have an account? sign in
Join our new commenting forum
Join thought-provoking conversations, follow other Independent readers and see their replies