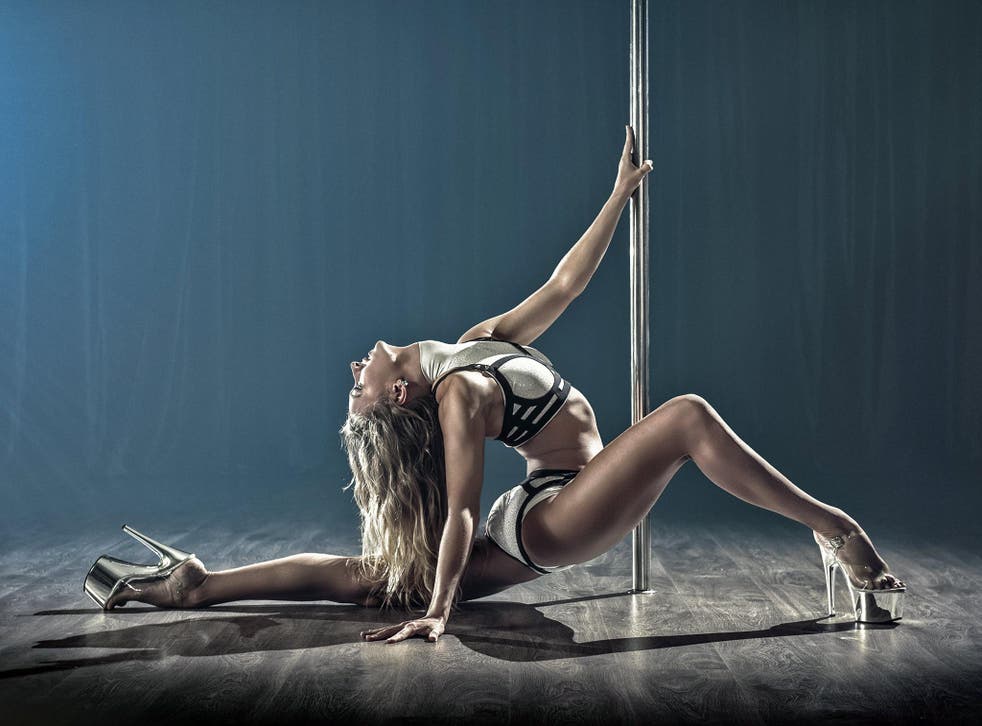 How laws are putting strippers in greater danger
Members of the East London Strippers Collective campaign group have seen the rise and fall of the 'bonaza era' of exotic dancing, and they say women are the ones suffering 
"Performing, I love performing," says Sassy Billie, recalling her time as a stripper. "And learning pole dancing, and adding belly dance to my routines and making my own outfits. I love the creative side of it and making the best friends I've ever had," Billie, a member of the campaign group the East London Stripper Collective (ELSC), tells The Independent.
Billie, who is in her early 30s, was a full-time dancer at strip clubs for over 10 years. It was a job that saw her travel to Japan, Australia, and New York as well as work in clubs across London. She now runs the London Lap Dancer website and campaigns with ELSC.
She is aware that she bucks the stereotype of a victimised stripper. "I'm a white, middle class girl who went to university and spent most of her 20s in steady relationships. I've never been to rehab, or had a course of therapy, or stuck needles in my arm or given my money to a pimp."
"I have had lots of different jobs, from working in the city to being a milliner, but exotic dancing was always both my passion and the one job I could always rely on to fall back on."
But she and other dancers say that changes in the law almost a decade ago have almost killed the industry. It has not only become tougher to earn a wage at a time when women are hit hardest by job precarity and austerity, but more dangerous.
The issues can be traced back to the Licensing Act 2004, which was introduced to boost the nighttime economy. This allowed strip clubs to open up with similar licensing to pubs, cafes and bars. Establishments that were otherwise hidden away in the underbellies of towns and cities appeared on high streets. Between 2004 and 2008, the number of strip clubs and lap dancing bars in the UK doubled to 300, according to estimates by the campaign group Object.
"This meant for five years there was a proliferation of the industry nationwide, and a lot of people didn't like that," says fellow ELSC member Stacey Clare who has been dancing for over 10 years, starting in Scotland and working part-time through university.
​Soon, conservative campaigners and feminist groups that want sex work to be more heavily legislated against, such as Object, worked towards a crack-down on strip joints citing concerns about sex trafficking, exploitation, and a rise in sexual offences. Local authorities were given more powers over these establishments, and clubs were re-classified as Sex Entertainment Venues (SEVs).
"The passing of the law and the media circus around it has served to massively re-stigmatise our work," argues Stacey.
"Our job has changed from entertainer to hustler. We do less performing and more emotional labour, less actual dancing and more deferential fawning to our clients. It used to be that if a customer was abusive we could walk away, again because of our lack of options we have to accept a lot more fucked up behaviour than before."
And the finger of blame lands on several groups, it seems, but what is clear is that the women who work in the clubs felt they weren't listened to.
"The campaigns run by women's rights organisations framed us as victims. A lot of the research used by the lobby was spurious, claims about trafficking were contentious," says Stacey. "No one appeared interested in listening to our voices and opinions and perhaps consulting dancers themselves about improvements. The main voices in the public discussion in defence of the clubs were male industry operators, which didn't help matters as it made us seems like chattel property. If the argument was that we were objectified women, because men looked at us as sex objects, they forgot that they were also objectifying us by looking at us as victims."
ELSC member Edie is in her 40s and used to dance in what she described as the bonanza era of strip clubs for a decade. She now works in events promotion. In her experience, the situation was nowhere near so clear cut. "All the dancers I've ever met over the 20 years I danced for are self possessed, independent and took a logical choice," she says. "For example I know a Brazilian girl who had a five year plan to learn English and save enough money to go back to Brazil, buy a house and set up a business in the tourist industry. She worked hard and achieved that. There are many other stories like this."
Edie also points to a survey of 300 lap dancers by the University of Leeds in 2010 - one of the few major studies into sex work - which found that a third were students, whether in university or on vocational courses, and that a quarter had a university degree.
But little could save them from the consequences of the crackdown. Councils introduced a "nil policy" restricting the number of clubs in an area, and owners had to adhere to new licensing laws. Clubs closed and the control over the industry fell into the hands of a few surviving establishments. The number of women dancing in one night, therefore, shot up and working conditions worsened. The dancers, who are largely categorised self-employed, have to pay a house fee in order to perform. More women meant more competition and a shift in their repertoire.
"House fees went up. Commissions went up. Zones were introduced so that you couldn't approach a customer if he was standing in a particular spot, and he had to have a drink in his hand. Dress codes were changed, and then changed again, so we always had to buy new outfits and couldn't wear our favourites anymore," says Billie.
Recalling her time dancing in the mid-2000s, Edie says: "We used to have staff Christmas dinners and social events together with the bar staff, DJs and bouncers. It was a more prosperous time in general and the average person had money to spend. The money flowed so people could achieve their savings or education plans, unlike today where there is a lot of uncertainty, and the money has gone."
"Now with the industry being focused around lap dances only as opposed to stage shows girls frequently leave without making their house fee for the night," explains Edie. "This changes the power dynamic. If 20 guys have given you £1 then you control the show, if one guy gives you £20 it becomes about pleasing him rather than being a creative performer."
"The business model switched from 'having a good fun venue' to 'rip off the dancers and customers as much as possible'," adds Billie. "The definition of having 'a bad night' changed. Before, a bad night was one where you'd make back your house fee, and go home with less than a hundred quid, with costs it roughly equated to the minimum wage, maybe a bit more, say £8 to £10 per hour.
"Now bad nights are evenings when the dancer loses money. She pays to work, and then never earns it back, and goes home cold, hungry and tired at four or five am wondering what the point of it all is. Those were the nights when I'd get home, make myself a big cheese on toast, and cry in my bed."
Where tech meets sex

Show all 6
"In the late 90s to early 2000s London was the best place to dance, even better than American or Australia. Now it's dreadful and I'd advise anyone who wants to dance to avoid London," warns Edie.
While Edie and Billie have stopped dancing, their friends in the industry are struggling. One woman they know worked in an establishment for 13 years and had her shifts cut because she complained about work on Facebook. "This demonstrates the kind of precarious nature of our work," says Stacey.
Recounting the experiences of a 20-year-old exotic dancer and friend, she adds: "She's had a terrible experience of exploitative business practises and demoralising circumstances, despite being in demand for her pole expertise at pole schools all over the country."
Now, the ELSC are calling on careful legislation to protect women while enabling them to earn a decent wage. Contracts, for instance, would protect women from being fired and introduce normal disciplinary processes such as verbal and written warnings. The "nil policy", they say, should be scrapped in order to tackle creating monopolies that makes it easier for employers to exploit staff, while a re-think of house fees would prevent women, in Edie's words, "getting naked for free."
"Every industry needs regulation and legislation, but there needs to be a careful balance between protecting women and labelling them as vulnerable and snatching their livelihoods away," adds Billie.
"When women still routinely earn less than their male counterparts, and work schedules are stacked up against mothers who need flexibility, and childcare costs are so high, well we need job opportunities like exotic dancing."
"The law was brought in to destroy the industry and that is what is happening, but the people worst affected but the changes are the women."
Join our new commenting forum
Join thought-provoking conversations, follow other Independent readers and see their replies