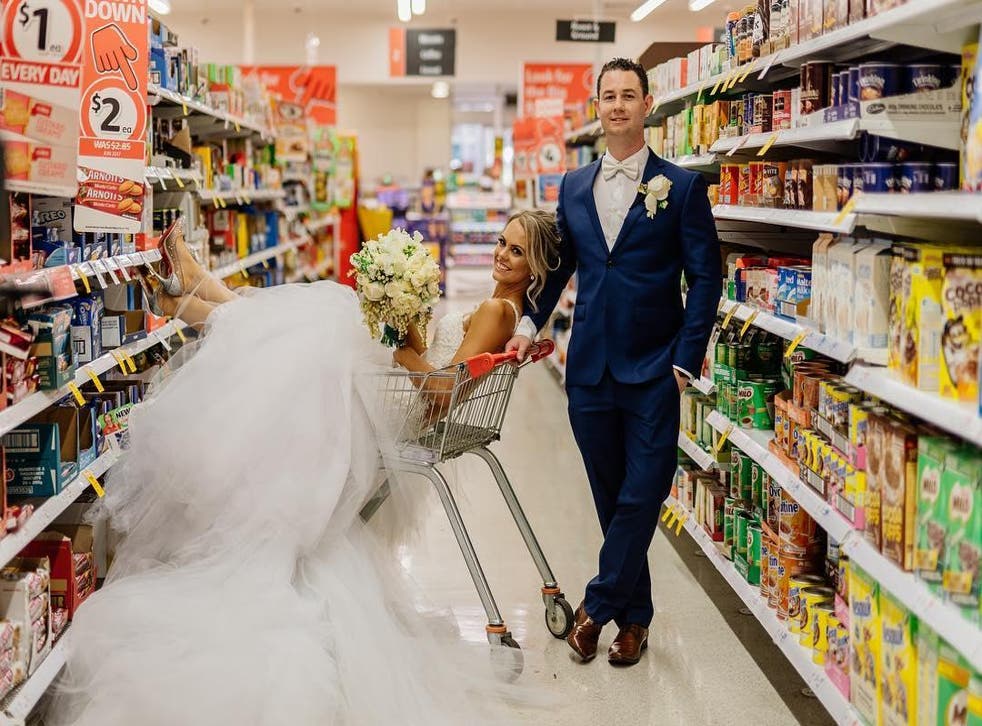 Couple has wedding photoshoot in supermarket where they met
The bride had a broccoli bouquet
It's not uncommon for couples to meet at work, but it's not everyday a bride and groom pay a visit to their workplace on their wedding day for a photoshoot.
That, however, is exactly what Jessica and Rodney Reinsma did, heading back to the supermarket where they met at work.
Complete with broccoli bouquet and dressed in their finery, the couple, who live on the Gold Coast in Australia, took a trip down a different kind of aisle after tying the knot earlier in the day.
Jessica and Rodney had met whilst working in a branch of Coles in Sydney in 2013. He was a store manager and she was a grocery manager.
Rodney proposed to Jessica and in November they got married.
"If it wasn't for Coles we may have never met and I could not imagine life without him," 31-year-old Jessica told The Gold Coast Bulletin.
"I have a lot to thank the company for."
Rodney, 35, proposed to Jessica at Sea World but after considering a few wedding venues the couple decided nowhere was as unique as Coles.
The couple actually tied the knot at Sanctuary Cove but paid a visit to the supermarket along with their wedding party to take some photos before heading to the reception at Palazzo Versace.
"The tricky part was getting into the shopping trolley with my massive dress. It had a huge train on it but I managed to jump into a trolley," Jessica said.
With her diamond-encrusted heels in the air and white dress billowing out of a trolley, it's safe to say the couple got the unique pictures they were hoping for.
Join our new commenting forum
Join thought-provoking conversations, follow other Independent readers and see their replies