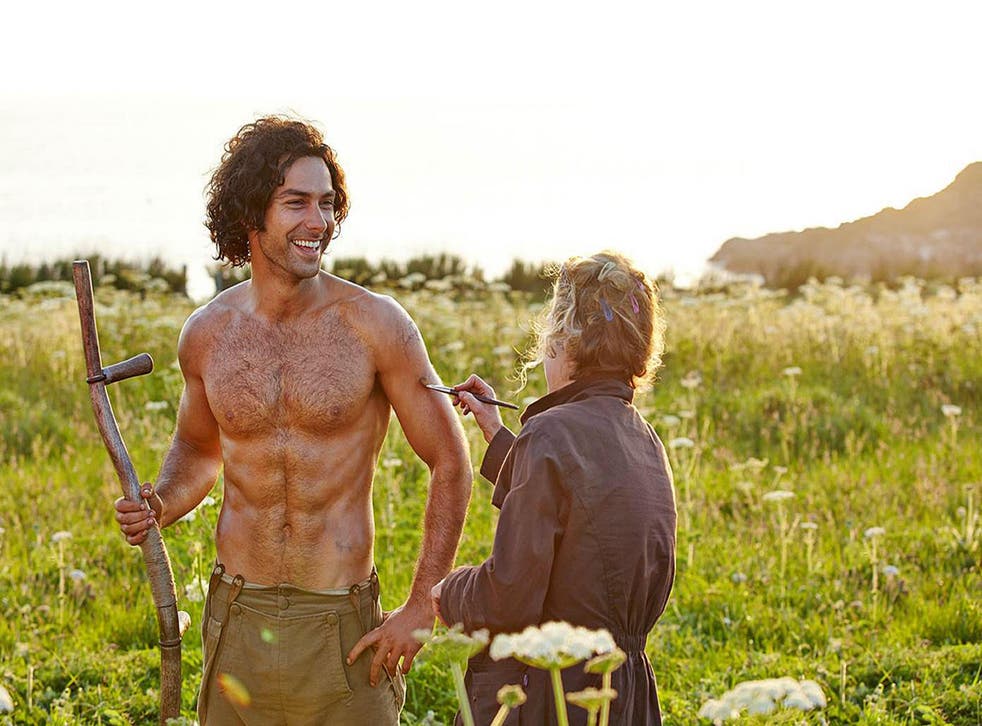 The objectification of men: How Aidan Turner's topless torso is used to sell Poldark
When faced with everyday problems (such as the fact that you might be hanged) everyone knows that the best thing to do is to rip off your shirt and start mining with a frenzy that shows off your sculpted pecs to their very best, sweaty advantage.
That's what the creators of Poldark probably reckoned when they decided to include an artfully grime-smeared follow-up to the topless scything scene that won the first season such critical acclaim when series two arrived on BBC One last Sunday evening.
That it took just fifteen minutes into a new ten-part series for Aidan Turner's Ross Poldark to disrobe is a sign of just how crucial his er, chiseling, is to programme-makers.
While tourism in Cornwall might have benefitted massively from the adaptation of Winston Graham's novels it isn't just beautiful scenery that 9.5m viewers have been been gawping at.
Turner's co-star, Heida Reed, who plays Poldark's childhood sweetheart, Elizabeth, defended him against objectification during the media frenzy that led to the scything photo being the most-overused picture in the press probably ever (according to me, anyway).
She said she hoped viewers appreciated the programme "for more than a topless scene". Yet, Turner was apparently unfazed by the attention, admitting that taking his shirt off was his idea. "It was never in the script that he takes his top off - it just made sense to me."
It was filmed during one of the hottest summers on record, after all. The centrality of Turner's sex appeal to the success of Poldark in 2015 was undeniable. Industry folk used to say there was no money in the objectification men, but the Sunday drama proved otherwise and prompted a slew of new shows boasting tantalising torsos and more.
A TV adaptation of Tolstoy's War and Peace was dubbed "Phwoar and Penis" by lascivious critics eager to point out that Andrew Davies' production contained more men and women in various states of undress than you might expect for Sunday night viewing.
Twitter shrieked "Naked willies on the BBC!" and "Prime time penis" after a much-reported incidence of full-frontal nudity in an episode when a soldier walks out of a bathing pond - his penis having no discernible relevance to the plot.
But then, are we really surprised that Davies, the producer behind that Colin-Firth-in-a-wet-shirt scene in the 1995 TV adaptation of Pride and Prejudice, knows how to get his audience feeling hot under the collar?
James Norton, one of the few stars of War and Peace who managed to keep his clothes on, has admitted that the Poldark-effect has left male actors feeling pressure to stay in shape. "That Poldark shot made me feel incredibly inadequate and emasculated," he told the Radio Times.
"There's always been a body beautiful thing with television, but the focus has been more on women over the last however many decades. "So it's probably right that the tables should turn, but I don't know if it's a healthy pressure. There is now a sort of expectation on men."
The actor, along with co-star Robson Green, recently stripped off for a swim in the River Cam in ITV drama Grantchester - and admitted he did press ups at the gym moments beforehand.
The 31-year-old is currently one of the most sought-after British actors also appearing in Sally Wainwright's Happy Valley, where the opportunity for skinny-dipping is mercifully precluded by the fact that it is chilly Yorkshire and his character is rotting in jail.
Another Brit who has been lauded for his booty almost as much as his talent in a manner ordinarily reserved for women is Tom Hiddleston.
BBC drama The Night Manager propelled the actor onto the world stage as a double-agent to rival 007. But, despite the brilliance of his overall performance, a sex scene where his bare bum took centre stage stole the limelight and most of the online conversation.
Bottoms had more democratically even exposure in German Cold War drama Deutschland '83 on Channel 4, which showed the pert peaches of both sexes in repeated swimming scenes - but launched the international career of Jonas Nay (partly) on the strength of his.
It isn't just European TV that is embracing the ethos of a nudist colony. As a journalist you can barely write the title 'Game of Thrones' without having to add "bare boobies, bloodshed and dragons".
But this year programme-makers apparently listened to one of its stars, Emilia Clarke, who complained that while female actors are often seen entirely naked the men keep their trousers on.
She demanded in a TV interview that the showrunners "free the penis" - a request they took so seriously that in one episode of the HBO show screened in May a man's genitalia fills the entire screen, if only for a few seconds.
Whether or not this was a sign of the show deciding to objectify men and women equally, the result was not pretty. The penis onscreen was being examined for STDs and you couldn't really tell what you were looking at.
It certainly wasn't an antidote to the reams of GoT scenes featuring unspeaking women with their boobs out standing about in the background.
So, should telly be objectifying men to make money and draw audiences? The issue here, as usual, is equality. I don't think the talents of any of the men discussed in this article are being belittled or overshadowed as a result of their aesthetic appeal.
Which is not something you could say of many female actors. If the actors are happy and the audiences are happy, then why not? But Norton's comments about pressure on men's body image shouldn't be ignored.
It doesn't look like there will be any more topless scything in Poldark this series. Writer Debbie Horsfield revealed it had been "too chilly" during filming last Autumn. But with Ross already having found an appropriate excuse to lose his vest, programme-makers are clearly mining a familiar seam.
Register for free to continue reading
Registration is a free and easy way to support our truly independent journalism
By registering, you will also enjoy limited access to Premium articles, exclusive newsletters, commenting, and virtual events with our leading journalists
Already have an account? sign in
Register for free to continue reading
Registration is a free and easy way to support our truly independent journalism
By registering, you will also enjoy limited access to Premium articles, exclusive newsletters, commenting, and virtual events with our leading journalists
Already have an account? sign in
Join our new commenting forum
Join thought-provoking conversations, follow other Independent readers and see their replies