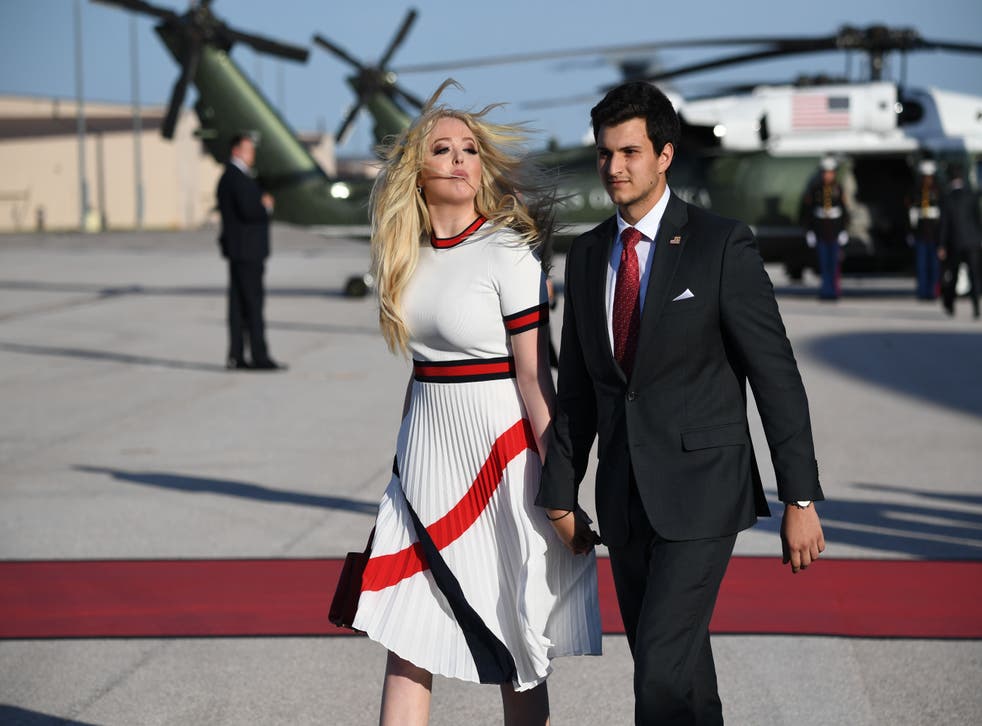 'The Queen of timing': Twitter reacts to Tiffany Trump's engagement news
'Let's take our engagement announcement photo at the house my dad is getting evicted from tomorrow,' teases one person
Donald Trump's youngest daughter, Tiffany, announcing that she is engaged (with pictures from the White House no less) on her father's last full day in office has tickled social media.
On Tuesday, Ms Trump, 27, posted a photo on Instagram of herself and her fiancé Michael Boulos standing in one of the White House's colonnades.
The caption read: "It has been an honour to celebrate many milestones, historic occasions and create memories with my family here at the White House, none more special than my engagement to my amazing fiancé Michael! Feeling blessed and excited for the next chapter!"
While Ms Trump's post was met with thousands of congratulatory comments from fans and fellow Republicans, many social media users couldn't help but poke fun at her timing.
"Let's take our engagement announcement photo at the house my dad is getting evicted from tomorrow!" teased one person in a tweet that has since gone viral.
"Like any good series finale, the minor characters are now wrapping up their story lines," another person joked.
One person teased that Ms Trump purposefully wanted to get engaged while she was still the president's daughter while many others insisted that she must have wanted to have her engagement photos taken at The White House.
Another Twitter user labelled her the "Queen of timing" while one person described Ms Trump's timing as "immaculate".
One person joked: "Tiffany Trump getting engaged on the last day of her dad's horrifying presidency is some real Tiffany energy."
Meanwhile the comedian and actor Rob Delaney joked that he "had some news" when he tweeted a link to a news article about the engagement.
Boulous, 23, and Ms Trump reportedly met in Mykonos, Greece in 2017, with Town & Country noting that they were photographed together for the first time in September 2018 at the Taoray Wang fashion show in New York City.
Boulos' family founded the conglomerate Boulos Enterprises, which does "work with vehicles, equipment, retail, and construction" and is reportedly worth billions, according to Vanity Fair. 
He posted the same photo of the two of them to his own Instagram account, where he included the caption: "Got engaged to the love of my life! Looking forward to our next chapter together."
Join our new commenting forum
Join thought-provoking conversations, follow other Independent readers and see their replies