How sex positive transgender porn is helping people
'Some use it for validation and reflection. Some use it for self-exploration'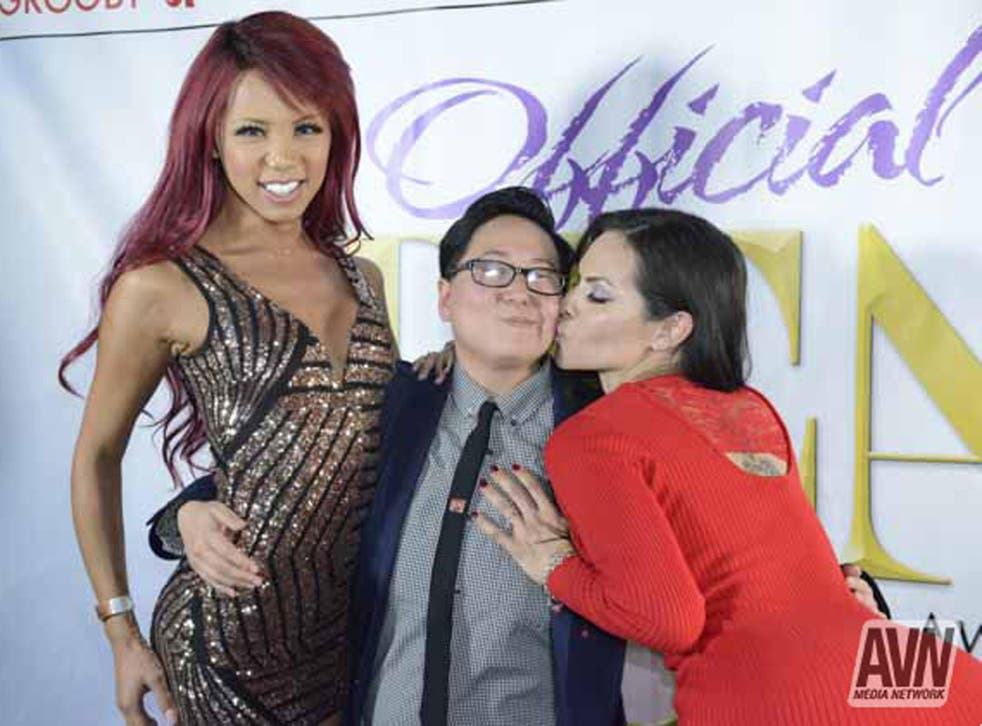 Kristel Penn first dipped her toe into the world of trans-erotica by accident.
When she was hired by Grooby, a company which specialises in producing porn featuring trans women, she was a photographer at a local newspaper and trying to write a novel. "Very angsty, I know," she says. To her, it seemed like it could serve as gonzo-style inspiration for her writing and little else. It was also a great ice breaker at parties, she says.
"I was originally hired to do photo re-touching, which lasted exactly one day," she recalls. The next day, she was put on blogging and made the webmaster before becoming a marketer. A few years later the operation moved from Hawaii to porn-obsessed Los Angeles.
Grooby - In pictures

Show all 6
A decade later, she is at the centre of the trans porn world as the marketing and editorial director at Grooby. She helps to host the Transgender Erotica Awards in Los Angeles, and is the editor of Transformation magazine and on the board of directors of the non-profit organisation called Trans Adult Industry Foundation which raises money and donates it to organisations that provide emergency services to the adult trans community. Penn also co-founded ShameKillsLove.com, a project which encourages people to live authentically and unashamed. She also recently appeared on a panel at the AVN industry show in Los Angeles, discussing LGBT porn.
"We ask people to ask themselves, what would it feel like to be free of shame? Whether it's shame about body, sex, sexuality, or whatever prevents you from living as your most authentic self. The concept was partly inspired by my work in the adult industry and seeing performers being proud of who they are. It was a concept that I wanted to encourage everyone to adopt for themselves."
We chatted with Kristel to find out more about what the porn industry is like for non-binary people.
Hi Kristel, tell us a little about Grooby and what you guys do.
Grooby has been in business for over 20 years. We are the leading producer of trans content and run over 30 membership websites, host a website network for performers called the Grooby Network, release four DVDs a month, run a three-day event for the trans adult industry, and do philanthropic work within our community and beyond.
Our sites feature trans women in solo scenes and hardcore scenes, mostly paired with other trans women, cis men, or cis women. Our performers are in varying stages of their transition, and likewise, our performers self-identify using various labels.
Who's your target audience?
Our target demographic has mostly been straight cis men, but in recent years we've seen an increase fans who are cis women, trans men and women, and gender non-conforming individuals. People consume porn for a variety of reasons other than sexual gratification. Some use it for validation and reflection. Some use it for self-exploration. I imagine many consume it for different reasons depending on what's going on in their own lives.
Tell us about the sort of work that Grooby creates
Last year we released a film called Real F***ing Girls that was directed by a well-known Kink performer named Mona Wales. The concept for this DVD was different than others where Mona selected the trans performers she wanted to use, who then were able to choose their own scene partners. Each scene was based on the personal stories of the trans performers. Mona also had videographer Lilith Luxe film an exclusive behind the scenes documentary of the filming process, which included some really groundbreaking interviews with the cast and crew.
Consumers generally see only the finished product and are not privy to what happens behind the scenes: the negotiation and consent conversations that happen between performers before shooting, the technical aspects of shooting a porn, and how performers feel about the industry and their role in it. We included the piece as one of our DVD features and have also submitted it to a few film festivals across the country to help destigmatise our industry. The film swept at both the XBIZ and AVN Awards this past year, which I believe, is the first time a trans DVD has accomplished that.
Can porn be an important tool for raising awareness about the concept of gender being non-binary?
I think of porn like any other type of media. In and of itself, it's neither good nor bad, but it is up to us how we process it. I think it can provide a form of visibility and representation, but it all depends on how it's used. Porn, overall, is not created with the intention of being a learning tool and I believe it is not its responsibility to educate. Unless a company or a producer clearly states that intention, consumers shouldn't assume it does. However, porn can be used as an educational tool in conjunction with other forms of education.
What are some of the most shocking things you have experienced or witness as an advocate of queer and trans people?
People can be pretty rude and it always baffles me why they are so invested in telling someone else who they are. Because of how I present [as a gay woman], I've had people make some pretty ignorant comments to me and when I've politely corrected them, I've sometimes been met with aggression. From first and secondhand experience, I'm always shocked by the amount of education LGBTQ people are expected to do for others who are being aggressively ignorant.
I personally believe it is never the responsibility of the oppressed to educate the oppressor. I've had people insult me and say homophobic and racist things to my face and to think it is my responsibility to educate them seems like a pretty tall order, in my opinion. Unfortunately, the question of whether or not this is right is separate from whether or not this is feasible. In order for there to be positive change, I think it takes everyone's best efforts. Marginalised people will continued to educate others because it's much needed and there should be a lot more self-education from those on the other side.
Have you had any pleasant surprises where people have been unexpectedly accepting?
I've been pleasantly surprised by fans who are out and proud about their porn consumption. Many attend the TEAs and come up to me to express their thanks for having such an event where they can meet their favourite stars and talk about common interests.
There are performers who interact with their fans in non-sexual arenas like online gaming, for example, and I think it's neat to see conversations between performers and fans being as diverse as they are. This really helps consumers see how our performers, and by extension, our industry is three-dimensional.
What do queer performers need from the industry to protect them and help them? Are they treated worse than cisgender actors?
I can't speak to the overall treatment of queer performers in the industry, but I can say that there are safe spaces and not-so-welcoming spaces in the industry for our trans performers. Like the real world, the industry is not exempt from bigotry. And like the real world, the industry can be a really affirming place for people who are otherwise marginalised out in the real world. Just like the real world, LGBTQ performers need more allies and advocates in their corner. We need these people to know when it is appropriate to speak up (and speak up loud) and when it is appropriate to step aside and support the voices of those being marginalised. There is no singular way to do this, but rather, the discussion needs to happen often. LGBTQ community and its allies need to keep checking in with each other.
How do your fans respond to your work? Are there any responses that have really hit home for you?
I've had older trans folks tell me how validating it was to discover our sites back in the 90s and see people like them being sexually desired and photographed. It can be a place of great empowerment to them. In some moments, I've had people tell me how our porn has helped them find, solidify, and or flesh out their own identities.
What is the most important thing readers should know about gender identity and porn?
Porn is going to stir up different things to different people, regardless of its type. Because there is currently no other format where we can privately explore such diverse bodies and sexuality, porn has the potential to bring up both questions and answers about our own identify. People don't discuss their porn preferences because they're afraid of how it changes their own labels, but this is not a straightforward A-to-B line.
For example, if I enjoy straight porn, does that automatically mean I'm straight if I identify as a lesbian? Is there enough diversity in porn? Is porn perfect? No and no, but if we can view it as a starting point for discussion, it might uncover aspects of our desire and identities we were too afraid to examine otherwise. Be a conscious consumer and find porn you like. Do as much research as you need to feel good about what you're watching. Whether it's porn that reflects your own identify or not, be an active participant in your own self-reflection around it.
Register for free to continue reading
Registration is a free and easy way to support our truly independent journalism
By registering, you will also enjoy limited access to Premium articles, exclusive newsletters, commenting, and virtual events with our leading journalists
Already have an account? sign in
Register for free to continue reading
Registration is a free and easy way to support our truly independent journalism
By registering, you will also enjoy limited access to Premium articles, exclusive newsletters, commenting, and virtual events with our leading journalists
Already have an account? sign in
Join our new commenting forum
Join thought-provoking conversations, follow other Independent readers and see their replies