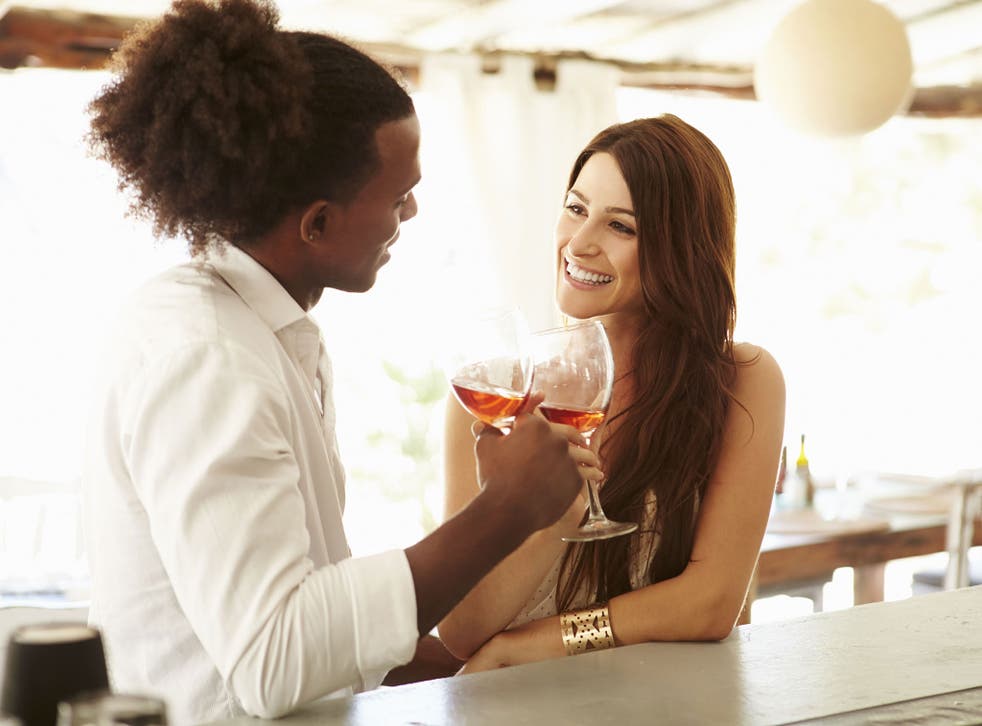 Want to find love? Ditch dating apps and strike up a conversation
Susie Coen explores why we need to stop relying on our smartphones to find dates 
Susie Coen
Tuesday 05 January 2016 12:01 Comments
When the joviality of the festive season wears off and harsh reality begins to set in again, being single is the one thing that many of us hope to change in the New Year.
In fact, Christmas to Valentine's Day is the peak season for online dating, as thousands of people decide they don't want to snuggle up to Celebrity Big Brother on their own anymore. New users of Match.com increase by 60 percent during this period, and 3 January is set to be the busiest day for online dating in the year.
But by investing everything in online dating, we are constantly passing up opportunities that we come across every day. What about that man you smiled at in Lidl when you were picking up some milk? Or that woman who was reading your favourite book on the Tube? So, in the New Year why not try a different method of dating: real-life conversations.
Emma Ziff, director of the Pink Lobster LGBT dating and matchmaking service, advises: "At the end of the day if you really want to find someone, you actually have to put yourself out there. People worry about being rejected but most people would be really flattered by someone coming up to them and they would be nice about it."
Dating and relationship expert Shelley Whitehead agrees.
"These days people are so reliant on online dating and believe it is the only way to go, but personal introductions, even in everyday situations such as being in a queue, can lead to amazing opportunities."
I had my own experience of this a few years ago. After an exhausting day of studying at the British Library, I was ready to get back Manchester where I was at university at the time. I'd had a short conversation with a man about something mundane, such as which tills were open, while I was grabbing a sandwich at Euston Station. I noticed he was on my train and smiled at him, and, thinking nothing of it, I proceeded to pass out for the whole journey.
When the train pulled in, however, the same man walked up to me and said: "I don't normally do this, but I was wondering if I could take you for a drink when we're in London." He then promptly handed me his number and disappeared.
Taken aback by the unusual experience, and impressed that this man, let's call him Harry, had had the courage to approach me, I arranged a date with him for next time I was in London. We met up about a month later and had a great time, we had a lot in common and we are still good friends today. The whole thing was also a lot more exciting than simply flicking through an app. So, why don't we stop being so embarrassed and do things like this more often?
The thought of sparking up a conversation with a stranger would send shivers down most of our spines. Nobody wants to be that irritating person who talks to a stranger just trying to get on with their day, right?
Yet research by Nicholas Epley, a professor of behavioural science at the University of Chicago Booth School of Business, argues that as social animals, interacting with strangers is actually good for us.
"They [people] think that sitting in solitude will be more pleasant than engaging in conversation, when, in fact, the opposite is true," Epley told Live Science. "Everyone seems happier and has a more pleasant interaction when they connect versus sit in isolation."
There are also complications with meeting people online, as you can never really tell what the person is like. This Reddit thread about people's worst online dating experiences is a testament to the awkward situations that can arise.
And even if you seem to hit it off with someone, engaging in only online interaction can begin to affect your real life social skills. According to Forbes, only 7 per cent of communication is based on the written or verbal word while 93 per cent is based on nonverbal body language. So, when all you have to go on is written communication, your impressions of people can be deceptive.
Suzie Hayman, relationship councillor and agony aunt for Woman Magazine said: "I think it is a great pity that we tend to hide behind screens a bit because it does mean that there's that at arms-length type of situation going on. It can mean meeting face to face with them is difficult, because you're so used to talking to them online."
Love and sex news: in pictures

Show all 31
Disillusioned with online dating, I tried out Harry's technique for myself. I was in a restaurant and had a chat with a barman about making milkshakes. When I was ready to leave, I walked up to him, said he seemed really nice and handed him my number scrawled onto a napkin trying not to show my fear.
It was terrifying, but the beauty of making a fast departure is you don't have to face up to being rejected. Luckily, he texted me a few days later, we went for some drinks and we are meeting up next week. It's a lot more exciting than just swiping right.
It is a risky game, as you can never know if the person you are approaching is already in a relationship, but you just have to hope that they will be flattered by your offer and won't contact you if they are unavailable.
As with everything, this approach to dating has to be done by taking other people's feelings into consideration. There is a big difference between showing your interest in someone and harassing them. Make sure you read the other person's reactions. If they don't want to engage in conversation with you, kindly leave them alone.
If you fancy trying this out yourself, but don't know where to start, Shelley offers some words of wisdom: "A great way is to practice talking to people you don't know, be it mums, little old ladies, just practice opening up conversations."
And if you're umming and ahhing over whether to approach someone, Emma recommends you "always go with your gut" and to "keep it short, keep it punchy and don't ramble."
So, if you're hoping 2016 will be your year of love and happiness, what are you waiting for?
Register for free to continue reading
Registration is a free and easy way to support our truly independent journalism
By registering, you will also enjoy limited access to Premium articles, exclusive newsletters, commenting, and virtual events with our leading journalists
Already have an account? sign in
Join our new commenting forum
Join thought-provoking conversations, follow other Independent readers and see their replies