Fainting bridesmaid leads to one of the most unique wedding photos ever
It definitely wasn't planned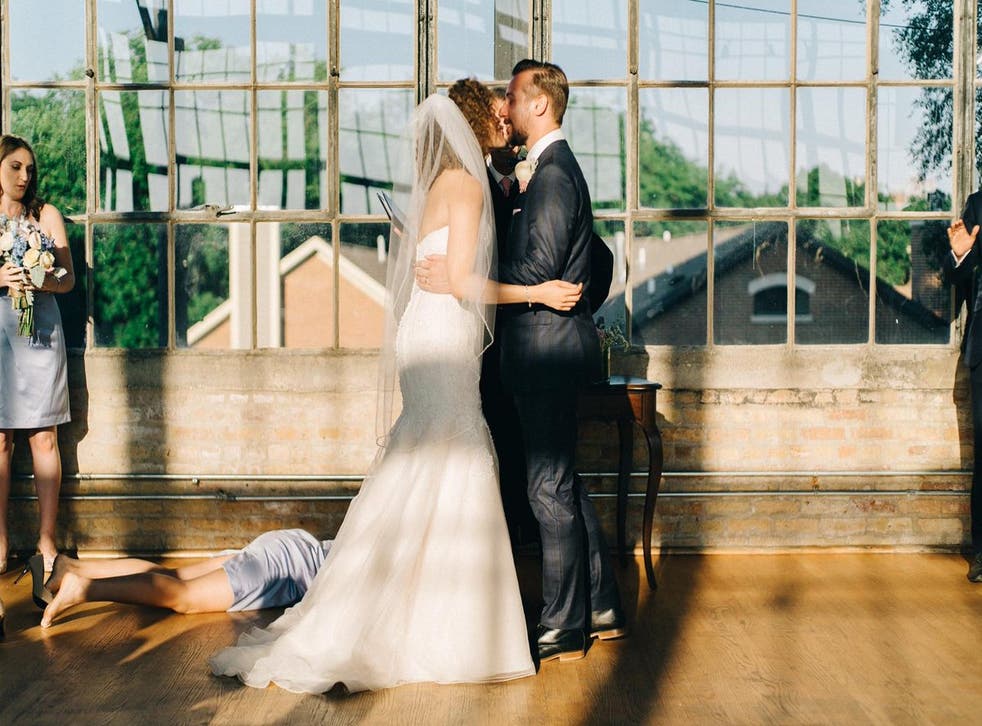 As many people do, 25-year-old British-American Kevin Kennedy Ryan shared a photo of his wedding on social media to mark his anniversary.
Usually, however, most people's wedding throwbacks receive a handful of likes and well-wishing comments.
But that was not the case for Ryan, who works in marketing in Sheffield.
His picture stood out and caught the eyes of many after he shared it on Twitter, and it swiftly went viral.
The photo showed the moment Ryan and his now wife of three years, Jess Ryan-Smith, had their first kiss as a married couple.
However, at the exact same moment, Ryan's sister Grace fainted and fell face-first to the floor right next to them.
After sharing the photo - which was subsequently shared far and wide on Twitter - many people demanded more details about what was happening.
Ryan duly explained that his sister "fainted at the exact moment the judge says you may kiss the bride," it definitely wasn't planned and it was "a real split second photograph" - "a few seconds later we were all over her!" he said.
He also added that it was due to heat rather than shock that Grace fainted, but fortunately she was completely unscathed.
"My sister was absolutely fine," Ryan tells The Independent. "We got her back up, she was still a little wobbly so she remained sitting down for the rest of the ceremony with a cold glass of water. We restarted our first kiss and then everything was pretty normal for the rest of the evening."
When the couple's photographer, Sean Cook, was editing the photos afterwards and realised he'd captured the exact moment Grace fainted, he emailed the couple asking whether they wanted the picture included.
"When I opened the email from Sean, I didn't twig what was wrong with it," Ryan says. "I thought it was just a first kiss picture and he was asking if we were happy with it. I then clocked my sister's legs on the floor and started dying of laughter."
Many people were impressed and intrigued by the photo, with one proclaiming he thought it was "the best wedding picture I've ever seen!"
Meanwhile, a woman pointed out that the other bridesmaid's facial expression is worth noting too: "What really clinched it for me was the look the other bridesmaid is giving her... shade. Serious shade. I love everything about this photo."
But all agreed the picture should be framed, hung and given pride of place in the couple's home.
Register for free to continue reading
Registration is a free and easy way to support our truly independent journalism
By registering, you will also enjoy limited access to Premium articles, exclusive newsletters, commenting, and virtual events with our leading journalists
Already have an account? sign in
Register for free to continue reading
Registration is a free and easy way to support our truly independent journalism
By registering, you will also enjoy limited access to Premium articles, exclusive newsletters, commenting, and virtual events with our leading journalists
Already have an account? sign in
Join our new commenting forum
Join thought-provoking conversations, follow other Independent readers and see their replies