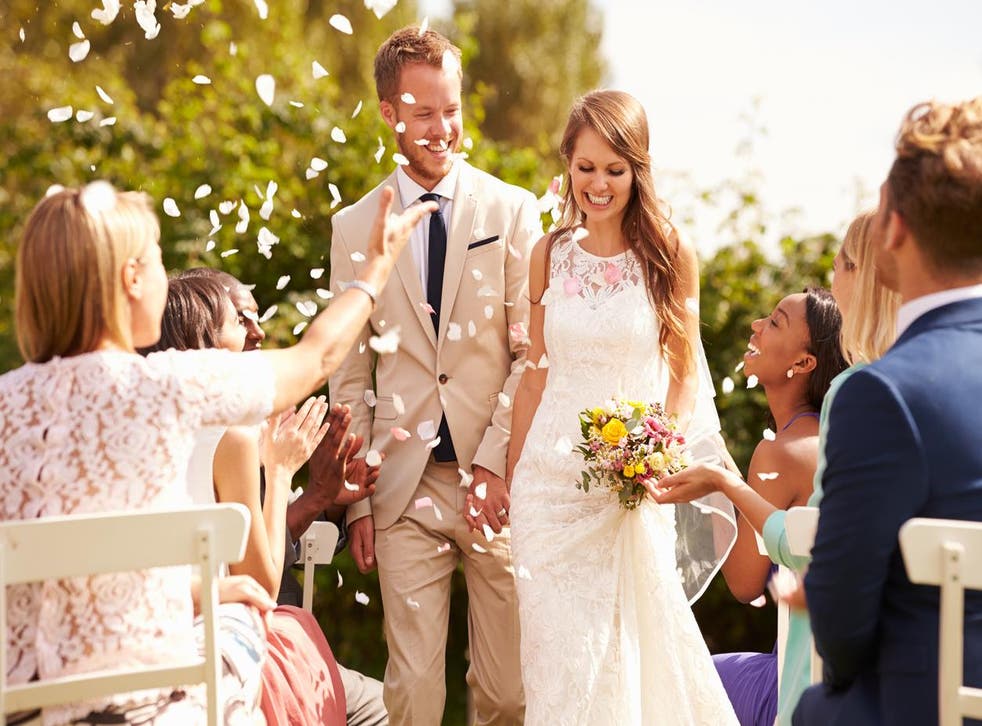 How millennials are revolutionising weddings
According to a wedding planner
Rachel Hosie
Wednesday 07 June 2017 09:16 Comments
Weddings are, in the eyes of many, bastions of tradition.
And for lots of people, there are certain rules that must be followed: the bride must wear a white dress, the ceremony must take place in a church and the couple must cut a fruitcake.
But of course, many millennials are breaking with tradition, ripping up the rulebook and redefining what a wedding should look like.
For some this means ditching the white dress and having a 'cake' made out of cheese, and for others it means saying their vows up a mountain.
To find out the most common ways millennials are making weddings their own, we spoke to wedding planner Nancy Hallam, one half of the sister duo behind luxury wedding planning company Lily & Sage.
How millennials are revolutionising weddings:
1. Skipping church
According to Lily & Sage, it's becoming increasingly common for couples to lean away from traditional church weddings in favour of low-key formalities at a registry office, often followed by a more elaborate blessing in a unique location.
"Couples are constantly pushing the boundaries in terms of where their wedding ceremony or blessing is taking place and this in turn helps them to infuse their own personality into their wedding," Nancy told The Independent.
This is backed up by data from Bridebook's 2017 Wedding Report, which found that more and more couples are choosing to hold their ceremonies and receptions at the same venue, with a country manor house proving the most popular location.
2. Spending more
According to Bridebook's survey of 4,000 couples across the UK, average total wedding costs have reached a new high of £26,989.
And Nancy points out that the average amount that couples are spending on their wedding has increased year on year for the past five years.
"Obviously this is still an average - lots of couples are spending less and equally there are a considerable number of luxury weddings with far higher spends," Nancy says.
3. Personalisation
We're the 'selfie generation,' so it makes sense that millennials are increasingly making their weddings personal to them.
"Every couple is trying to look for the next big way to tell their story in a unique way through styling and props," Nancy explains.
"Because of this, weddings have become much more design-led - from large scale installations to little details like signature cocktails."
4. Marrying older
The marriage rate is reportedly declining, but it could just be that millennials are marrying later in life: "With so much focus now being on careers and other big life moments, couples are not necessarily getting married at such a young age," Nancy says.
According to ONS figures, the average age for men to get married in England and Wales is 36.7 years and for women it's 34.3 years - far higher than the mid to late twenties which was average 40 years ago.
"Because of this almost a third of couples are now able to pay for their own weddings which in turn is driving them to budget more sensibly with things like weekday weddings becoming a more and more popular option," Nancy explains.
5. DIY
"More and more couples are creating 'DIY' weddings where small elements such as favours, place cards, and invitations are made by hand," says Nancy.
"This is a another simple way for a couple stick to their budgets and to infuse their personality and story into their wedding."
It's on-trend and allows couples to move away from the old-fashioned 'cookie-cutter' style wedding.
6. Social media influence
Whereas a couple getting married would once have a monogram, they now have a hashtag - there are even companies dedicated to coming up with witty hashtags for nuptials.
Pinterest boards are used for inspiration, 'save the date' invitations take the form of YouTube videos and couples create wedding websites providing all the information their guests could need in the run up to the big day.
And of course, Instagram is fuelling pressure for one's big day to be perfect: "Millennials are using it to create and follow new trends which is definitely impacting the entire styling element of a modern day bride's wedding," says Nancy.
She believes our obsession with Instagram has created a generation far more interested in photography than our predecessors, and all aspects of a wedding - from the signs on the bar to the table settings - are more considered as a result.
But Instagram is also driving couples to be more creative.
"In a way, Instagram is what sparked this whole change and what is revolutionising weddings because people are inspired by the things that they've seen and they want to either recreate them or create something different that is inspired by it."
Our weddings may be more digitally-inspired, but they're also becoming more personal. And at the end of the day, a more personal wedding is a more meaningful one.
Register for free to continue reading
Registration is a free and easy way to support our truly independent journalism
By registering, you will also enjoy limited access to Premium articles, exclusive newsletters, commenting, and virtual events with our leading journalists
Already have an account? sign in
Register for free to continue reading
Registration is a free and easy way to support our truly independent journalism
By registering, you will also enjoy limited access to Premium articles, exclusive newsletters, commenting, and virtual events with our leading journalists
Already have an account? sign in
Join our new commenting forum
Join thought-provoking conversations, follow other Independent readers and see their replies