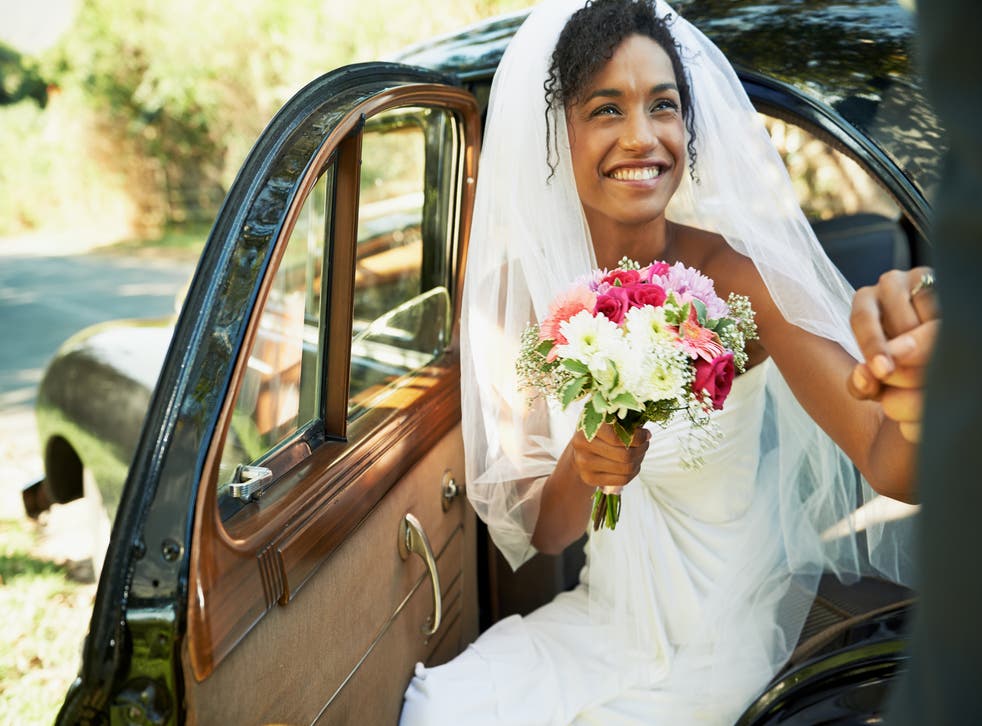 What are the new rules on weddings in England from today?
From 29 March, weddings can take place with up to six guests
On Monday 29 March, England entered the second phase of the first stage of the government's roadmap to lifting lockdown restrictions.
This follows the first phase, which began on 8 March and saw the reopening of schools and universities.
The government has said that progression to each subsequent stage in the roadmap is dependent on four tests.
These include that the vaccine deployment programme continues successfully, evidence showing vaccines are sufficiently effective in reducing hospitalisations and deaths in those vaccinated.
Additionally, infection rates must not be seen as risking a surge in hospitalisations which would put unsustainable pressure on the NHS.
Read more:
Under the current rules, several restrictions have been relaxed, meaning that people can now socialise outdoors in groups of six and resume participating in outdoor sports.
Additionally, some of the restrictions surrounding weddings have been lifted.
Here's everything you need to know about getting married in England now.
How have the rules regarding weddings changed?
From 29 March, weddings will no longer be limited to exceptional circumstances, which means they can resume under government guidelines.
The government website defines such circumstances as including, but not being limited to: "an urgent marriage where one of those getting married is seriously ill and not expected to recover, or is to undergo debilitating treatment or life-changing surgery."
Receptions were not permitted.
Now, however, weddings and civil partnership ceremonies can continue to take place and will no longer be limited to exceptional circumstances.
This means that anyone can get married in line with social contact limits. However, receptions are still not permitted.
How many people can attend a wedding now?
Wedding ceremonies can now take place with six people in attendance. This limit refers to all those at the ceremony, including the couple, witnesses, and guests.
However, anyone working is not included in this limit, which means that whomever is officiating the wedding does not count within the rule of six.
Explaining the reasoning behind the rules on weddings, the government states: "This guidance for marriages and civil partnerships has been drafted on the basis of the scientific evidence available and will be updated in line with the changing situation and as more data becomes available on Covid-19."
It adds that the government has been working closely with stakeholders in the wedding industry and the Places of Worship Taskforce to allow small marriages and civil partnerships to take place safely.
When will the next rule change be?
The next rule change regarding weddings will be in stage two of the government's roadmap, which is due to take place no earlier than 12 April.
At this point, weddings and civil partnership ceremonies are permitted for up to 15 people in Covid-19 secure venues.
Additionally, receptions will be permitted with up to 15 people. However, these must be in the form of a sit down meal and in a Covid-19 secure outdoor venue that is permitted to be open.
Wedding receptions must not take place in people's private gardens or public outdoor spaces.
Register for free to continue reading
Registration is a free and easy way to support our truly independent journalism
By registering, you will also enjoy limited access to Premium articles, exclusive newsletters, commenting, and virtual events with our leading journalists
Already have an account? sign in
Register for free to continue reading
Registration is a free and easy way to support our truly independent journalism
By registering, you will also enjoy limited access to Premium articles, exclusive newsletters, commenting, and virtual events with our leading journalists
Already have an account? sign in
Join our new commenting forum
Join thought-provoking conversations, follow other Independent readers and see their replies