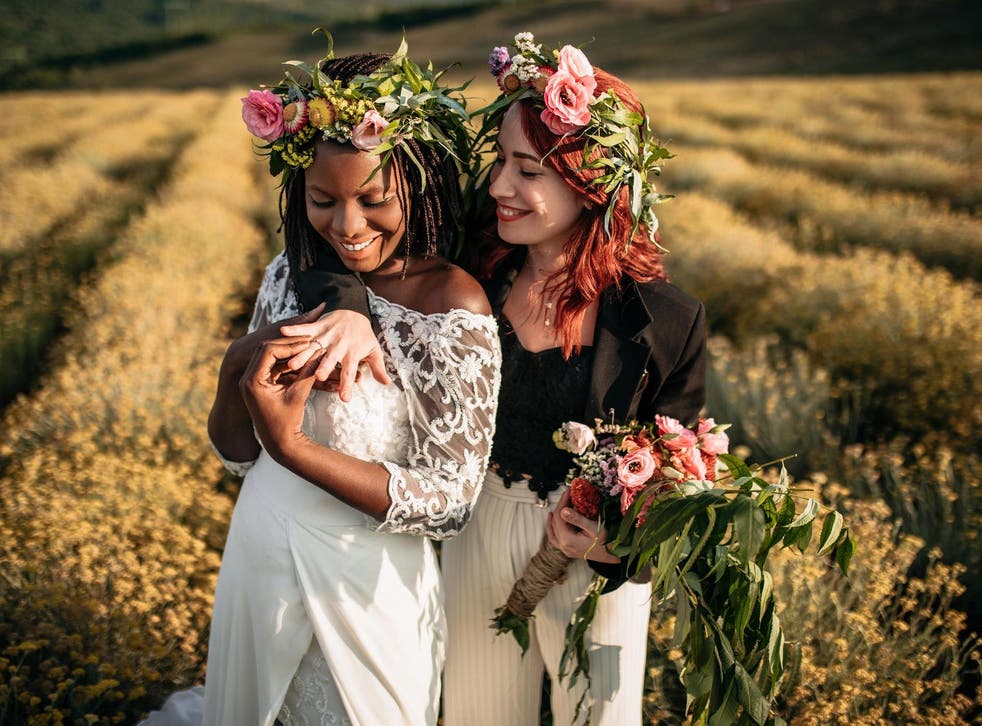 Wedding trends for 2021: What will the industry look like after coronavirus?
The trends for next year 'reflect a move towards wanting to spend more quality time with loved ones,' says editor of Hitched
While the coronavirus outbreak might have pushed pause on the entire wedding industry, experts are eagerly looking ahead to what might be in store for people's nuptials once the lockdown lifts.
Since 23 March, Britons have been told by the government to stay at home and avoid social contact with anyone outside of their households.
This has meant that hundreds of people with weddings scheduled for the coming months have been forced to either postpone or cancel them.
Some couples have made the most of the current conditions and arranged mock-up virtual weddings over Zoom, but many are still holding out for when restrictions are lifted to celebrate their vows.
According to Sarah Allard, editor of wedding planning website Hitched, the pandemic will have a major impact on 2021's wedding trends. "We are predicting that they will reflect a move towards wanting to spend more quality time with loved ones," she tells The Independent.
"Reconnecting with friends and family and creating meaningful experiences is going to be top of everyone's agenda, which we'll see filtered into weddings as couples re-prioritise what's important to them on their day with a focus on guest experiences and more quality time spent with each person."
If we can safely say the pandemic is behind us by then, here's what the event planners and experts are saying we can expect from weddings in 2021.
1. People will source food and decorations locally
According to Hitched economic consequences of the coronavirus outbreak will no doubt be felt for years to come, which means more couples planning weddings are going to want to source as much as they can from UK soil.
Everything from the decor to the photographers will be sourced locally, the website states, as people are bound to want to support small businesses and help them to get back on their feet after the strains that the lockdown has put on them.
As for the food, expect seasonal British menus that can be easily sourced from local farms and will support the UK's agricultural industry.
Hamish Shephard, founder of wedding planner app Bridebook, adds that people can also expect more vegan and vegetarian choices on menus too.
NHS nurse is surprised during Zoom wedding with live performance from Ellie Goulding
"It's all about being eco-aware," he tells The Independent, "and couples will look to be as accommodating as possible for their friends."
2. Dresses will be sustainable but opulent
The shift towards sustainable fashion is one we've seen growing in recent years as the damaging effects of fast fashion become more apparent.
This is only likely to grow next year and extend to bridal fashion, as online fashion search platform Lyst notes that searches for "vintage", "second hand" or "pre-owned" wedding dresses are collectively up 38 per cent year-on-year, averaging close to 19,000 searches a month.
Bridal designer Phillipa Lepley predicts that more brides will opt for classic fairytale-style gowns.
"Expect dramatic dresses with full skirts, elegant long trains and embroidered statement cathedral-length silk veils," she tells The Independent.
3. Expect pastel shades to reign supreme
Colour schemes are a core part of any event aesthetic, and next year, weddings will be washed out in pastel hues.
Ashleigh Li, creative director at Pink Palms Events tells Hitched that traditional blush and ivory palettes will be replaced with dusky pinks and lilacs.
"[These shades] will be key in delivering cool, calm and relaxed yet personal wedding vibes," she said. "Think gorgeous lilac, pastel pink, yellow and peach tulips and sweet peas, with a pop of colour such as orange or coral, and stationery of complementing colours too."
4. Personalisation will be huge
Hitched notes that couples will want to go the extra mile to show their appreciation for their guests in 2021 with gestures like personalised thank you notes on seats and baked goods.
The Knot's 2020 Wedding Trends

Show all 13
Shephard concurs: "Couples will have had more time to think about what is special to guests.
"Expect to see personalised elements throughout the day, whether it is a special memory written on each menu card or a photo of the guest with the couple – more thought and appreciation will be apparent."
5. Philanthropy will take centre stage
Finally, given how unifying the pandemic has been, it is only natural that human kindness would become paramount to the wedding scene.
More couples will incorporate charitable aspects into their big days next year, whether it's by encouraging guests to donate to their favourite charities or forgoing gifts entirely in the place of donations.
"Couples will also donate leftovers flowers to hospitals and hospices – another moving gesture and an unexpected silver lining," notes Shephard.
Join our new commenting forum
Join thought-provoking conversations, follow other Independent readers and see their replies