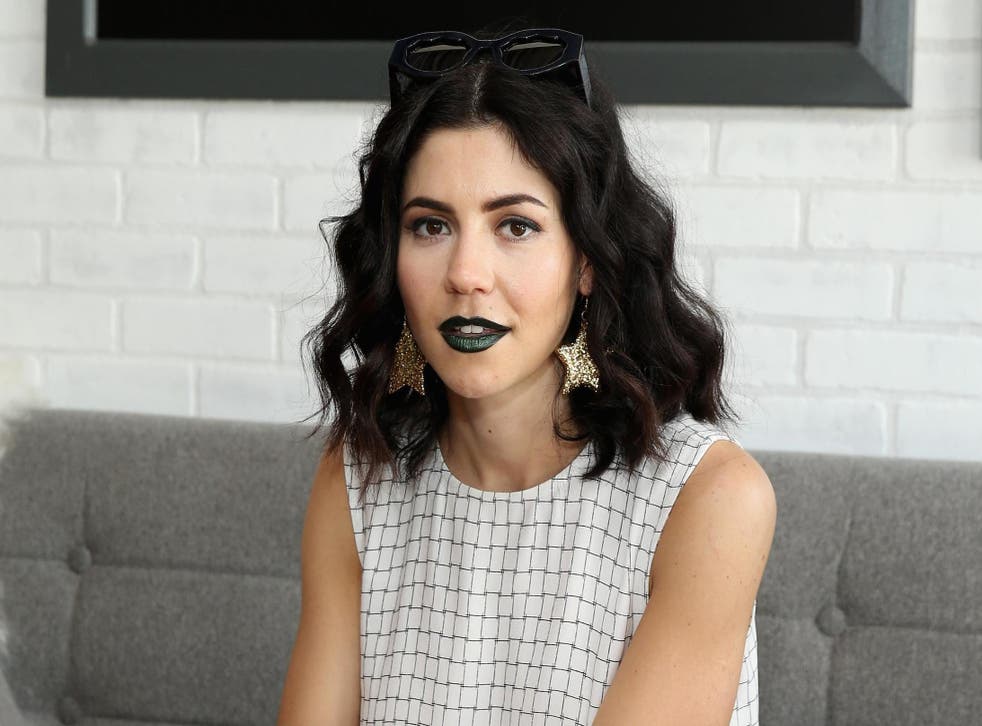 Marina Diamandis calls out fashion designer for photoshopping her legs to look like 'sticks'
'This is internalised misogyny in full action'
Sarah Young
Wednesday 27 February 2019 13:02 Comments
Marina Diamandis has criticised a fashion designer for photoshopping her legs and thighs to look like "literal sticks".
On Tuesday, the Welsh-born singer – previously known as Marina and the Diamonds – tweeted a post in which she said she wore an outfit to a recent award show to support a female designer and the next day they posted an altered image of her on Instagram.
Diamandis did not name the designer in the tweet but described their actions as an example of "internalised misogyny in full action", adding: "Do BETTER. Be less dumb."
The 33-year-old followed with another tweet explaining she wasn't emotionally hurt by the photoshopped image but felt that it was "super irresponsible and unkind to distort a woman's figure for what is essentially someone else's vanity".
She concluded: "If you want me to wear your clothing, don't photoshop my wonderful hourglass body shape as if it's is unacceptable."
Inspiring body positivity quotes

Show all 12
While the name of the designer remains unknown, fans have called on Diamandis to "spill the tea" – an expression used to describe sharing information of a sensitive nature – with many speculating as to who it could be.
A number of people accused luxury brand Maison Siran after Diamandis was featured on the label's Instagram wearing its mermaid-coloured floor-length Eva gown.
However, the singer leapt to the designer's defence on Twitter writing: "It's not Siran. I love her.
"It doesn't matter who it is anyway. I'm not saying it to expose a certain person - it's part of a bigger problem."
Others believed the mystery designer could be Celia Kritharioti. In December 2018, Diamandis wore a semi-sheer jumpsuit by the Greek designer to the Fashion Awards.
"Was it Celia?" one person tweeted.
Another added: "End Celia."
Kritharioti recently made headlines when she sent Russian model Lena Perminova down the runway at Haute Couture Fashion Week wearing a traditional bridal gown and extravagant veil that carried a swarm of confetti-filled helium balloons.
Other fans were less concerned about learning the name of the designer, instead choosing to empathise with the singer and highlight the bigger message she was trying to convey.
"Wow wtf this is so out of order. I'm so sorry that happened, it's apparent that we as a society need to keep pushing to get the message across that there are no right and wrong body types/shapes," one person commented.
Another added: "Is also not about Marina giving us the @ or the name, is about how some have internalised misogyny that they feel the need to photoshop their or another woman's body to fit a certain mould."
A third tweeted: "Everyone is trying to figure out who it was, but we are making the point.
"It doesn't matter who it was. It's the internalized misogyny. That's the point. We need to work on ourselves. Plus, you can direct unwarranted anger at an innocent designer by trying to."
The Independent has contacted Celia Kritharioti for comment.
Register for free to continue reading
Registration is a free and easy way to support our truly independent journalism
By registering, you will also enjoy limited access to Premium articles, exclusive newsletters, commenting, and virtual events with our leading journalists
Already have an account? sign in
Join our new commenting forum
Join thought-provoking conversations, follow other Independent readers and see their replies