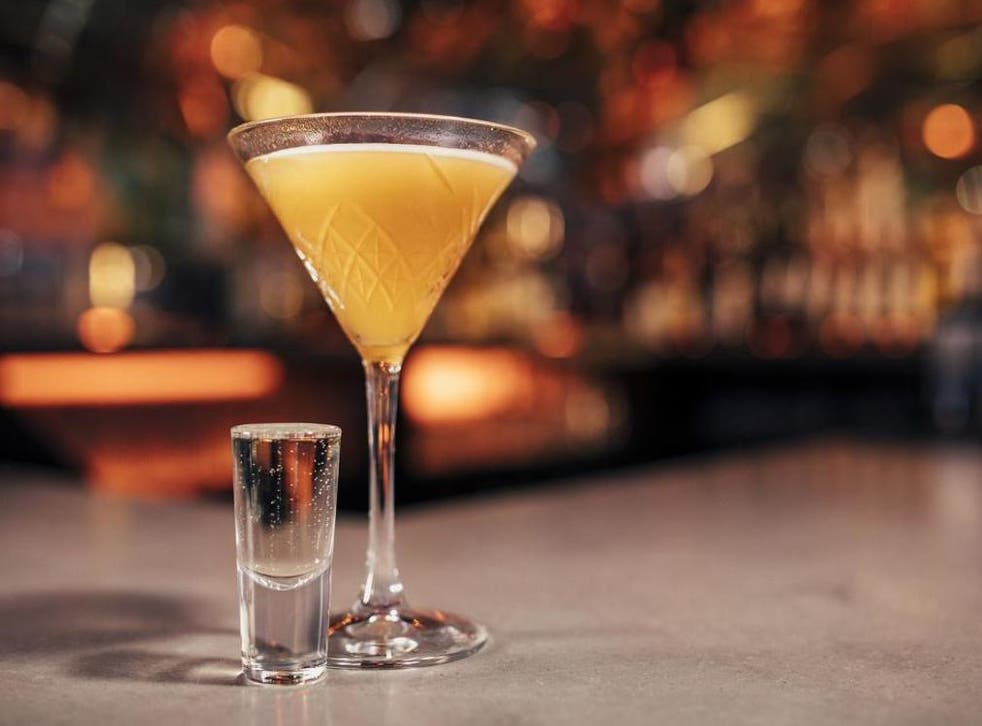 Marks & Spencer accused of 'normalising porn' by selling Pornstar Martinis
'This isn't just a cocktail. This is a misogyny & sexism cocktail'
Marks & Spencer has been accused of "normalising porn" by selling pre-made cans of Pornstar Martini in its stores.
Cocktail menus are bursting with eclectic and unusual options nowadays, but one of the most popular choices remains the Pornstar Martini.
Made with vanilla vodka, fresh passion fruit, passion fruit liqueur and lime juice, it's commonly served with a shot of champagne or prosecco on the side and was recently named one of the UK's favourite cocktails.
But, despite its popularity and prevalence on bar menus around the world, not everyone is happy about its name.
In a recent tweet, feminist campaigning group Object accused Marks & Spencer, which recently launched a pre-made version of the cocktail in a can, of "normalising porn".
"Marks & Spencer normalising porn," the tweet read.
"And if you try to complain online, the system rejects the word 'porn'. Mixed messages huh?"
Since posting, the tweet has been liked nearly 200 times and been flooded with comments from people who agree.
"Repulsive. We all need to complain to M&S," one person wrote.
Another added: "Do you seriously think a 'porn star' is something to which your customers should be aspiring, given that the vast majority of porn involves degrading, hurting and raping young women??"
Someone else wrote: "Seriously?? @marksandspencer My kids can read and will ask what a porn star is - please let me know what you think I should tell them. Thanks."
Others came to the retailer's defence, pointing out that the name of the drink wasn't originally created by Marks & Spencer.
"It's been called that for years as it's passion fruit based. And tastes delicious," one person commented.
In fact, the drink was created and named by bartender and LAB bar founder Douglas Ankrah in 2002.
Ankrah first christened the cocktail the Maverick Martini, in tribute to a dodgy club in Cape Town, but later decided to change the name to the Pornstar Martini.
However, he insists that there is nothing sexist about it.
"The drink is very evocative and tantalising. I called it Pornstar because I thought it was something that a porn star would drink, there's nothing sexual there," Ankrah told The Buyer in a recent interview.
"Bars, when done properly, should be environments where one can be bold, sexy and playful. Being a huge part of the bar scene, I wanted to create a drink that personifies those attributes; bold, sexy and playful."
In response to the comments on social media, an M&S Spokesperson tells The Independent: "Porn Star Martini is a common and popular name for a passion fruit cocktail drink. We launched it back in September and it has already become one of our most popular cocktails."
The controversy comes just months after consumers were left divided by the launch of a clothing collaboration between online fashion brand Missguided and men's lifestyle magazine Playboy.
While many expressed their love of the line, with some items even selling out, others were quick to question the return of a magazine known for its photos of nude women in an era when most brands are championing and empowering women and diversity.
"The new Missguided Playboy range is the most vile thing I've ever seen. Ever," one person commented.
The Independent has contacted Marks & Spencer for comment.
Support free-thinking journalism and attend Independent events
Join our new commenting forum
Join thought-provoking conversations, follow other Independent readers and see their replies