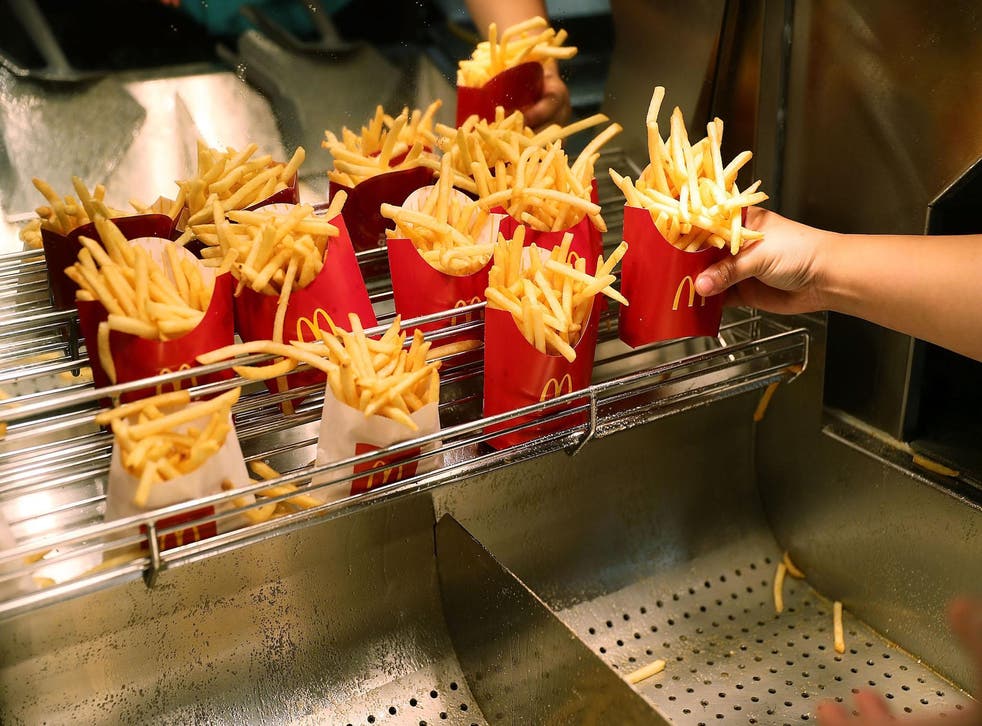 McDonald's fries: The little-known ingredient that makes them so addictive
The drive-thru behemoth adds 'natural beef flavour' to their fries in Canada and the US. 
Wednesday 06 December 2017 08:01 Comments
The much-adored McDonald's French fry has a little-known ingredient that makes them flavoursome. However, it means that the fries aren't vegan in Canada and the US because their unique taste is actually sourced from milk.
The drive-thru behemoth adds a key flavouring ingredient called "natural beef flavour" to the fries in American and Canadian outlets. However, in the UK, the fries are cooked in a blend of sunflower and rapeseed oil making them vegan friendly.
The company have also recently announced a pledge to only use eggs from cage-free hens by 2025.
On the company's US website the flavour is listed as containing "hydrolysed wheat and hydrolysed milk as starting ingredients." In the hydrolysation process the wheat and milk proteins are broken down with water and the resulting umami taste adds a meaty note to the fries.
The company makes their French fries from whole potatoes which are peeled, cut, partially fried and then packaged to be shipped to the restaurants. They are fried first at the factories and then again at the individual branches.
"Once the potatoes are cut, we push the strips to a blancher to remove the natural sugars from the strips," says Mario Dupuis, the production manager for McCain who supply fries for McDonald's in Canada.
"Following the blanching process we add a dextrose solution to have that nice even coat that we see in the restaurants," Mr Dupuis explains in a behind-the-scenes video that shows how the fries are produced.
"We also add an ingredient to our strips to make sure that we prevent the graying of our product throughout the process," Mr Dupuis adds.
Other ingredients include hydrogenated soybean oil, salt and sodium acid pyrophosphate to maintain the yellow colour of the fries.
Register for free to continue reading
Registration is a free and easy way to support our truly independent journalism
By registering, you will also enjoy limited access to Premium articles, exclusive newsletters, commenting, and virtual events with our leading journalists
Already have an account? sign in
Join our new commenting forum
Join thought-provoking conversations, follow other Independent readers and see their replies