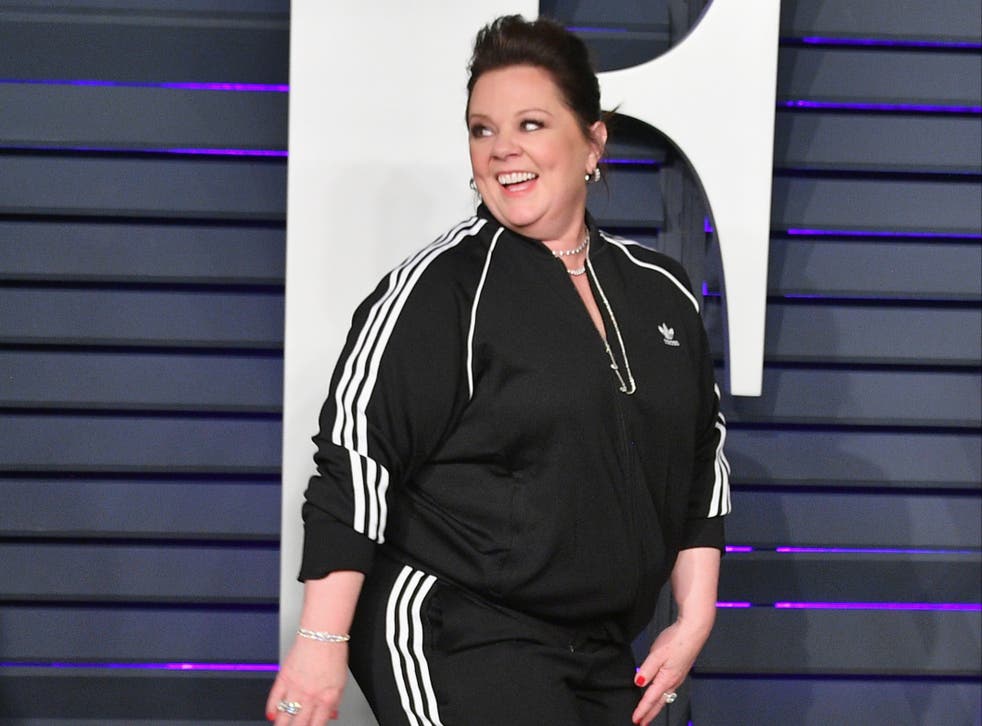 Melissa McCarthy says she was 'flipped off and told to f*** off' when she wore an Adidas tracksuit to Vanity Fair Oscars party
Actress changed out of her Brandon Maxwell jumpsuit and into tracksuit ahead of annual black-tie event in 2019
Melissa McCarthy has reflected on her decision to wear matching tracksuits with her husband Ben Falcone to a red carpetOscars party in 2019, revealing that she was "flipped off" and told to "f*** off" by fellow party-goers.
The Bridesmaids actress, who is featured on the cover of InStyle's April issue, opened up about the half-joking backlash over her outfit during an interview with the outlet, during which she was asked byInStyle editor-in-chief Laura Brown about the memorable look. 
In 2019, McCarthy and Falcone arrived at the Vanity Fair Oscar party in black and white Adidas tracksuits, despite the party notoriously known for its red carpet dress code.
"A couple of years ago you and Ben showed up to theVanity Fair Oscars party, spiritual home of the fishtail evening gown, in matching Adidas tracksuits," Brown prompted the comedian at one point during the conversation.
In response, McCarthy, who was nominated for the Best Actress award for her role in Can You Ever Forgive Me?, revealed that the idea to wear the outfits had come to her the day before the Oscars, which she believes "threw everybody into a tizzy".
Read more: Melissa McCarthy apologises after supporting controversial charity
"I'm sure it threw everybody into a tizzy because the idea came to me the day before the Oscars. I asked: 'Can we wear matching tracksuits?' And someone was like: 'For tomorrow? Like, that both fit?' It's not that easy," the 50-year-old recalled. "I just wanted to be in tennies and tracksuits. It just seemed so funny to me and so comfortable."
However, according to McCarthy, not everyone was impressed with her decision to prioritise comfort over style, with the actress laughing while telling the outlet she has "have never been flipped off or told to f*** off as much as at that party and it was all done, uh, jokingly, but also with something real behind it".
Recalling how, after the ceremony, for which she wore a caped black-and-white jumpsuit by Brandon Maxwell, everyone "put on a different dress and different heels" while she changed into the athleisure look, McCarthy said attendees were "just totally like: 'You go f*** yourself.'"
The reactions didn't phase The Heat star, who told the outlet that she responded to the negativity by telling the fellow celebrities that she was going to enjoy dancing in her comfortable outfit.
"My response was: 'Oh, OK, I'm going to go dance pretty hard right now,'" she said.
While other attendees may not have been jealous of McCarthy's look, the outfit was a hit with fans, who praised the actress on social media at the time.
"Melissa Mccarthy going to an Oscars afterparty in an Adidas tracksuit is the BEST thing ever," one person tweeted, while another said: "Melissa Mccarthy wore a tracksuit to the Vanity Fair party, try and stop me from wearing one to work."
Elsewhere in the interview, McCarthy touched on what it means to be an actress, revealing that she went into acting because she finds "other people more interesting," and wouldn't necessarily know how to "play myself".
"I love getting out of myself and into someone else, so when the light gets shone on me as opposed to a character, I just feel like I'm off," she said.
Join our new commenting forum
Join thought-provoking conversations, follow other Independent readers and see their replies