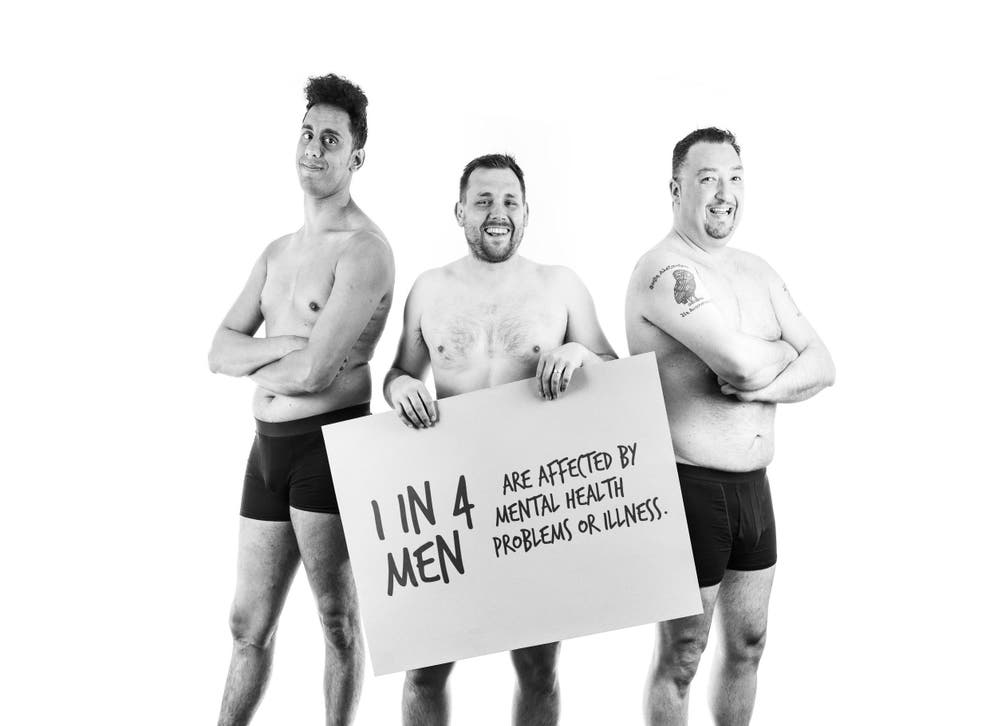 Fathers pose naked to raise awareness for men's mental health
The campaign aims to highlight the links between mental wellbeing and body positivity
Ahead of Father's Day on Sunday, The Dad Network has launched a campaign to tackle the stigma surrounding men's mental health.
The Dad Network's #FatherFigures campaign aims to highlight the importance of seeking help in light of research that shows men are much less likely to disclose mental health problems to their friends and family than women. They are also less likely to seek medical support.
The campaign, photographed by Chris Hogben, features an array of dads, all of whom are pictured posing either nude or in their underwear, emphasising the links between body acceptance and mental wellbeing.
A number of them are photographed holding placards outlining various statistics regarding men's mental health, such as suicide being the most common cause of death for men aged 20-49.
According to a study by Central YMCA, four in five men have anxieties about their bodies.
Plus, one in 10 new fathers will suffer from postnatal depression.
"The reason we wanted to run a campaign like this is purely based on the fact that we have so many dads from within our network coming forward to open up about mental health struggles they are facing or have faced. Yet, in society generally, it's never spoken about," explains The Dad Network's founder, Al Ferguson.
Ferguson launched the website and subsequent community after his wife suffered a devastating miscarriage on their wedding day.
It operates as a support network for fathers and organises regular meet-ups for members across the UK.
"Ultimately, The Dad Network aims to support dads in their role as a father and our experience from the network says that mental plays a big part in stopping dads from being the best they can be," he tells The Independent.
"We also know that simply talking about it with other dads, some who've been there before, and some who haven't, can make a huge impact on a suffering father."
According to clinical psychologist Dr Emma Hepburn, male mental health is a severely underestimated issue, particularly in light of studies which show how some men cope with mental illness.
"Research suggests that men are less likely to seek mental health support or disclose their concerns to friends and family," she said.
"For dads, parenthood presents a number of challenges to mental health and research show there are higher rates of mental health conditions in the early years of fatherhood.
"Increasing awareness and knowledge of men's mental health, and ways to seek help and support can help break down some of the barriers men face when they experience mental health difficulties".
The Dad Network are encouraging fathers to show their support by uploading photographs of their body under #FatherFigures, which has already garnered more than 7,900 posts on Instagram.
Register for free to continue reading
Registration is a free and easy way to support our truly independent journalism
By registering, you will also enjoy limited access to Premium articles, exclusive newsletters, commenting, and virtual events with our leading journalists
Already have an account? sign in
Register for free to continue reading
Registration is a free and easy way to support our truly independent journalism
By registering, you will also enjoy limited access to Premium articles, exclusive newsletters, commenting, and virtual events with our leading journalists
Already have an account? sign in
Join our new commenting forum
Join thought-provoking conversations, follow other Independent readers and see their replies