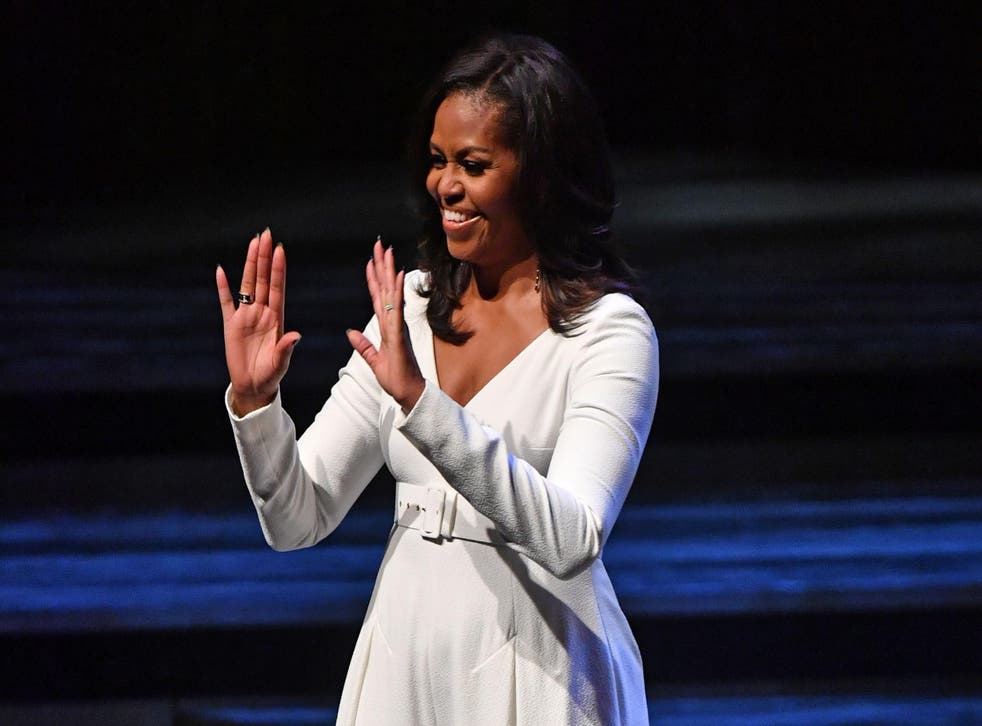 Michelle Obama: How to get tickets to see former first lady at London's O2 in 2019
The former first lady will be returning to the UK capital to speak about her memoir Becoming
Sabrina Barr
Wednesday 12 December 2018 13:45 Comments
Michelle Obama has announced that she's going to be returning to London for an additional stop on her book tour in 2019.
This news comes following the success of her recent visit to the UK capital in early December, during which she spoke about her illuminating memoir Becoming at Southbank Centre's Royal Festival Hall.
With tickets selling out in minutes for Obama's previous London appearance, fans keen to attend the newly announced event will undoubtedly have to be extremely tactical when attempting to get to the front of the online queue.
So when is Michelle Obama's scheduled London event, where is it taking place and how can you purchase tickets? Here's everything you need to know.
When is it?
On Tuesday 11 December, Obama revealed on social media that she'd added multiple additional dates to her book tour for her autobiographical memoir.
Michelle Obama over the years

Show all 12
She'll be visiting the O2 Arena in south-east London on Sunday 14 April 2019, with the event scheduled to begin at 6pm.
While Obama spoke about her book with renowned author Chimamanda Ngozi Adichie during her last London visit, it hasn't yet been revealed who'll be joining the former first lady on stage in 2019.
When are tickets going on sale?
The official website for Obama's Becoming memoir provides a link with more information regarding how you can purchase tickets online, with prices currently remaining under wraps.
The O2 Presale for tickets will be opening on Wednesday 12 December at 1pm, and will remain open until Friday 14 December 12pm.
The Live Nation Presale for tickets will then be opening a day later on Thursday 13 December at 1pm, remaining open until Friday 14 December 12pm.
The last wave of tickets will be released on Friday 14 December at 1pm as part of the General Onsale.
People will be able to purchase tickets for seats on the floor, lower tier and upper tier of the O2 Arena.
Individuals under the age of 15 must be accompanied by an adult, and only those aged over 16 are allowed to sit on the floor level of the arena.
How can I get my hands on tickets?
With there being high demand for tickets to see Obama in London next year, there are a number of useful hacks that you can try to increase your chances of seeing the former first lady in the flesh.
Firstly, it may be worth setting a reminder for yourself on your phone so that you don't forget to join the queue when the tickets are released.
Secondly, make sure that you have your credit or debit card in front of you as soon as the tickets go on sale. It would be so frustrating to miss out on tickets simply because you didn't have your payment details at the ready.
Michelle Obama launches memoir in London: 'My opinions were meaningful, and my anger and frustrations were real'
When joining the online queue, it's important that you don't try to buy tickets in multiple tabs on the same browser, as this can actually decrease your chances of getting through.
Instead, you could try joining the queue several times in multiple browsers, a technique that has proven especially advantageous for some trying for Glastonbury Festival tickets in the past.
Furthermore, if you continue to refresh your browser, this could help you move further along the line.
Lastly, and perhaps most importantly, check that your WiFi connection is holding strong.
Register for free to continue reading
Registration is a free and easy way to support our truly independent journalism
By registering, you will also enjoy limited access to Premium articles, exclusive newsletters, commenting, and virtual events with our leading journalists
Already have an account? sign in
Join our new commenting forum
Join thought-provoking conversations, follow other Independent readers and see their replies