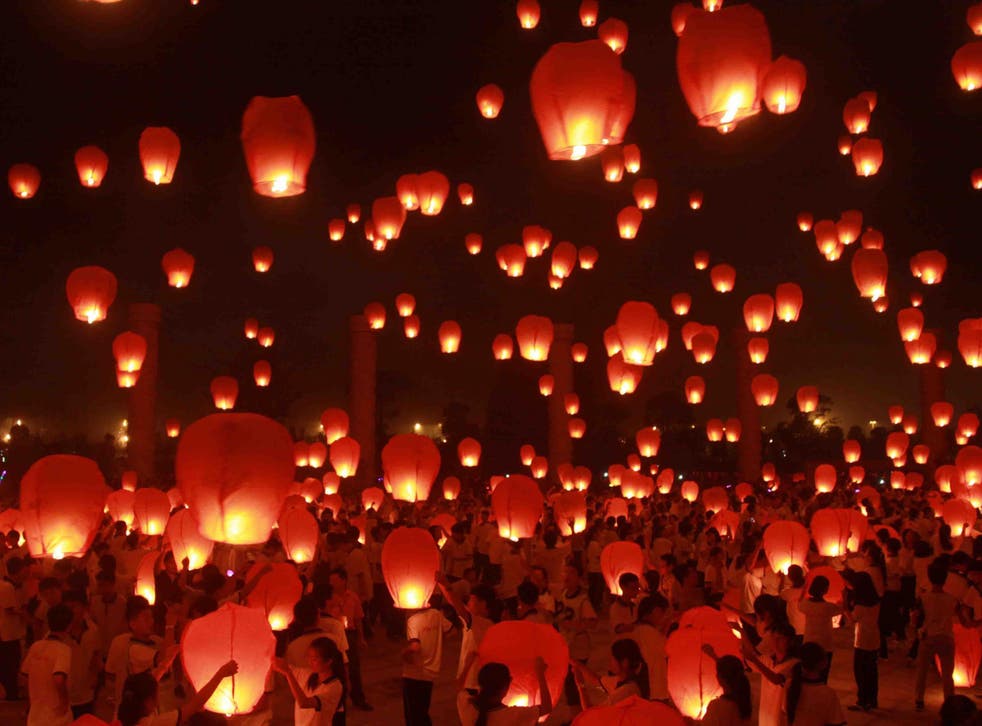 Mid-Autumn Festival: What is it and how is it celebrated?
The festivities begin today
Sarah Young
Monday 24 September 2018 17:29 Comments
Today is a big day for East Asian communities with families gathering for dinner, lighting lanterns and eating mooncakes for the Mid-Autumn Festival.
Here's everything you need to know about the celebrations.
What is the Mid-Autumn Festival?
Also known as the Moon Festival and Harvest Moon Festival, the ritual is celebrated mainly in Chinese and Vietnamese communities.
While it has no fixed date on the calendar, it traditionally falls on the 15th day of the eighth month – a full moon day. This year, celebrations start on 24 September.
Where did it come from?
Moon worship has always been an important part of Chinese culture, and there are a number of different myths surrounding the festival's genesis.
One story goes that Chinese emperors in the Zhou dynasty (1045-221 BC) worshipped the moon in autumn to bring a bumper harvest the following year; while another story holds that the moon goddess Chang'e overindulged on an elixir and flew to the moon with her jade rabbit companion.
The festival has been celebrated since the early Tang dynasty (618–907).One of the most common ways to celebrate is by eating mooncakes, although they typically have around 800 calories a cake.
Where is it celebrated?
Celebrations for mid-autumn take place across East Asia, in countries including China, Taiwan, Japan, Singapore, South Korea, Malaysia, Vietnam and the Philippines.
However, families across the world observe the holiday by gathering for dinners.
How is it celebrated?
In general, the Mid-Autumn Festival is a chance for families to spend time together, although there are certain traditions.
One of the most common ways to celebrate is by eating mooncakes (or Bánh Trung Thu in Vietnamese) – a dense, sweet pastry that's baked or steamed and typically enjoyed with tea.
Most are filled with lotus paste and salted egg yolk while others contain red bean or date paste, as well as fruit, nuts and seeds. People will also give mooncakes to family members and colleagues.
You can also find mooncakes in flavours like green tea and chocolate. For this year's festival, Guinness even released its own flavour.
Many communities also celebrate by lighting paper lanterns, while some neighbourhoods will take part in lion and dragon dances for luck.
To mark the holiday, Google created an autumnal Doodle featuring tea, mooncakes and the reflection of a full moon.
Register for free to continue reading
Registration is a free and easy way to support our truly independent journalism
By registering, you will also enjoy limited access to Premium articles, exclusive newsletters, commenting, and virtual events with our leading journalists
Already have an account? sign in
Join our new commenting forum
Join thought-provoking conversations, follow other Independent readers and see their replies