Why does every millennial seem to have a gold pineapple in their home?
And milk bottles, fairy lights and flamingo accessories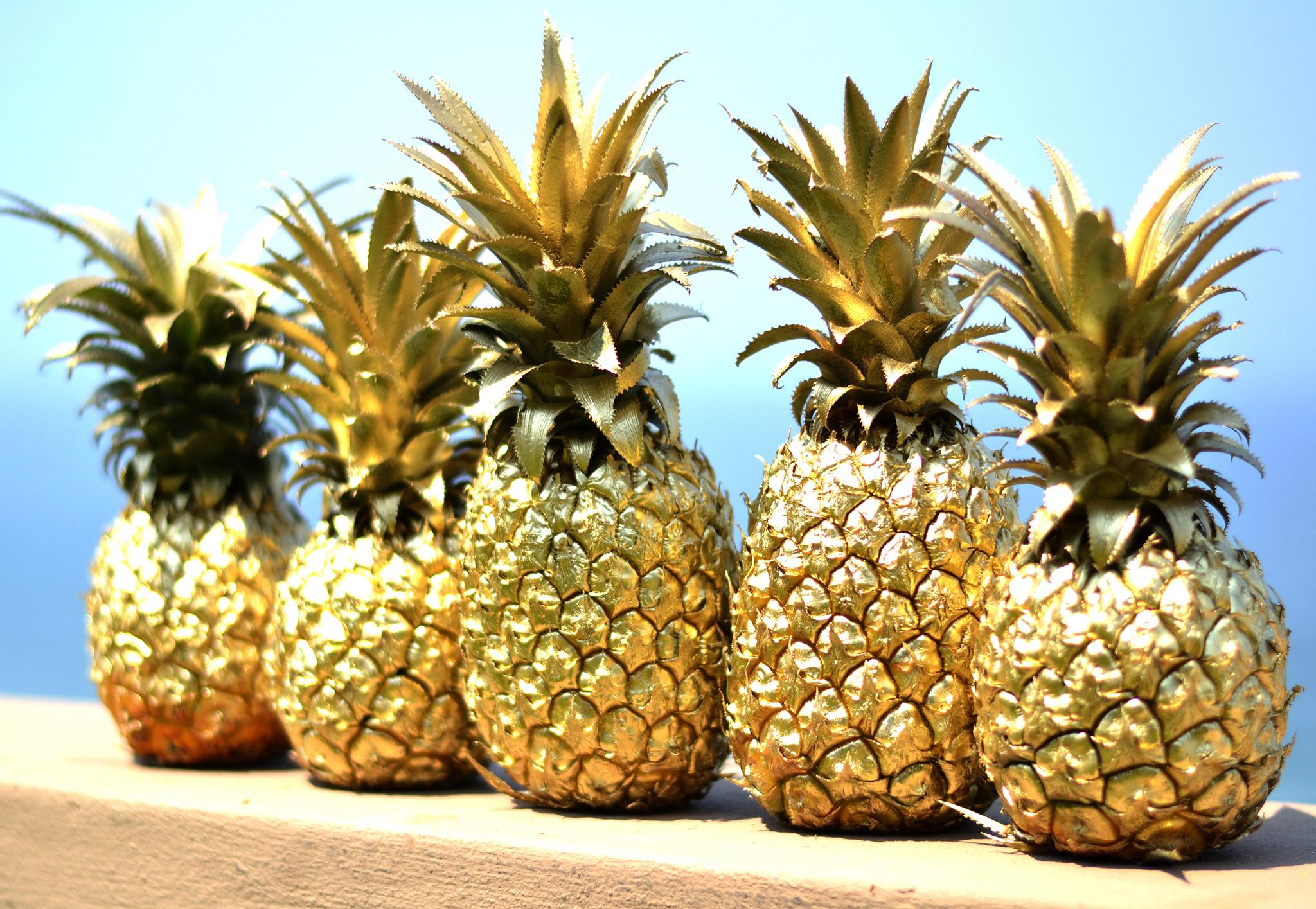 Over the past couple of years, gold pineapples have been popping up everywhere.
You may have seen them in your friends' houses, offices, Instagram feeds or lining the stores of Oliver Bonas and Urban Outfitters. On the former's website, there are gold pineapple jewellery stands, trinket boxes, salt and pepper shakers, bottle stops and goblets.
If the gold pineapple has passed you by, you surely must have spotted the surge in drinks trolleys, wall art emblazoned with bold inspirational messages, milk bottles, mason jam jars used for cocktails and fairy lights draped everywhere.
Common features in 'mass affluent' households
Show all 5
So where have these fairly random trends come from, and why are they most typically found in homes belonging – or more likely being rented by – people in their twenties and thirties (also known as millennials)?
Carol King, an interior designer and blogger, says a major reason why these items are so popular in the 20-40 age bracket is that they are what has been dubbed 'generation rent', unlikely to own their own home and probably paying high prices while aspiring to save for a deposit.
"These trends provide an easy way to 'decorate' a rented property without changing fixtures, painting walls or buying big pieces of expensive new furniture," she told The Independent. "It's a brilliant way to add your own stamp to a place, without actually changing anything, and it also means when you move out, you can take everything with you."
From personal experience, my flat is ladened with fairly lights, as I wasn't aware the rented accommodation I was moving into in south London had no ceiling lights in any of the bedrooms or living areas...
Martin Holland, an interior designer and the winner of the BBC's Great Interior Design Challenge in 2015, says the market has become "completely saturated" with these items due to tight finances.
"They are not too expensive and are quite fun," he told The Independent. "There are lots of metallic items appearing because they have a bit of a glamorous and expensive feel to them even though they aren't necessarily expensive items... "You can be creative without having to spend lots of money.
"For millennials, the money you do have you want to spend it wisely, you want to have a nice home and go on nice holidays. You want to do it all but know that you can't so you have to economise… this generation are up for regenerating homes and want to get stuck in, they're not afraid to take a piece of furniture and repurpose it in some kind of way… that's what this generation is all about there's not one use for something any more, they think 'let's get our money's worth and use something for lots of different things'."
He brings up the ubiquitous drinks cart in this example saying it is multi-functional in that it can be used for decorative purposes while also being a display for drinks and glasswear or a bookshelf.
Similarly, King says the drinks tray could be an example of the fact that the younger generation is more likely to stay in, possibly due to lack of financial means, and much of which has been well-documented about with the closure of many UK nightclubs.
"The current trend for a fully laden and ready-to-go drinks trolley is an interesting one and possibly a result of more people staying in to entertain, rather than going out to expensive bars and restaurants. I think the more flamboyantly decorated the trolley, the more of an occasion 'drinks at home with friends' becomes. It's also not unusual to see brass pineapples used as ice buckets, elaborate gold rimmed glasses and cocktail sticks complete with flamingos," she says,.
Georgina Burnett, an interiors vlogger and property coach, also says the trends frequently seen in the homes of millennials are at stark contrast with the trends of our parents generation – something that is probably deliberate in a bid to reclaim individual identity.
"If you look at these items they are quirky and bold and completely the opposite to the muted tones favoured by the generation before," she told The Independent. "Put something like that in a dull room and it comes alive and says 'this is who I am'. When entertaining at home it's a chance to reinforce that statement with retro serving items you're not likely to buy from John Lewis like your parents so these have become important."
Similarly Holland says millennials are all about wanting to create their own "eclectic" look and says the trends are very much going against what our parents did.
"Our parents were all about buying things that were good quality which would last for a very long time and they would keep them for a very long time. Millennials sit somewhere in between the two: they don't want things that are cheap and nasty and that break within five minutes but equally they don't want to spend lots of money because they want to keep it fresh."
At 31-years-old, Holland is a millennial himself and says his interior penchants differ from his clients, most of whom are in their late forties and early fifties.
The reason why these trends appear to be everywhere is probably due to the fact they are owned by the tech and social media generation. Social media sites like Instagram and Pinterest have become an increasing point of inspiration for young people when doing up their homes.
"It's much easier for trends to be broadcast now as well because of social media which is why something eye catching like a gold pineapple suddenly appears everywhere," Burnett says.
Similarly King says social media helps to spread trends: "Inspiration is everywhere on Instagram, Facebook and Pinterest and the well-stocked drinks trolley is probably about as photogenic as you can get."
Holland says that despite the belief of some millennials that they are individuals rebutting trends, people often end up following them even when they try their hardest not to.
"Unknowingly people can create a trend just by saying ' I don't follow it' but actually they then create a trend."
Both King and Holland warn against following fads which are permanent or harder to disguise with King signalling to the dreaded swirling patterned carpets from the 1960 and avocado bathrooms.
"You have to be very careful with what you go in for… you don't want to be in a position where in 12 month's time something is out of fashion and you have to box it away," Holland advises. "When something becomes too popular, it starts at the top at design fairs but slowly over the couple of years it filters its way down into the mass market and that is when it is time to step away."
So after the gold pineapples, drink carts and flamingos fade out of favour what's next? Holland reckons the cactus is slowly becoming the new pineapple.
Join our commenting forum
Join thought-provoking conversations, follow other Independent readers and see their replies