Meet the millionaire who started out working in call centres for £4.50 an hour
An entrepreneur from Manchester decided to break away from dead-end jobs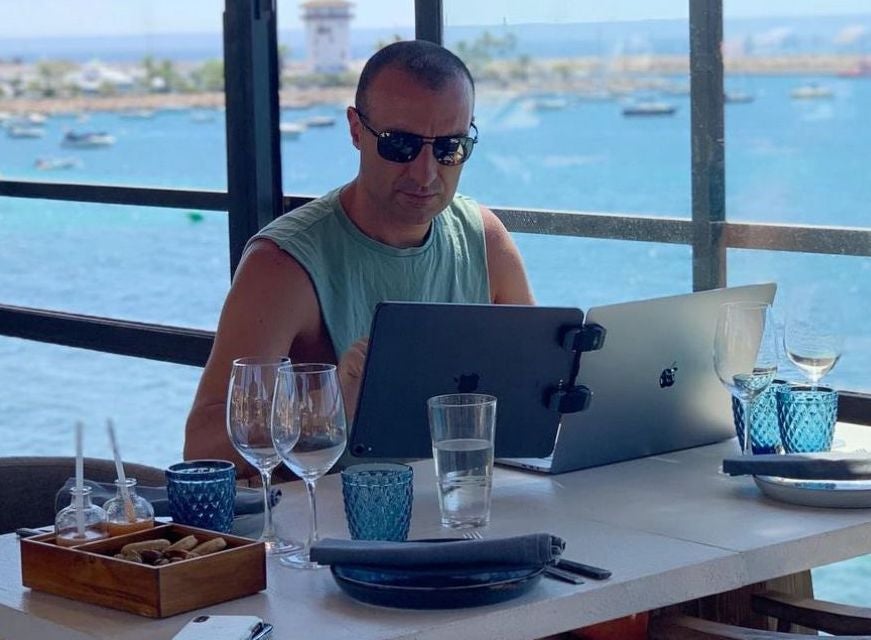 A millionaire has revealed the secrets behind his success and how he clawed his way from a minimum wage cold-calling job to becoming CEO of 30 different companies.
James Dooley, an entrepreneur from Manchester, decided to break away from dead-end jobs and try to make a name for himself, starting a business out of his bedroom.
Using £10,000 of his savings, the dad-of-two worked day and night on building his first SEO company– doing it all himself.
That business, Promo SEO, is now worth over £20 million.
Sharing his story to inspire others, the 40-year-old, who is the youngest of three brothers, also reveals the key to success and three top tips for other budding entrepreneurs.
"We never had money when I was growing up," James told Jam Prime.
"My parents were both extremely hard working – my dad managed a steel company in Sheffield and my mum was a secretary. They taught me that life is all about what you put into it.
"My dad died when I was only 16 years old and it turned our entire family life upside down. Both my older brothers, David (42) and Mark (43) moved out and it was a tough few years with my mum doing everything to keep us all together in a very hard time.
"At the time, I got myself into debt, but she was my absolute hero and cleared all my debts, putting me on a repayment plan to make it up to her. It stretched my mum and she had to remortgage her house.
"If I didn't pay her back she would have lost her home - so I had to make it work.
"I remember being up at 3 a.m. and writing her a letter saying I would get three jobs and clean toilets if I needed to so I could fix it. I started working in a call centre to pay the bills, which was a really hard period for me.
"I was being told to f*** off 20 times a day, cold-calling people constantly – it was a very tough job.
"I was on £4.50 per hour – but the shifts were long and included doing evenings and weekends. I absolutely hated every single minute of it. But I feel we all need hardship in our life and I honestly think those bad times made everything else I did after that job seem great."
Despite the hardships, James always had a vision that kept him going, knowing exactly what he wanted to achieve.
He said: "I've always had an entrepreneurial mindset. I see success as freedom, not money – and that meant having my own company. It took eight years of hard work. Growth was never linear and, in the first six years, I failed so many times. When I made my first million, the first thing I thought was 'My dad would be proud of me'. It felt amazing because I earned it."
Calling himself "a digital landlord", James tried his hand at search engine optimisation, playing with Google algorithms to get websites to rank higher in searches.
With very little information available on SEO in 2011, James had to learn by making mistakes – which was costly.
But he refused to give up.
He said: "It was really tough, especially in the beginning. I doubted myself every single day, wondering if I was doing the right thing. I had a lack of money and I just had to fail on the job in order to understand and learn from my mistakes. I woke up in sweats worrying about money, it was always tight. But in a strange way, I thrive off my failures. It makes me more determined than ever."
From making his first million, James was inspired to keep his success going, launching a second business, PromoPixa, and then a third.
Making his second million four years after his first, the money increased, each million coming twice as fast as the last.
In 2023, James lives a comfortable life – enjoying time with his wife Kerri, 37, and their two kids – Anastasia, three, and Tommy, one.
He said: "My partner is my rock. We met in a pub when I was all sweaty in my sports kit after playing six-aside football.
"She was a motivational speaker at Vodafone – now she has the hardest job in the world, bringing up my kids. Behind every successful man is a strong woman, she keeps me grounded.
"My job is easy when I surround myself with friends and family who help elevate me."
While James now has more money than he could ever dream of, the dad doesn't believe in living frivolously.
He spends his cash on experiences and travel, not flashy cars or fancy Rolexes.
Although, he does have one luxury passion: racehorses – of which he owns 13.
He said: "We watched horse raising growing up. My family couldn't afford to pay getting into the stands at Haydock Racecourse, so we used to take a picnic and set up on the field two furlongs down from the finishing line, which was free.
"Now, our racehorses pulls my family together and give us some amazing experiences and memories.
"I have zero tattoos, no expensive watches, clothes, or cars and I don't live an extravagant lifestyle.
"I want to be the best dad in the world to my kids, so I make a point to spend at least three hours a day with them, and I never miss bedtime.
"If you set up a good quality business, you can spend two hours a night on it and you'll be amazed how quickly it can earn you more than a full-time job.
"I'm not saying you can make millions overnight but if you work at it, you could make something you're really proud of."
Now James owns 30 companies, including Promo Media, an advertising company, Dooley Investments, for investment opportunities, and Uniplay Ltd, a marketing company.
Eager to help other young people, he frequently takes on apprentices –many of whom now hold senior positions in his companies.
And for anyone wanting to run their own business, he also has three key tips.
He said: "There are so many shortcuts out there, too much smoke and mirrors. Don't cut corners, don't cheap out, and don't underestimate the cost of things. You should be happy with the work you put in. Start with a side hustle, make it something you're proud of. But don't quit your job until you're earning double a minimum wage job."
James said: "I am a huge advocate of networking, it saved my business. Go to functions, meet people. I used to be a digital nomad, travelling the world to network with the best people in their field.
"Try and learn from experts. It is the most valuable thing you can do for your business. I believe your network is your net worth. By joining forces with others you can share failures and learn from other people's mistakes."
He added: "Once you start hiring, elevate and improve your staff where possible. Find the right people, train them directly, and allow them to make their own mistakes. Some people say a job well done is one done by yourself, but that is a really bad mentality."
Join our commenting forum
Join thought-provoking conversations, follow other Independent readers and see their replies