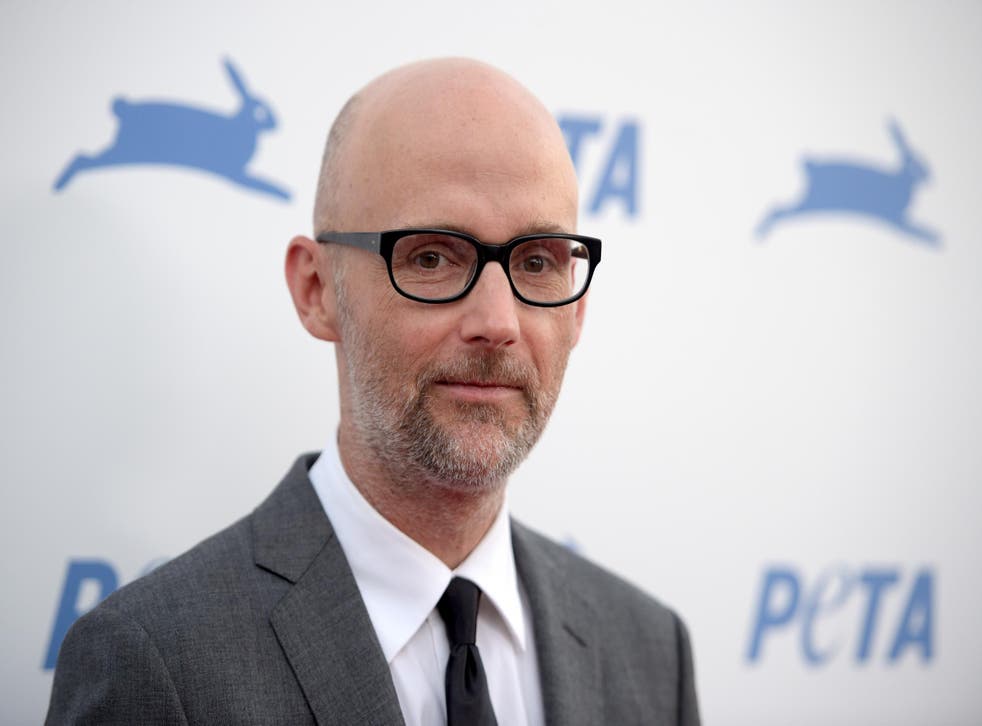 Moby claims he rubbed his penis on Donald Trump: 'I Me-Too-ed him'
The singer says he was drunk when the incident occurred and that Trump was unaware of their encounter
Moby has revealed he once rubbed his flaccid penis on the US president at a party, joking that he "#Me-Tooed" the President of the United States.
During an interview with Alec Baldwin on the actor's podcast "Here's The Thing with Alec Baldwin", the 53-year-old singer recalled an encounter with the US president at a party on Park Avenue in New York in the early Noughties.
The incident appears in Moby's latest memoir Then It Fell Apart and he explained why he included it in the podcast, which aired on Tuesday.
In the interview, Moby recalled a conversation with his friends at the party in which they informed him of a game called "knob touch".
"You take your flaccid penis out of your pants, and you brush up against people," Mody explained to Baldwin.
Women's march 2019 – global protest in pictures

Show all 30
"You win by the amount of people you brush up against."
Moby continued, revealing he was "very drunk" at the time and brushed his penis on the former entrepreneur.
"[Trump] didn't know. It was dark. He wasn't aware," he added.
However, Moby questions his memory of the incident in his book, writing: "Although, in the spirit of alcoholic disclosure, my caveat is this: as I was very drunk and high at the time I'm still not 100% sure it actually happened."
Discussing the mention of the incident in his new book, the Play singer said the publisher initially queried whether he should include the memory "in this climate", referring to the post #MeToo era.
In response, Moby said he told his publisher: "I was like, 'Look, Donald Trump being able to say that I #Me-Too-ed him…yeah."
Activist Tarana Burke launched the MeToo movement in 2006 to spread awareness and understanding about sexual assault in underprivileged communities of colour.
The campaign was later adopted by actor Alyssa Milano in the wake of the sexual assault claims levied against former film producer Harvey Weinstein – which he denies – to encourage women to share their experiences of sexual violence using the #MeToo hashtag.
During the podcast, Moby also touched on his experience of sexual abuse as a child, describing it as "brief and traumatic".
While living with his mother in San Francisco at the age of three, Moby said he suffered abuse at a day care centre.
"I don't want to throw [my mother] under the bus posthumously but she wanted to hang out with her friends – she was 23-years-old – so she put me in this very low rent day care centre and I was sexually abused there."
The star added that he has never had a "serious relationship" with another person.
When questioned whether that troubled him by the podcast host, Moby replied: "It used to. In time, I've sort of made peace with it."
Moby's admission comes days after the singer issued a public apology to actor Natalie Portman after she said he had been "creepy" with her when she was younger.
In his new memoir, the singer alleged that he and Portman briefly dated when she was 20.
However, in an interview with Harper's Bazaar UK, Portman said she remembered their relationship very differently and that there were "many factual errors and inventions" in Moby's writing.
Moby initially hit back at Portman's comments, saying that he was "confused" about her denial of their relationship and insisted that they did date. However, he later issued a public apology to the actor, and accepted that criticisms of his claims are "very valid".
Alongside an image that depicted the words "From Moby, an apology", the musician said he recognised that it was "truly inconsiderate" of him not to inform Portman about her inclusion in the book or "to not fully respect her reaction".
During the podcast, Moby added there is a "utility" in not having valid relationships, adding: "I get to work on other things. I get to spend more time doing activism, I get to spend more time reading, working on music, on art…"
"I'd always thought the key to happiness growing up was finding your perfect person, you build a life with them. And at some point I realised that that just isn't on the cards for me…..I don't have any longing for it."
Elsewhere in the podcast, Moby added that he learned of his father's suicide following his mother's death in 1998.
Support free-thinking journalism and attend Independent events
"He killed himself…he got very drunk and my mum had threatened to take me away from him. And so he got drunk and got in his car and drove 100mph into a bridge somewhere."
He later added: "Until that point I thought he had just died and no one ever explained how or why and I also found out I have a half-brother somewhere."
Read more about Moby's apology to Natalie Portman here.
If you have been affected by any of the subjects discussed in this article, you can contact the Samaritans by calling them for free from any phone for free on 116 123, email jo@samaritans.org or visit www.samaritans.org to find details of your nearest branch.
If you've been raped or sexually assaulted, you can contact your nearest Rape Crisis organisation for specialist, independent and confidential support: www.rapecrisis.org.uk.
Join our new commenting forum
Join thought-provoking conversations, follow other Independent readers and see their replies