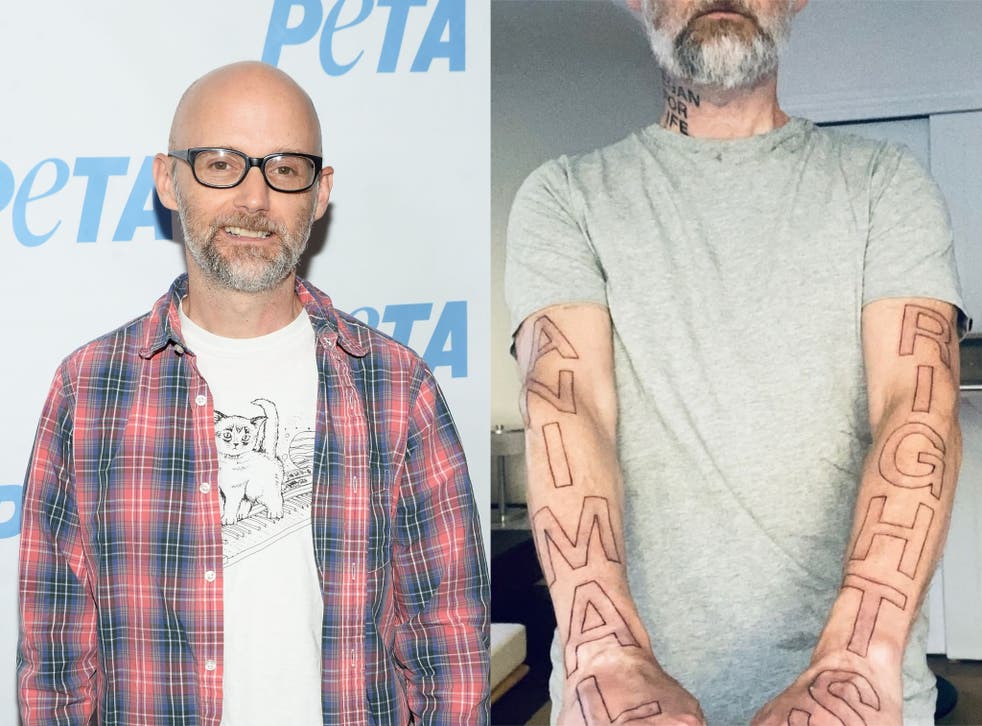 Musician Moby has 'Animal Rights' tattooed on his arms to mark 32 years as a vegan
Producer previously had 'Vegan For Life' tattooed on his neck
Musician Moby has shared his latest ink on Instagram, revealing he has had the words "animal rights" tattooed down his arms.
The producer and animal rights activist explained in the post's caption that he decided to get the bold tattoo in commemoration of his 32nd year as a vegan.
"As November is my 32 year vegan anniversary I thought I'd get a tattoo (well, technically 12 tattoos) to celebrate," he wrote.
"I'm a vegan animal rights activist for many reasons, but ultimately because I believe at the core of my being that every animal has the right to live their own life, according to their own will."
The striking tattoos have sparked a very divisive reaction among Instagram users, some of which expressed their admiration for Moby and others their incredulity.
"Love your music Moby and respect your views but this is overkill. Looks ridiculous," one person commented underneath the post.
"(As a vegan) Moby this looks stupid!" another wrote.
"Love it!! Thank you for always speaking out for the animals," a more praiseworthy Instagram user stated.
"Animals are so lucky to have you making a difference daily," commented animal rights organisation People for the Ethical Treatment of Animals (Peta).
Earlier this year, Moby revealed he'd had the words "Vegan For Life" tattooed on the side of his neck.
The musician said that getting the tattoo "seemed like a pretty safe bet" considering he'd been a vegan for more than three decades.
Both Moby's vegan-inspired tattooed were inked by celebrity tattoo artist Kat Von D.
The musician is a passionate animal rights activist, having previously described his advocacy for animal rights his "day job".
Earlier this year, the singer sparked controversy when he alleged in his memoir that he briefly dated actor Natalie Portman when she was 20, a claim that she denied.
In a subsequent interview with Harper's Bazaar UK, Portman stated that Moby had acted in a "creepy" manner towards her when she "had just graduated high school".
Moby later issued a public apology to Portman, stating: "I hate that I might have caused her and her family distress".
Join our new commenting forum
Join thought-provoking conversations, follow other Independent readers and see their replies